NBA Playoffs 2012: 7 Reasons Clippers vs. Grizzlies Is Best First-Round Series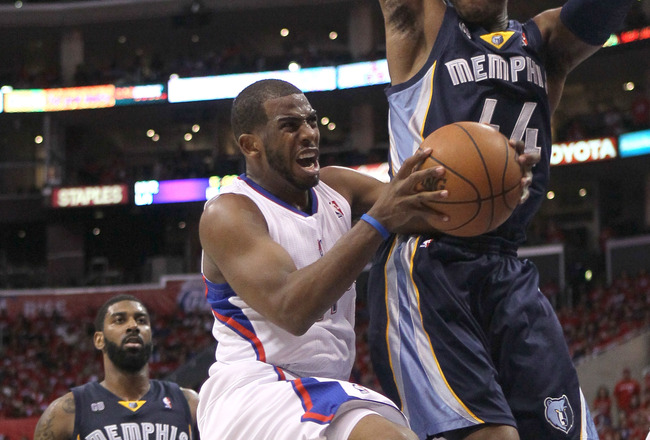 Chris Paul
Stephen Dunn/Getty Images
By far the best first-round series of the 2012 NBA playoffs is the matchup between the Los Angeles Clippers and the Memphis Grizzlies. The teams are evenly matched, the games have been exciting, but for some reason no one is watching.
Thus far the series has provided All-Star performances, dramatic comebacks and massive momentum changes. Let's look at seven reasons why this is the best first-round series.
Clippers' Dramatic Comeback to Win Game 1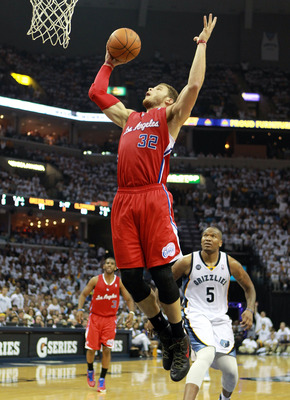 Blake Griffin
Andy Lyons/Getty Images
The Clippers rallied from a 27-point deficit to edge Memphis 99-98 in Game 1. Los Angeles outscored Memphis 35-13 in the final stanza to get the win, which tied the NBA playoff record of the largest deficit overcome (21 points) after three quarters.
Chris Paul hit two free throws to give the Clippers a one-point lead with 23 seconds left. Los Angeles held on to the win after Rudy Gay missed a potential winning jumper in the last second.
Clippers Won Game 1 Despite Injury to Butler
Caron Butler
Andy Lyons/Getty Images
The Clippers made their memorable Game 1 comeback despite Caron Butler suffering a broken left hand. Butler scored 12 points in 23 minutes of action before being sidelined. His minutes were taken up by recently acquired Nick Young.
Young was hot from outside in his 24 minutes. He scored 19 points on 6-of-9 shooting, including 3-of-4 from long distance. During his time on the floor the Clippers had a 28-point advantage over the Grizzlies. In Butler's 23 minutes the Grizzlies had a 27-point advantage over the Clippers.
Maybe the injury resulted in the Clippers having the right player on the floor.
Butler, who was projected to be out for the remainder of the playoffs, returned to score 14 points in Game 4.
Grizzlies Even Series at 1-1 at Home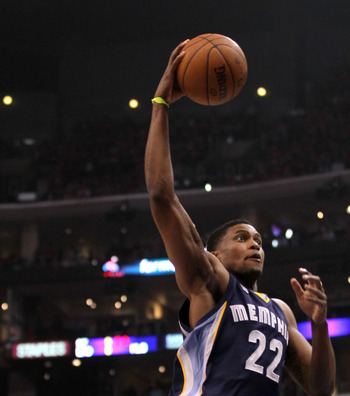 Rudy Gay
Stephen Dunn/Getty Images
Game 2 of the series was close to a must-win for Memphis at home. The Grizzlies needed to recover from their debacle in Game 1's fourth quarter. The Clippers are very strong at home (23-9) on the year, and a Memphis loss in Game 2 could have effectively finished the team.
The game was close throughout with Memphis generally holding a single-digit lead. Chris Paul, who led all scorers with 29 points, got the Clippers to within four points with 8:06 remaining. However, Memphis, with O.J. Mayo scoring 10 of his 20 points in the final stanza, extended its lead to 13 points before finishing with a 105-98 win.
Yet Another Clippers Comeback in Game 3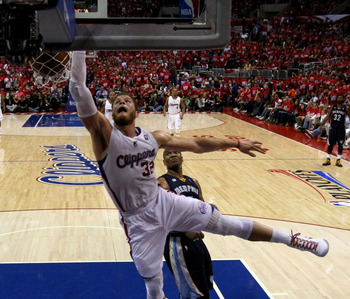 Blake Griffin
Stephen Dunn/Getty Images
Just when we thought we couldn't get a repeat of Game 1, we got just that.
Memphis had a 71-64 lead after the third quarter only to lose it again. The Clippers outscored Memphis 23-15 in the fourth quarter to eke out another one-point win, 87-86.
In this game Memphis did not score a field goal after Marc Gasol hit a jumper with 7:11 left in the contest until Rudy Gay made a three-pointer with 13 seconds left. The Clippers held on, despite missing 3-of-4 free throws in the final minute (they shot only 13-of-30 from the charity stripe for the game), and survived another last-second shot by Gay that would have won it for the Grizzlies.
Chris Paul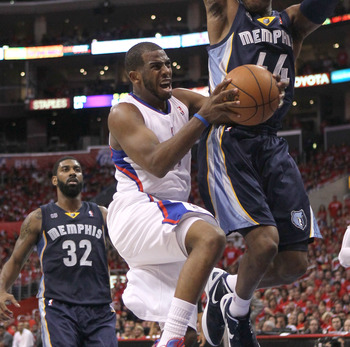 Stephen Dunn/Getty Images
Anytime we have a chance to watch Chris Paul in a playoff series it's exciting. The guy just knows how to play. He doesn't necessarily need to score for his team to be successful. He takes whatever the defense gives.
In the Game 1 win, he only scored 14 but dished out 11 assists. In Game 2 he took charge and tried his best to bring his team back, scoring 29 points. In Game 3 he led the comeback to the victory with 24 points and 11 assists.
Chris Paul just gets it. It's a pleasure to watch him play when the game really counts. And it's also fun to watch him.
Game 4 Goes to Overtime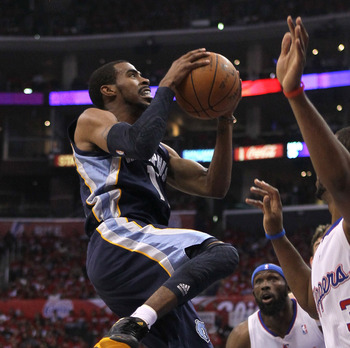 Mike Conley
Stephen Dunn/Getty Images
Game 4 was yet another nail-biter. This game was different from the first three as the Grizzlies came back in the fourth quarter. Down 84-74 with 4:13 remaining, Memphis, led by Mike Conley and Rudy Gay, went on an 11-1 run to tie the game at 85 with 35 seconds remaining on a basket by Gay.
The game went to overtime with the Clippers prevailing 101-97. Blake Griffin led the Clippers with 30 points while Chris Paul was outstanding again with 27 points, nine rebounds and seven assists. Mike Conley led Memphis with 25 points, seven rebounds and eight assists. Conley played Paul even and almost led Memphis to the win.
The Clippers now lead the series 3-1 as action moves to Memphis on Wednesday night.
Every Game Could Have Gone Either Way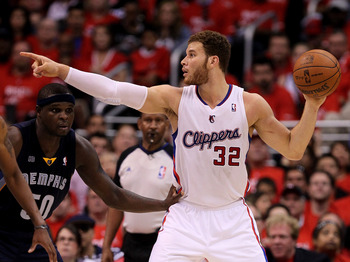 Stephen Dunn/Getty Images
Each game on this series was close and could have gone either way. The Clippers lead 3-1, but the series could easily have been 2-2 or even 3-1 Memphis. The Clippers were just a little bit better in the clutch.
However, the teams are very evenly matched. Mike Conley and Memphis gave the Clippers all they could take in Game 4.
Based on the first four games, Game 5 figures to be another exciting, close contest. If you are not watching, you should be, This series is not over. And this is by far the best first-round series in the 2012 NBA playoffs.
Keep Reading

Los Angeles Clippers: Like this team?