Boston Red Sox: Why Boston Needs to Rebuild Around Will Middlebrooks
May 8, 2012

Ed Zurga/Getty Images
Boston Red Sox fans near and far are hard pressed to make an argument for taking stud prospect Will Middlebrooks out of the starting lineup.
However, veteran Kevin Youkilis will soon be back, and the team will be faced with (in my opinion) a fairly simple question: youth or loyalty?
The answer is youth, undoubtedly.
Heading into this week's action, Middlebrooks has played in three professional games for the Red Sox. Yes, he had a base running gaff. It happened. It won't again. You can be sure of that.
The reason I bring up the miscue on the base path is because, literally, that is the only negative I have seen from the kid so far.
In just four games, Middlebrooks has as many home runs as Adrian Gonzalez and as many as Kevin Youkilis and Albert Pujols combined.  
Yes, I'm being facetious, but you get my point.
His batting line of .313/.353/.625/.978 gives him the third-highest average on the team behind Ryan Sweeney and David Ortiz.
He ranks fifth in OBP, second in slugging and second in OPS.
Yes, he has a smaller sample size to go from, but if you care to mix in his numbers in Triple-A, Middlebrooks has proven himself to be a consistent and solid player for the Red Sox.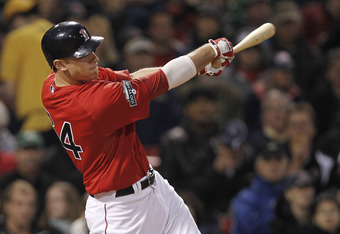 Winslow Townson/Getty Images
Watching this team perform this season has been trying. The idea of the Boston Red Sox being sellers at the trade deadline is a harsh reality.
Should that happen, there is only a small handful of players that would be off the trade block: Adrian Gonzalez and Carl Crawford for the contracts they're owed and David Ortiz and Dustin Pedroia for what they bring to this team.
Lastly, Middlebrooks for the future he represents.
While it may be a bit too early to press the old detonator, this Red Sox team is positioned well enough to transition with young, immensely talented ballplayers in their farm system.
By seasons end, we could very well see Middlebrooks, Jose Iglesias (who is finally starting to hit in Triple-A) and Ryan Lavarnway on the major league roster.
I'm not so sure that's a bad thing.