10 Issues the Philadelphia Eagles Need to Avoid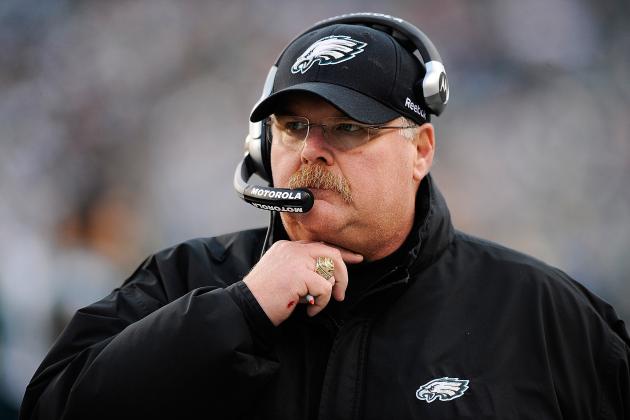 Patrick McDermott/Getty Images

For the Philadelphia Eagles and their fans, the script for the 2012 NFL season may seem eerily reminiscent to the one before.
Similar to last year, the Eagles spent the offseason improving an already impressive roster and will enter training camp as one of the favorites to make an extended playoff run.
While the team is still loaded with talent, it is the bitter taste of a wasted opportunity that has us fans eagerly anticipating the Week 1 matchup against the Cleveland Browns.
If Philly hopes to flip the script on its 2011 horror show, here are 10 things they need to avoid.
Begin Slideshow

»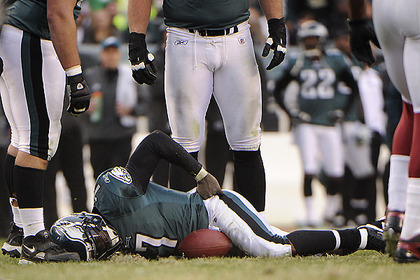 With All-Pro left tackle Jason Peters likely to miss the entire season after rupturing an Achilles tendon, it is vital that the Philadelphia Eagles remain as healthy as possible.
Although injuries are an uncontrollable variable and arrogate without warning, there are still precautions that can be taken.
Like any other year, quarterback Michael Vick is the top candidate for "Player Most Likely to Get Hurt."
And with good reason, too.
The 10-year veteran will be 31 years old when the season begins and has finished a set of 16 games only once in his career.
In 2011, Vick played in only 13 games and was knocked out of two contests that the Eagles would go on to lose.
If Vick hopes to carry his team to the playoffs, not only will he be forced to break his habit of holding onto the ball, but also take a lesson from Jimmy Rollins and learn to slide away from unnecessary contact.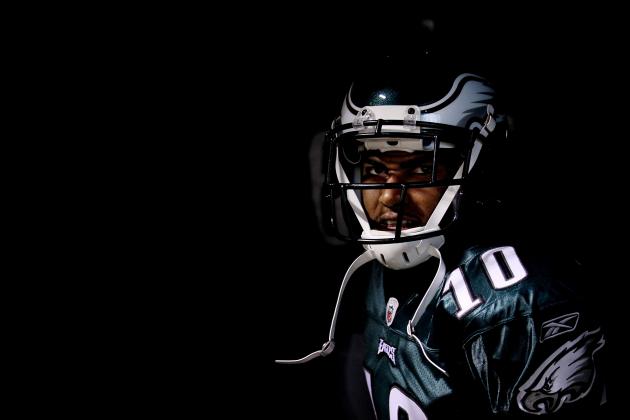 Nick Laham/Getty Images
DeSean Jackson let his contract dispute cloud his production.
As the Philadelphia Eagles entered last season's shortened training camp, a cloud of uncertainty disturbed the aura of excitement.
Not only did wide receiver DeSean Jackson hold out for the first 11 days of camp due to a contract dispute, but so did first-round pick Danny Watkins.
Jackson's unhappiness would remain unsolved and carry over into the season. This affected his performance and professionalism—which led to his benching and two Eagles losses.
Watkins missed crucial learning time and entered Week 1 as a liability on the offensive line. It wasn't until the month of October until he became a starter.
Although general manager Howie Roseman figured it out the hard way, he seems to have learned his lesson.
By using this offseason to extend contracts to Jackson, Trent Cole, Evan Mathis and Todd Herremans, Roseman is putting out the fire before it spreads.
This means that without much doubt, the next players who figure to receive extensions include Jeremy Maclin, LeSean McCoy and Dominique Rodgers-Cromartie.
It is also unlikely that many rookies will miss minicamp thanks to a new rule that has their salary already predetermined.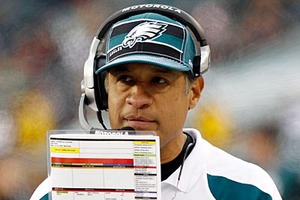 If you asked Andy Reid to evaluate Juan Castillo in his first year as defensive coordinator, he would get real defensive.
But part of the reason why Philadelphia struggled so mightily in the earlier stages of the season was due to its lack of discipline on defense.
As the team integrated Jim Washburn's "wide-nine" scheme, Castillo went on to do some experimenting of his own.
Not only did he employ cornerback Nnamdi Asomugha in a Charles Woodson-like role, but also misaligned other parts of his secondary.
Although the wide-nine is most efficient when cornerbacks are in press coverage, Castillo would routinely take his best press-corner and move Asomugha around the field.
By having Asomugha line up at safety or linebacker, it complicated the back-end of the defense and put players in spots that were unnatural.
Once Castillo abandoned his gimmicky approach, the philosophy was simplified and allowed the team to close the season with a 4-0 record.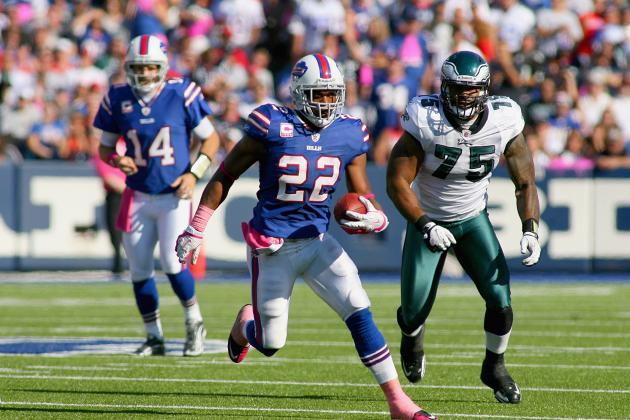 Rick Stewart/Getty Images
The Eagles spent the latter half of their season playing catch up.
The only consistent thing about last year's team was their inconsistency.
After an impressive Week 1 victory over the St. Louis Rams, the Philadelphia Eagles would go on to lose four in row—which essentially all but eliminated them from serious playoff consideration.
The Eagles closed out October with consecutive victories and a 3-4 record, but opened the month of November with another pair of losses. This roller-coaster ride made it extremely difficult for fans to remain emotionally invested and proved that Andy Reid had no feel for the team's pulse.
With the Super Bowl-winning New York Giants claiming the NFC East by just one game, it will be imperative for the Birds to come out of the gate strong.
There will be no excuses of a shortened offseason or the addition of new coaches to fall back upon this time around.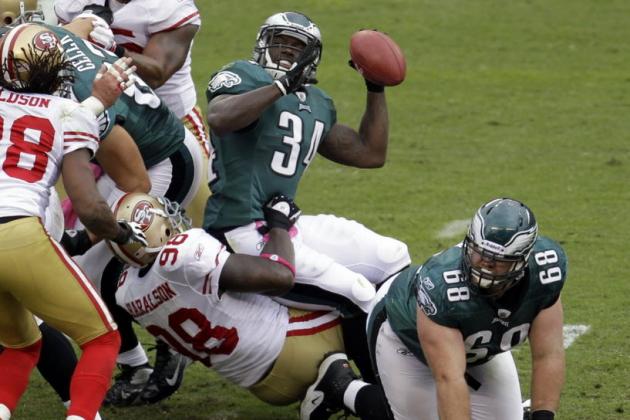 The dumbest play of the 2011 season.
When you walk away from the red zone without scoring a touchdown, it doesn't necessarily count as a failure.
Kicking field goals and controlling the time of possession are still critical aspects of the game plan.
However, the Philadelphia Eagles don't have a reputation as a team that really cashes in on their opportunities.
In recent memory, they've made some very questionable plays within the opposing 20-yard line.
Whether it's fumbling passes into opponent's arms, dropping touchdowns before crossing the goal line or the dumbest play of the 2011 season, it is imperative that the team avoids these kinds of mental errors to feature a deadly offense.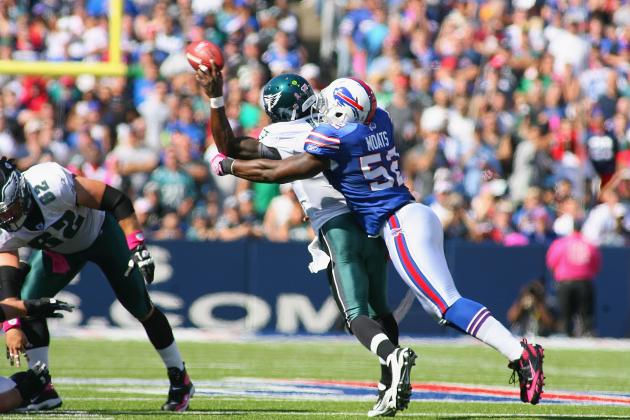 Rick Stewart/Getty Images

As a team, the Philadelphia Eagles did a terrible job of taking care of the ball.
They left a number of points on the board and finished the season with a minus-14 turnover differential, which ranked second to last.
Poor decision-making and lack of accountability plagued a roster that relied on many new faces—including those on the coaching staff as well.
If the Eagles can limit their number of giveaways, it'll bring them one step closer to the ever-dangerous 2010 offensive unit.
With another season under the belt, expect the core of the team to come back from the offseason with a newfound level of familiarity and chemistry.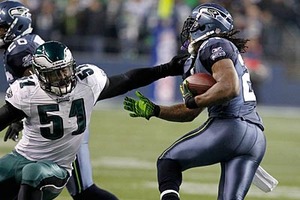 It's pretty ironic how a team with tackling issues never really had a grasp of their season.
Although Jim Washburn's wide-nine scheme netted the team 50 sacks, it also exposed the front-four against the run.
Without the proper set of linebackers to support the front, Philadelphia's defense was routinely taken for huge chunks of yardage up the middle. The acquisition of middle linebacker DeMeco Ryans combined with the selections of Fletcher Cox and Mychal Kendricks should immediately improve the front-seven.
Unfortunately, the tackling epidemic didn't end there. Nnamdi Asomugha, one of the league's premier man-to-man corners, routinely looked lost in zone coverage. His play in space constantly placed him in poor position to make tackles.
When the Philadelphia Eagles traded away Asante Samuel, it was an indication that the team would be deploying more press coverage during the upcoming season.
The changes in scheme and roster alone should result in an improvement of tackling.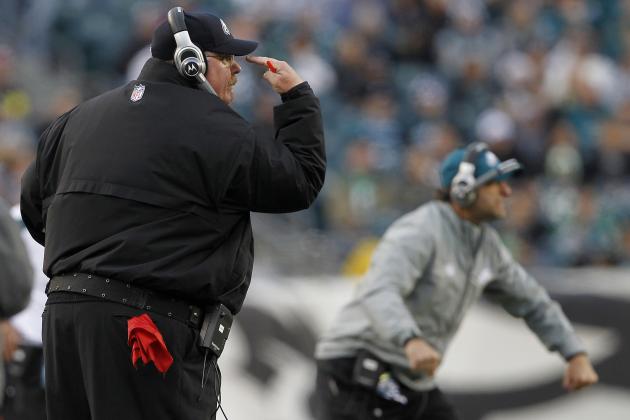 Rich Schultz/Getty Images

Last season, Andy Reid's team committed 107 penalties on offense, which ranked 11th most in the NFL.
That means Michael Vick and his offensive teammates had drives interrupted at least six times per contest.
Not only did each one of these infractions set them back an average of eight yards, but each was also a momentum-killer.
Since the two things are in a way synonymous with each other, let's consider it a double negative for a team that already had a tendency to give away the ball.
Although the team is returning four starters on the offensive line, the loss of Jason Peters will affect the way the protection holds up in front of Vick.
If the offensive line sputters, expect the Eagles offense to do the same.
Scott Cunningham/Getty Images
The Eagles might blow more fourth-quarter leads if Mike Kafka has to finish games.
The most frustrating part of the team's eight losses is that they entered the fourth quarter with a lead over 50 percent of time.
The Philadelphia Eagles blew away a late-game advantage five times last year and it ultimately cost them a playoff spot.
I don't care who you are. There is no team in the NFL that can overcome that kind of self-deflating loss five times and expect to be a serious contender.
If the Eagles can avoid just a few of the previously mentioned issues, the fourth-quarter leads will take care of themselves.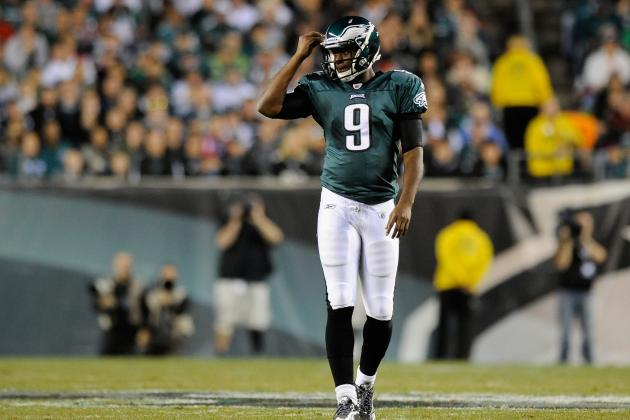 Patrick McDermott/Getty Images

Training camp talk was dominated by big-name free-agent acquisitions and DeSean Jackson's contract dispute.
Even before a preseason game was played, Vince Young managed to reference the 2011 Philadelphia Eagles and "Dream Team" in the same sentence—which led to a media frenzy and the punch line to numerous jokes.
Jason Babin even went as far as to claim "we are the Miami Heat of the NFL" via Twitter.
For team that will play five prime-time games in 2012, the Eagles don't need any extra attention from the media.
After last year's horrendous showing, Andy Reid not only has to worry about keeping reporters off his back, but also his seat from getting too hot.