NBA Draft 2012: 5 Best Seniors Available in This Year's Draft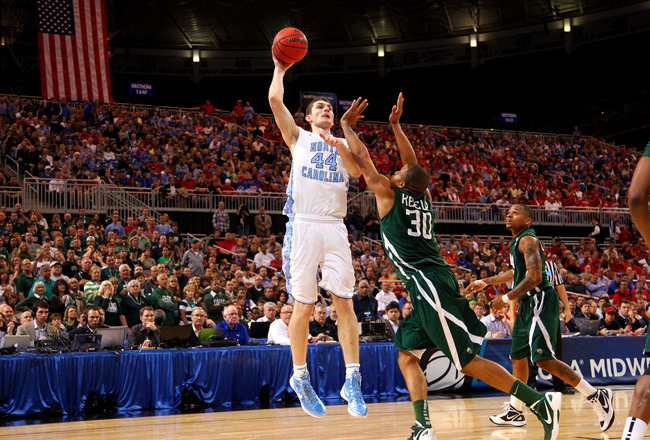 Dilip Vishwanat/Getty Images
The rise of the one-and-done star has made the collegiate senior prospect somewhat of a rarity in recent years. But 2012's crop of fourth-year talent could surprise some fans in this year's NBA draft.
What these former college standouts may lack in eye-popping athleticism or upside, they make up for in lesser-acknowledge categories like experience, skill set and NBA-readiness. As scouts prepare their draft boards for June 26, where these seniors will find themselves selected will be one of the more intriguing story lines of the draft.
So who are the best seniors in this year's talent pool?
Click further to find out...
C Tyler Zeller: North Carolina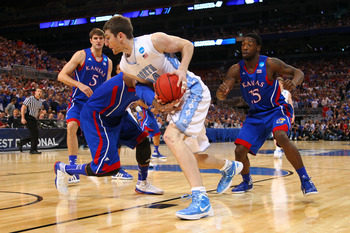 Dilip Vishwanat/Getty Images
Despite a disappointing finish to his final season at UNC, Tyler Zeller should have plenty to smile about come this June.
One of the few true centers available to lottery teams in this year's draft, Zeller should have plenty of scouts' interest during the next month as teams prepare for the draft. The ACC Player of the Year in 2012, Zeller has proven himself a talent on both ends of the court, averaging 16.5 PPG and 10 RPG in his senior year with the Tar Heels.
The major knock against Zeller is his durability, which is questionable after several injuries forced him to miss time during his four years at Carolina. However, Zeller's relatively ailment-free senior year should help put some of those worries to rest.
Look for Zeller to go late in the lottery selections, most likely to the Milwaukee Bucks, who are looking to fill their void at center with young, fresh talent.
SF Jeffery Taylor: Vanderbilt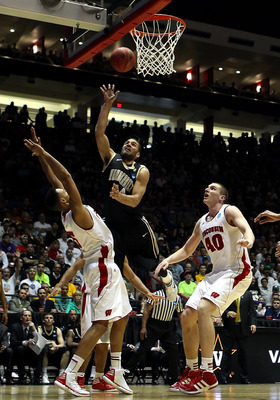 Christian Petersen/Getty Images
One of the fastest-rising prospects in this year's talent pool, the Swedish-born Jeffery Taylor has quietly improved his stock over the past several months.
The 6'7" swingman had a standout year in his last with the Commodores, putting up an impressive 20.2 PPG and 5.6 RPG on his way to first-team All-SEC honors.
An incredible athlete, Taylor has done a good job of developing a somewhat-raw skill set during his time with Vanderbilt. He has made large improvements in his shooting game, shooting over 50 percent from the field last season. Taylor is also a talented defender and is said to possess excellent fundamentals.
The biggest concern for scouts is whether Taylor can develop an NBA-caliber offensive game, but his athletic upside should be enough to convince team managements to take a chance on him. Look for Taylor to be late first-round or early second-round selection.
PG Tyshawn Taylor: Kansas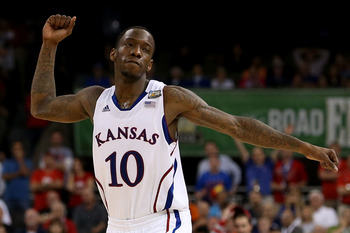 Jeff Gross/Getty Images
An integral member of a talented Jayhawks squad last year, Tyshawn Taylor will hope his collegiate success translates into a desirable outcome on June 28.
Taylor had a strong senior campaign with Kansas in 2012, averaging 16.6 points and 4.6 assists per game on his way to a disappointing loss to Kentucky in the NCAA final.
In addition to his experience as a team leader, Taylor also possesses many of the physical gifts necessary to be an NBA point guard. His 6'3" frame is desirable for scouts, and his impressive speed and lateral quickness should make him able to compete with the league's guards.
The most apparent downside to Taylor is his questionable decision making, which showed itself several times during last season. If Taylor can prove to scouts he can be more intelligent with the ball in his hands, he should find himself taken late in the first or early in the second round.
PF Draymond Green: Michigan State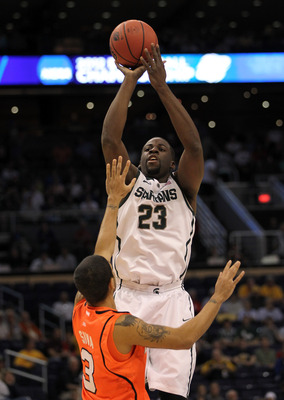 Jamie Squire/Getty Images
The only senior to earn first-team All-NCAA honors last season, Draymond Green will hope his impressive 2012 causes scouts to overlook his lack of size.
The former Spartan had a tremendous 2012 under coach Tom Izzo, averaging 16.2 points and 10.6 rebounds in his last season with Michigan State. A very well-rounded player, Green possesses the ability to score in both the mid-range and low-post, and he has also shown tremendous talent in the passing game.
Green will need to improve his low-post game further if he hopes to have success in the NBA. He has shown an ability to progress and develop new facets of his game during his four years with Michigan State.
The biggest question mark surrounding Green at this point is whether he possesses the size necessary to succeed in the league. But even his underwhelming stature shouldn't keep the talented forward from falling anywhere further than the early second round.
PF/C Andrew Nicholson: St. Bonaventure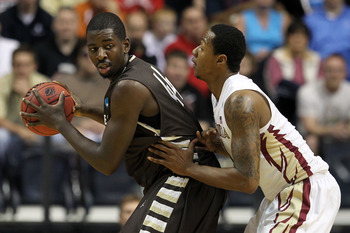 Jamie Squire/Getty Images
Despite flying under the media's radar during this season, Andrew Nicholson has garnered plenty of attention from scouts as the draft nears.
Although his production dipped from his junior season, Nicholson still put together an impressive final year for St. Bonaventure, averaging 18.5 points and 8.4 rebounds per game last season.
Nicholson is a versatile scorer who can contribute in the low post as well as hit the outside jumper. Nicholson is not a freak athletically, but he possesses enough mobility and lateral speed to make him an attractive project for a GM to develop.
Nicholson's low profile in the draft should result in him falling into the second round, but look for a team to snatch him up early with its second selection.
Keep Reading