Philadelphia Flyers: Jekyll and Hyde Routine Has Team Searching for Answers
May 8, 2012

Bruce Bennett/Getty Images
As a Philadelphia Flyer fan, I find my plate of hope dwindling down to the last few morsels, yet my appetite remains unsatiated. In the playoffs, the Flyers have played well at times, but mostly have had some less-than-stellar moments in this series against the New Jersey Devils, creating a hot-and-cold Jekyll and Hyde routine.
Flyer fans, and surely the team themselves, are forced to wonder about where the answer lies in their latest debacle Sunday night.
Mr. Hyde was in full force as the team was outshot by their rivals 43-22. Where did Dr. Jekyll go after scoring two by-the-way goals in the first period? Don't ask Claude Giroux, who will be missing in action for Game 5 on Tuesday after being suspended for his late hit on Dainius Zubrus.
With answers hard to find, the Flyers may not even know what the right questions is.
The team was Flying so high after mostly dominating their cross-state rivals in the first round of the playoffs. Oh yes, there was Mr. Hyde's appearance in Game 4. In full display, he gave a beaten Penquin team new life, and whispers of a Flyer collapse became a bit of a chatter, which Dr. Jekyll was able to cure, posthaste.
Now it's a new disease for the Flyers, and the ill effects have not subsided yet. The doctor needs to come up with a new formula.
"I think the whole game, they worked harder," Claude Giroux said after the loss on Sunday (via Yahoo Sports). "They win battles. It looks like they want it more than us. It's frustrating because the whole season we've been out-working every team and now it's the other way around. I don't know what to tell you."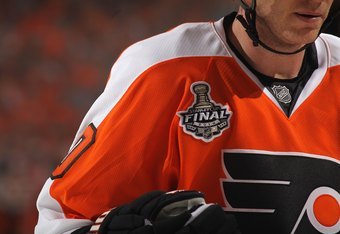 Bruce Bennett/Getty Images
Defenseman Kimmo Timonen added, "I think we've got a lot of work to do tomorrow. We've got a lot of work to do. I've got to give a lot of credit to them. They're playing really solid, strong skating game and that's why I say we've got a lot of work to do."
Scott Hartnell was disappointed in both his own performance and the team's overall:
I can probably count on one hand how many battles we've won in four games. It's no surprise why we're losing 3-1 in the series now. You could use 'backs against the wall' and all that kinda stuff, but we play that way it's gonna be a long summer to sit and think about what could've been.

I made a couple soft plays. You look around the room, everyone was doing it. That's losing hockey. It's almost embarrassing hockey. It's not Flyers hockey, that's for sure.
Danny Briere referred to "a fine line between frustration and emotion and passion," going on to say, "I think that's right now what we're trying to find....I think we've got to find a way to toe that line a little better than we have so far this postseason."
For further proof of a Jekyll and Hyde malady, the team need not look any further than their goalie, Ilya Bryzgalov. The man has had flashes of true brilliance in goal, keeping the Flyers in the contest for most of Games 2 and 3. Still, his confidence seems to ebb and flow with the surges of his team, and then his game follows suit.
Can Dr. Jekyll find the right formula to fix this team? If the team has any life left in them, there will be no place for Hyde.
The good Doctor had better be ready to make an appearance for all three periods tonight. The Flyers should start paging him right away. This is the final call.