Tim Hudson: Why He Has Plenty Left to Still Be Braves' Ace
Tim Hudson pitching against the Rockies at the start of the weekend series.
Justin Edmonds/Getty Images
Tim Hudson will be turning 37 years old in the middle of July and is coming back from offseason back surgery that made him miss almost all of April. In his two starts he pitched well once and got hit hard once, though that happened to be in the hitters' oasis that is Denver. Despite how it sounds, Tim Hudson has shown that he still has enough left in the tank to be the top pitcher for the Braves.
This article points to five reasons why Tim Hudson still has what it takes to be the ace for the Braves this season as they fight to reach the playoffs in Chipper Jones' final season.
Hudson Settled Down Against the Rockies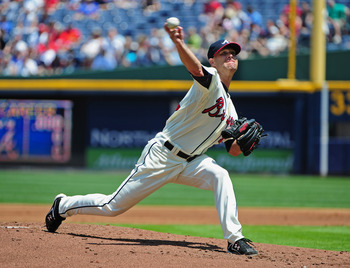 Tim Hudson pitched better against the Rockies than his final line would indicate.
Scott Cunningham/Getty Images
Tim Hudson's final line against the Rockies was not pretty—he gave up seven runs (six earned) on six hits and three walks over six innings, but that doesn't tell the whole story. After allowing five runs in the bottom of the first, Hudson settled down and actually pitched well in Denver.
Following the fifth run allowed in the first inning, Hudson retired 11 consecutive hitters before Jonathan Herrera hit a solo home run. The final run he allowed came because of an error by Chipper Jones. In fact following the fifth run, Hudson allowed only two hits and a walk over the next 5.1 innings.
Obviously a pitcher is going to get hit in Denver because of the air at that elevation, but the way Hudson settled down and started to pitch very well is a major part of why the Braves were able to mount a comeback and eventually win that game. A less experienced pitcher could have been hit even harder over the next few innings.
A Strong Comeback Win Against the Pirates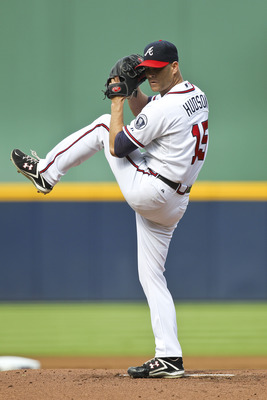 Tim Hudson pitched well in his season debut.
Daniel Shirey/Getty Images
When Tim Hudson returned on April 29th it was the third game of a series and the Braves had split the first two against the Pittsburgh Pirates. Hudson pitched very well in his comeback as he gave up two runs over five innings to pick up the win, but again that doesn't tell the whole story.
Hudson gave up both runs in the second inning, but shut the Pirates down after that point. Over the rest of the five innings, he allowed just two more hits. Again the way he rebounded after facing some adversity was good enough to allow the Braves to come back and eventually pull out the victory.
It's hard to ask for more for an older pitcher making his first appearance after missing the first month due to offseason surgery.
The Velocity Is Still Solid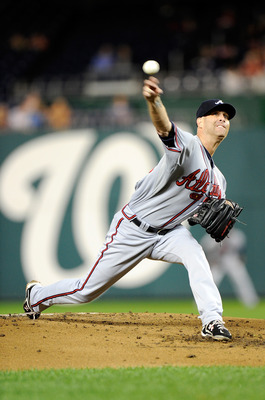 Tim Hudson's velocity is right where it should be for this point of the season.
Greg Fiume/Getty Images
One thing to watch with an older pitcher, especially one with a late start due to injury is the velocity. Hudson's velocity in his first two starts is a bit down from his average velocity from 2011, but that is to be expected. The reason is that almost every pitcher sees a slight decrease in velocity to begin the season but can be expected to ramp it up a tick as they get a few more starts under their belt.
Hudson's fastball velocity is down exactly one mile per hour from last year, from 90.5 to 89.5, but that should increase as he gets going. His slider is actually up a little, from 84.7 to 85.1, as is the curve, up to 76.5 from 76.2. Those are the pitches that he has thrown 87 percent of the time this season, so those are the most important three.
Again, while the velocity is a bit down it was expected to be for almost any pitcher. Hudson should add a bit more as he gets loose. The fact that he has kept his velocity near what he did last year is a good sign that he shouldn't drop anything significant this year.
Hudson Is Missing Bats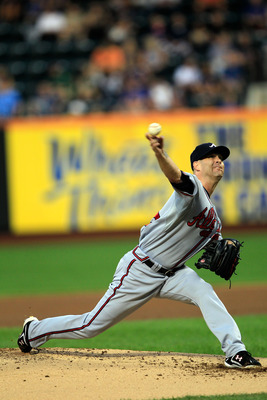 Tim Hudson is missing bats early on despite not being a strikeout pitcher.
Chris Trotman/Getty Images
Tim Hudson has picked up 12 strikeouts in 11 innings so far this year, but he isn't normally a strikeout pitcher. In fact his strikeout per nine inning ratio is 9.82, which is a career high. His top three ratios of his career were 8.71, 7.52 and 6.93.
Hudson is not turning into a strikeout pitcher at this point in his career, but the fact that he is missing bats is an encouraging sign that he is looking very good so far. He has struck out Andrew McCutchen twice along with Michael Cuddyer and Carlos Gonzalez once apiece, so it's not as if he is picking on weak hitters.
The strikeout ratio will dip as the season progresses but the fact that he is looking good can not be overlooked.
Hudson Has Been a Bit Unlucky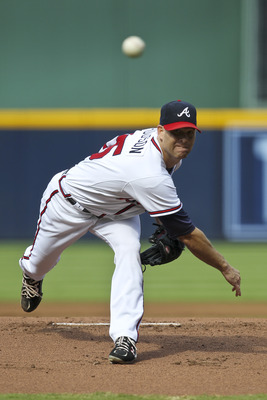 Tim Hudson's high ERA doesn't tell the whole story.
Daniel Shirey/Getty Images
According to FanGraphs Tim Hudson has been unlucky so far this year. His ERA is 9.82, but his xFIP is 2.90 and his FIP is 3.59. What that means is that Hudson has pitched significantly better than his ERA would indicate, and that his ERA should really be what the other numbers indicate.
This doesn't tell you much, but it does re-enforce the fact that Hudson has pitched very well in his first two starts and that the offseason surgery is not slowing him.
Keep Reading

Atlanta Braves: Like this team?