50 NFL Players with the Most to Prove This Offseason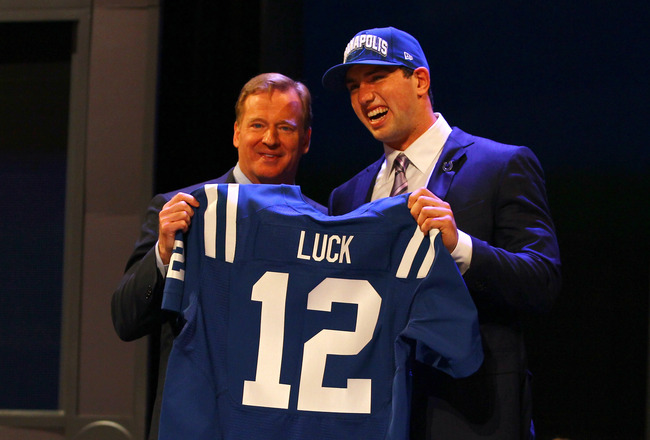 Al Bello/Getty Images
At the beginning of each NFL season, there are many players with something to prove. Their teams are relying on them, and in 2012, a plethora of players will be striving to meet expectations.
Often it is the lack of action rather than a move that creates this pressure. If a team failed to address what was considered a need, the players at that position are under more scrutiny than ever.
The 2012 NFL offseason brought many changes. And these changes, or the lack thereof, put these players in the spotlight.
Sam Bradford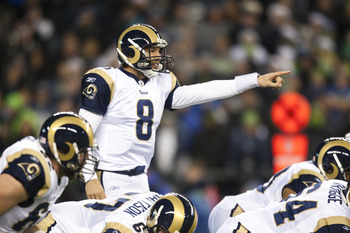 Jay Drowns/Getty Images
The Rams not only avoided adding a quarterback, but they also traded out of the opportunity to select Robert Griffin. The team is putting all its hopes on the shoulders of Sam Bradford.
Bradford had a superb rookie campaign but needs to prove he can come back after a shaky 2011. As a former No. 1 overall pick, Bradford is used to attention, but it will be in full force this year.
Marshawn Lynch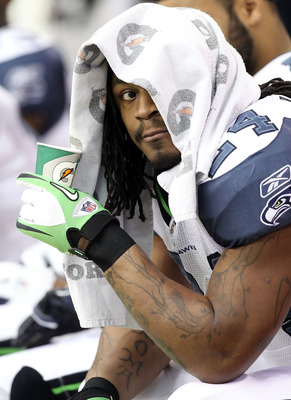 Christian Petersen/Getty Images
Marshawn Lynch got paid this offseason. Though he is still only 26 years old, Lynch's career hasn't gone so smoothly to this point, and he's still a risk.
If he performs like he did in 2012, Lynch will have no issues from Seattle fans. If his play drops of at all, though, there will be consequences.
Ryan Tannehill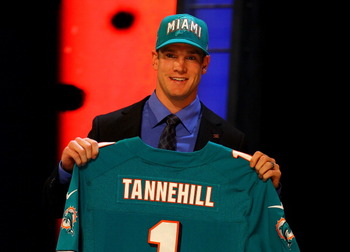 Al Bello/Getty Images
After missing out on Peyton Manning and not heavily pursuing Matt Flynn, Miami ended up with Ryan Tannehill at quarterback. The Texas A&M product wasn't a popular pick, and analysts will be criticizing his every move.
Tannehill needs to show he can in fact lead the Dolphins to the playoffs and beyond. If he struggles early, an unpopular pick will become even more hated.
Adrian Peterson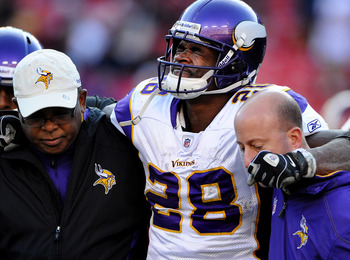 Patrick Smith/Getty Images
There's no doubting Adrian Peterson's talent or production. In 2011, though, the star running back tore his ACL, and he needs to show he still has his same ability.
Any player struggles to rebound from a torn ACL in such short time, and the Vikings will be relying on Peterson to carry the offense. Will he still be able to do so?
Mario Williams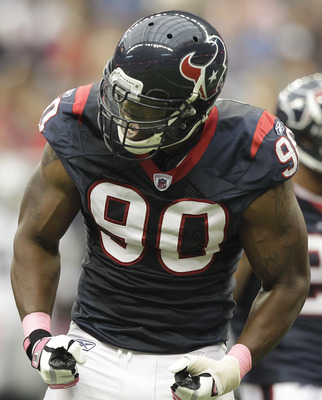 Bob Levey/Getty Images
After signing a historic contract with the Bills, Mario Williams will need to prove he can stay on the field and play at an elite level. Williams' last two seasons ended in injury, and if 2012 finishes the same way, he won't be receiving much love from Buffalo fans.
Williams has produced at a high level while on the field, but he's never put up elite numbers consistently. Can he do that for years to come?
Vincent Jackson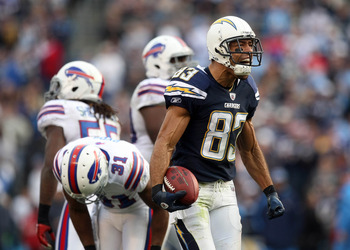 Donald Miralle/Getty Images
The Buccaneers spent plenty of money on Vincent Jackson. The former Charger is certainly talented, but he's had off-the-field issues and is now 29 years old. That's a risky signing.
Quite simply, Jackson needs to be the focus of Tampa Bay's offense. He has to put up elite numbers, or he will be considered a bust signing.
Blaine Gabbert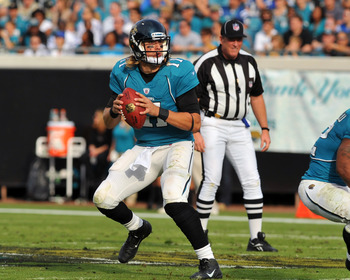 Al Messerschmidt/Getty Images
After a dreadful rookie season, Blaine Gabbert is out to prove he is a legitimate starting quarterback. If he looks anything like he did in 2011, Gabbert will be booed out of Jacksonville in no time.
The Jaguars tried adding weapons around Gabbert, and he will soon be running out of excuses. In just his second season, it's time for Gabbert to live up to his draft status.
Steve Hutchinson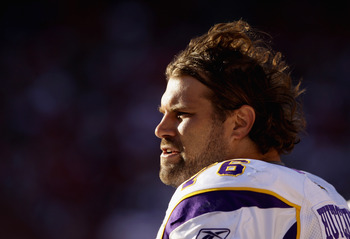 Ezra Shaw/Getty Images
A once elite player, Steve Hutchinson has declined in recent years. However, he was Tennessee's lone addition to a dreadful interior offensive line.
There is first the question of whether Hutchinson can still play at a high level. Then there's the more important question of whether he is enough to make the Titans' interior line competent.
Matt Cassel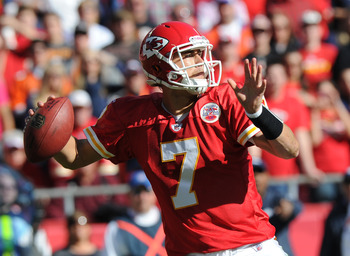 Peter Aiken/Getty Images
Despite playing horribly in 2011 prior to suffering a season-ending injury, Matt Cassel is facing no competition at quarterback.
Kansas City has a talented roster and addressed huge needs in the offseason. If the Chiefs still fail to win, there is only one person left to blame. That person is Matt Cassel.
Darren McFadden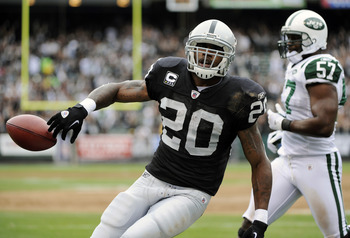 Thearon W. Henderson/Getty Images
The Raiders let Michael Bush walk to be a backup in Chicago. If he's not injured, Darren McFadden is an incredible running back on the field.
McFadden can't seem to stay healthy, and his body suggests the injuries aren't simply flukes. The former No. 4 overall pick needs to carry the Oakland offense, and he needs to stay healthy.
Brandon Marshall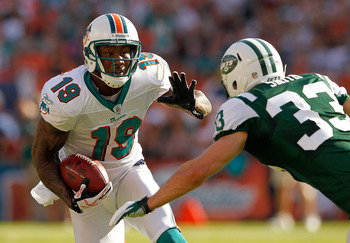 Mike Ehrmann/Getty Images
The Bears traded for Brandon Marshall despite an ongoing off-the-field issue that followed many previous problems. Chicago didn't add any other wide receivers, so it needs Marshall to produce.
Jay Cutler has lacked weapons since being traded to Chicago, and he was finally reunited with Marshall. Now the latter player needs to show he was worth two third-round draft picks.
Pierre Garcon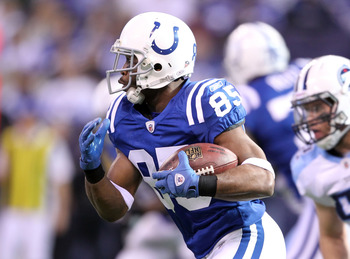 Andy Lyons/Getty Images
The Redskins signed Pierre Garcon to a contract that implies he is the team's No. 1 wide receiver. Garcon has never acted in that capacity previously, and he was inconsistent as a secondary weapon.
Washington needs weapons for Robert Griffin III. If Garcon doesn't end up being one of them, the Redskins could be in trouble.
Robert Griffin III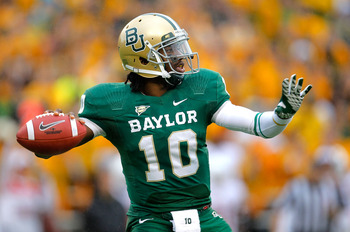 Sarah Glenn/Getty Images
Washington traded a bounty for Robert Griffin III. Three first-round picks and a second-round selection is quite a lot to give up for an unproven player.
Regardless of how highly touted Griffin was as a prospect, he needs to show he was deserving of the hype and the trade. If he isn't, the Redskins were just set back a decade.
Laurent Robinson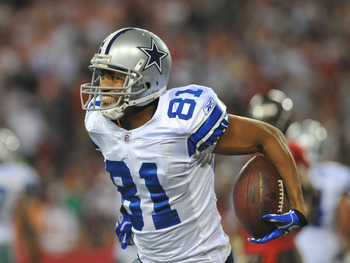 Al Messerschmidt/Getty Images
Laurent Robinson is, at best, a talented player with one year's production. At worst, he is an injury-prone wideout who had a fluke season in a great offense.
Jacksonville better hope he's the former. The Jaguars need more wideouts than Justin Blackmon, and Blaine Gabbert is in desperate need of help.
Jahvid Best
Gregory Shamus/Getty Images
Jahvid Best can do some truly incredible things on the field—when he's on the field.
Best has suffered multiple concussions and his career is in danger of ending. The Lions need a rushing threat, and Best can do that while also catching passes out of the backfield.
A former first-round pick, Best hasn't been worth the selection thus far, and Detroit could use his talent on offense.
BenJarvus Green-Ellis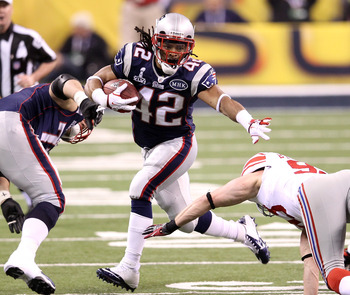 Andy Lyons/Getty Images
Cincinnati is entering 2012 with BenJarvus Green-Elllis as the team's only candidate to start at running back. Even the pass-happy Patriots weren't happy with that scenario a year ago.
Green-Ellis is considered, at best, a solid No. 2 running back and a marginal starter. The Bengals need him to be better than that.
Robert Mathis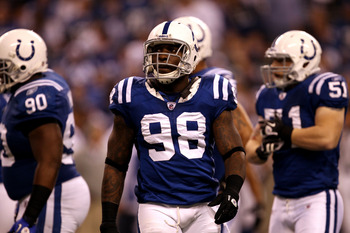 Jonathan Daniel/Getty Images
The re-signing of Robert Mathis was the one move that didn't fit in with Indianapolis's offseason. If the Colts were rebuilding, as their many cuts indicated, why did they re-sign a 31-year-old defensive end to a four-year, $36 million contract?
Mathis is a good player. However, is he so good that he's worth the money and commitment from a team that is definitely not ready to win right now?
Jason Smith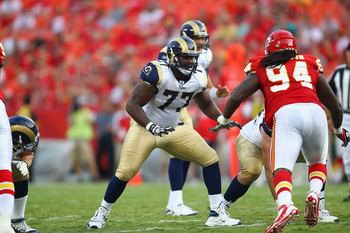 Dilip Vishwanat/Getty Images
Even after taking a pay cut, Jason Smith is in danger of losing his job. The former No. 2 overall pick has had injury problems and struggled while on the field—a bad combination, to be sure.
St. Louis had opportunities to draft a tackle early but chose not to. It risked a lot relying on Smith, and he needs to show he was worth the chance.
Andrew Luck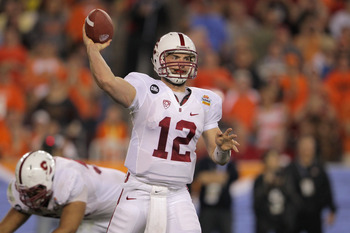 Doug Pensinger/Getty Images
Will Andrew Luck make Indianapolis forget Peyton Manning? Absolutely not. The question is whether he can make the city no longer miss Manning.
Luck is replacing a legend. That's a difficult situation for anyone, but Luck also comes with the most hype for any quarterback since, well, Manning.
So yeah, Luck has a lot to live up to.
Greg Little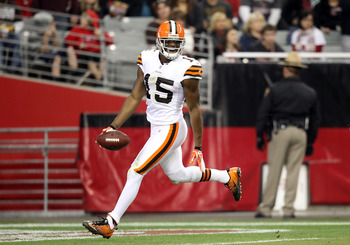 Christian Petersen/Getty Images
The Browns entered the offseason with arguably the NFL's worst wide receiver corps. And the team did almost nothing to upgrade the position.
Greg Little performed well as a rookie, but he needs to be Brandon Weeden's No. 1 target. Can Little provide that much in just his second season?
Levi Brown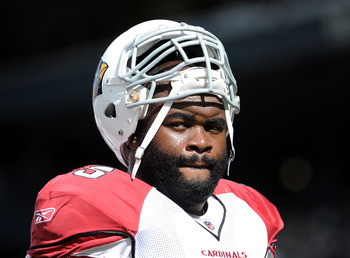 Harry How/Getty Images
The Cardinals cut and then re-signed Levi Brown without upgrading. Clearly, Arizona wasn't comfortable with Brown starting, but he's going to in 2012.
With Cardinal fans once again disappointed by the lack of attention paid to the offensive line, Brown needs to prove the front office right for giving him another chance.
Nate Solder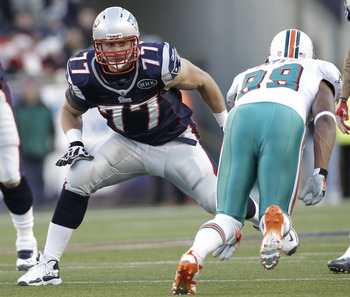 Winslow Townson/Getty Images
Matt Light has retired. The Patriots are now left with Nate Solder and Sebastian Vollmer at tackle. We know Vollmer can play, but can Solder?
Solder showed flashes as a rookie, but he was also dominated on occasion. He needs to show more than flashes of brilliance as a full-time starter.
Mark Sanchez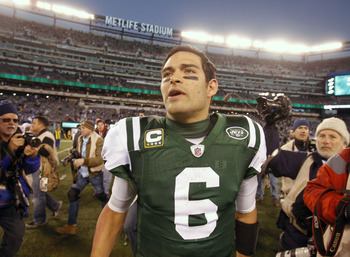 Rich Schultz/Getty Images
Jets fans—and everyone, really—are running out of patience with Mark Sanchez. New York's front office clearly wasn't satisfied either, as it traded for Tim Tebow.
Sanchez may be on his final chance. He needs to take the Jets to the playoffs, or he is probably out as the team's starting quarterback.
Donald Brown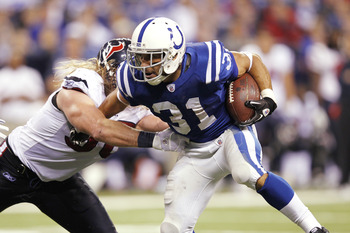 Joe Robbins/Getty Images
The Colts actually cut Joseph Addai. No, Addai isn't anything wonderful, but neither is Donald Brown. In fact, Brown is widely considered a first-round bust.
In 2011, Brown didn't even show much as a backup. Now he needs to be Indianapolis' feature back with a rookie quarterback, and with Delone Carter waiting, he won't get a second chance at the starting job.
Peyton Manning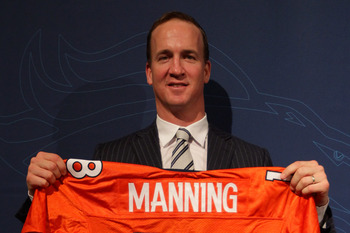 Doug Pensinger/Getty Images
There's no denying how incredible Peyton Manning has been throughout his career. However, after multiple neck surgeries, is he still the same player?
Manning doesn't need to prove anything about his mental abilities, but he needs to prove he still has the physical ability to play at a high level. If he does, Broncos fans are in for a treat.
Derrick Morgan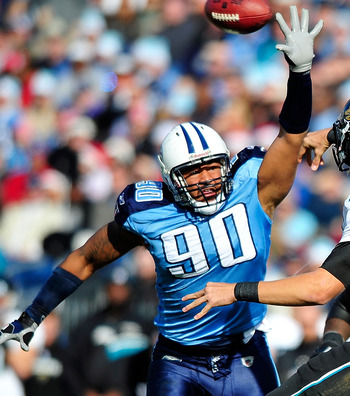 Grant Halverson/Getty Images
The No. 16 pick in 2010, Derrick Morgan has four career sacks. Even after signing Kamerion Wimbley at defensive end, the Titans were expected to address the position early in the draft.
However, they gave Morgan another chance. And unless he significantly increases his production, Morgan won't get another shot in Tennessee.
Tommy Kelly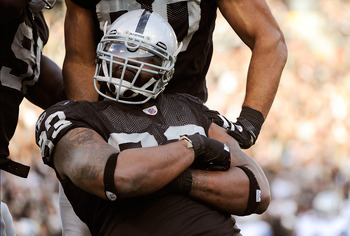 Thearon W. Henderson/Getty Images
Tommy Kelly has been a good player for Oakland. However, he might be playing nose tackle, and at 6'6", 300 pounds, he isn't exactly a perfect fit there.
Kelly will be dramatically changing his role in 2012, and he needs to prove he can handle the duties of a nose tackle. The Raiders don't have any other options.
Ryan Mathews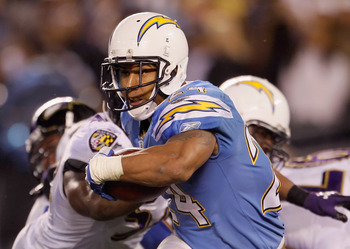 Jeff Gross/Getty Images
As his first-round draft status suggests, Ryan Mathews is a talented running back. However, the Chargers let Mike Tolbert leave in free agency, and the injury-prone Mathews doesn't have much of a backup.
Mathews doesn't need to prove anything about himself as a player. He simply needs to show he can be relied on to play on a regular basis.
Alex Smith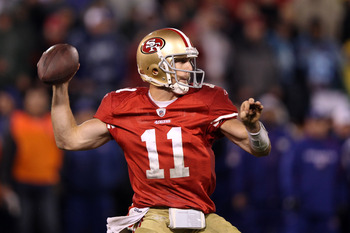 Ezra Shaw/Getty Images
After pursuing Peyton Manning, the 49ers are left with Alex Smith at quarterback. Smith played well in 2011, but he needs to show he is good enough to win a Super Bowl.
Many consider Smith a game manager rather than an elite quarterback. The 49ers are hoping he proves otherwise. If he doesn't, Colin Kaepernick is waiting.
Sidney Rice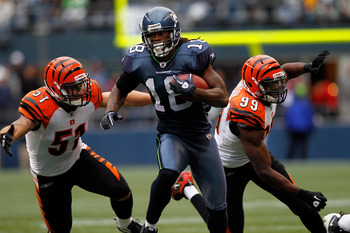 Jonathan Ferrey/Getty Images
The Seahawks gave Sidney Rice a big contract in free agency a year ago, but he didn't produce much in 2011. Now, Seattle is still relying on the former Viking.
With either Matt Flynn or Tarvaris Jackson at quarterback, Seattle needs talent on offense. Neither of those two is good enough to play at a high level without legitimate wide receivers.
Robert Meachem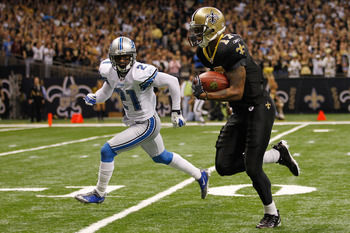 Chris Graythen/Getty Images
San Diego is counting on the one-dimensional Robert Meachem to replace an elite player in Vincent Jackson. Meachem will need to do a lot he never did in New Orleans in order for that to happen.
The Chargers simply don't have a No. 1 wide receiver. They have a possession guy in Malcom Floyd, but Meachem needs to be more than purely a deep threat.
J'Marcus Webb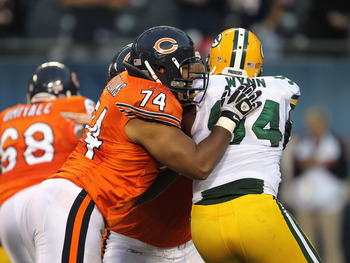 Jonathan Daniel/Getty Images
Chicago's offensive line play has been attacked for years now, and the Bears have done little to address the issue. J'Marcus Webb is a good athlete, but he hasn't yet proved to be a good player.
Webb looks slow at times and may not be a good fit at left tackle. Jay Cutler needs him to be, though, or the Bears' season could go badly once again in 2012.
Carson Palmer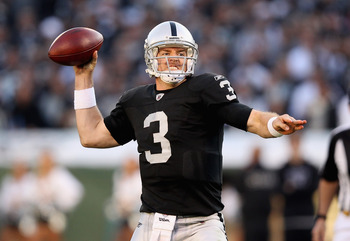 Ezra Shaw/Getty Images
The Raiders gave up one first-round pick and either a second- or first-round pick for Carson Palmer. In 2011, Palmer was horrible.
Palmer needs to lead Oakland to the playoffs. If he doesn't play like a franchise quarterback, the trade was horrible for the Raiders, and Palmer will soon be out of a job.
Derek Sherrod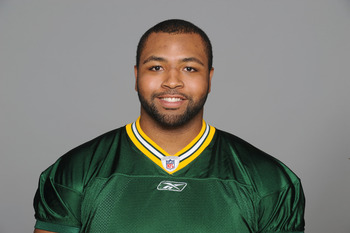 Handout/Getty Images
Even after the Packers released Chad Clifton, Derek Sherrod may not have a starting job. He will have to pull the upset and beat out Marshall Newhouse at left tackle.
The No. 32 pick in 2012, Sherrod failed to make the field in 2011, and if he doesn't in 2012, he may be labeled a bust.
Percy Harvin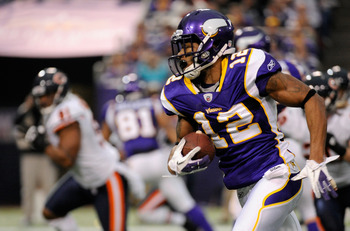 Hannah Foslien/Getty Images
Beyond Percy Harvin, Minnesota's wide receivers are awful. The Vikings need Harvin to step up and be a No. 1 for Christian Ponder.
Harvin has had migraine issues in the past, and he isn't a complete player. In 2012, he is Minnesota's best chance at having a decent offense.
Brandon Weeden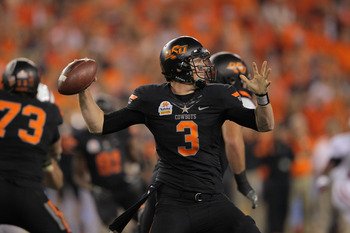 Doug Pensinger/Getty Images
A 28-year-old rookie, Brandon Weeden needs to play at a high level early. If he doesn't, Weeden will soon begin to physically decline and may never be a good player.
The Browns gambled by taking Weeden in the first round. They are now praying Weeden proves them right because everyone will be watching.
Lofa Tatupu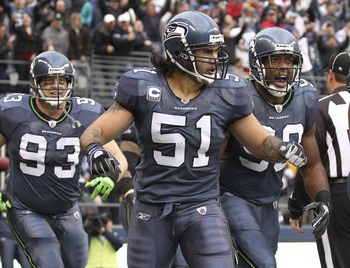 Otto Greule Jr/Getty Images
The Falcons chose to let an excellent player in Curtis Lofton leave in free agency and replaced him with Lofa Tatupu, who didn't even play in 2011. That's a gamble.
Tatupu was great a few years ago, but he had injury issues and seemed to lose his explosiveness and speed. If he hasn't regained that ability, Atlanta is going to look bad for this switch.
Terrell McClain and Sione Fua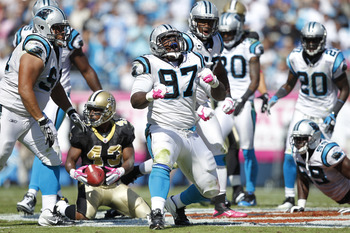 Joe Robbins/Getty Images
Yeah, this is two players. I don't care.
Defensive tackle was widely considered Carolina's biggest need, yet the team didn't draft a single defensive tackle in the 2012 NFL draft.
Terrell McClain and Sione Fua were both rookies in 2011, and they will be returning as starters. With the entire world knowing the Panthers ignored a glaring weakness. McClain and Fua better develop.
Matt Flynn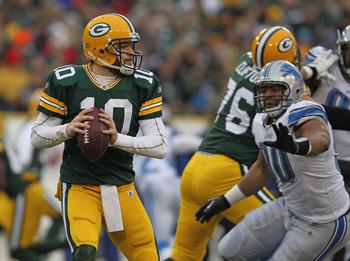 Jonathan Daniel/Getty Images
Though Seattle signed Matt Flynn to a relatively low-risk contract, the Seahawks will be paying him a decent amount of money. Flynn has one career start in the NFL.
In all likelihood, Flynn will be Seattle's starting quarterback in 2012. Entering a season with no better options than someone so unproven is a huge gamble.
Paul Kruger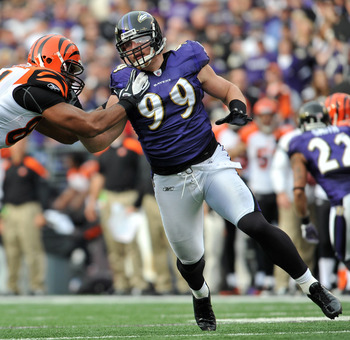 Larry French/Getty Images
Jarret Johnson left to San Diego and Terrell Suggs tore his Achilles tendon. Paul Kruger has never started before, but he's entering 2012 as Baltimore's primary pass-rusher.
Though Kruger did fairly well in limited playing time throughout 2011, he will need to step up his game. He won't be another T-Sizzle, but if he can at least be a good starter, that would be huge for Baltimore.
Brian Hartline and Davone Bess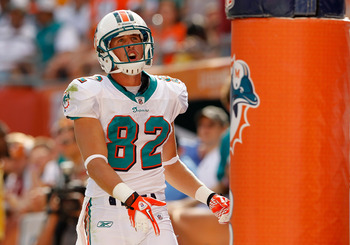 Mike Ehrmann/Getty Images
Again, I don't care that this is two players.
The Dolphins traded their lone good wideout in Brandon Marshall. They enter 2012 with Brian Hartline and Davone Bess as their top two receivers. Both would be better suited as slot receivers.
So, obviously, Hartline and Bess need to prove everyone wrong. Ryan Tannehill is certainly hoping they do.
Winston Justice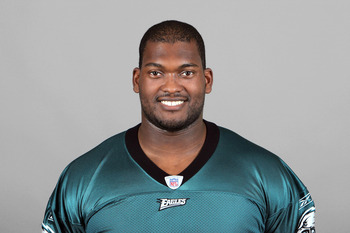 Handout/Getty Images
A career backup, Winston Justice should be Indianapolis's starting right tackle in 2012. The risk: only their No. 1 overall pick and future of the franchise.
Maybe Justice was just never given the opportunity he needed. He'll certainly try to prove that, and Andrew Luck is hoping he does.
William Beatty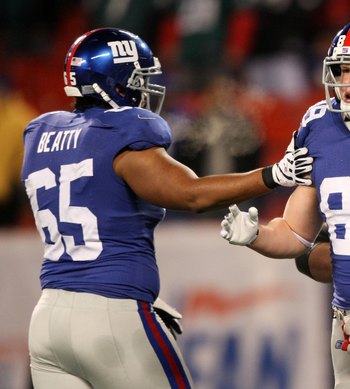 Nick Laham/Getty Images
Though he struggled in 2011, Kareem McKenzie played in New York for a long time. Now he's gone. William Beatty has never been a starter, and he will have to be one in 2012.
Beatty lacks McKenzie's size and physicality. He will need to prove he's something other than the line's weak spot, and his previous play isn't supportive of that happening.
Devin McCourty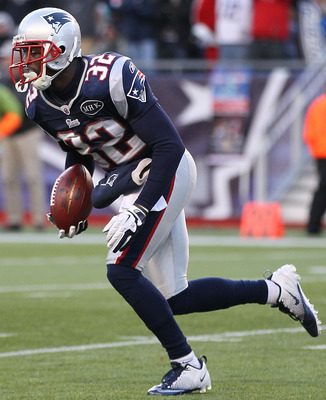 Jim Rogash/Getty Images
Devin McCourty had seven interceptions as a rookie, but his total dropped to two in 2011. He was burnt fairly often, as well.
McCourty needs to show he can be the No. 1 cornerback New England thought he was. He needs to show 2010 wasn't simply a fluke.
Kevin Walter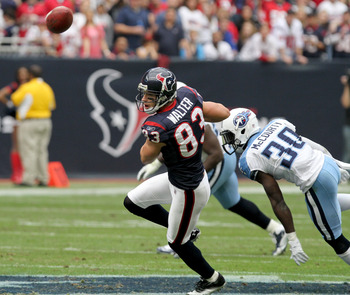 Thomas B. Shea/Getty Images
At 30 years old, Kevin Walter should still be able to produce. Houston didn't add a wide receiver in the first or second round, so it needs him to do just that.
With Andre Johnson locking down one position, the Texans need only decent production from Walter. Whether or not he provides it could be key to Houston's season.
Alphonso Smith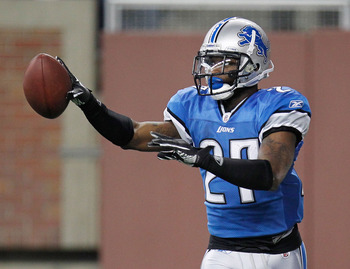 Gregory Shamus/Getty Images
The Lions seem to have no cornerbacks. Alphonso Smith wouldn't start for many teams, but he looks to be Detroit's best cornerback.
Smith needs to show he is capable of adequately handling a No. 1 wideout. If he doesn't, Detroit's defense could be in for another long season.
Cameron Jordan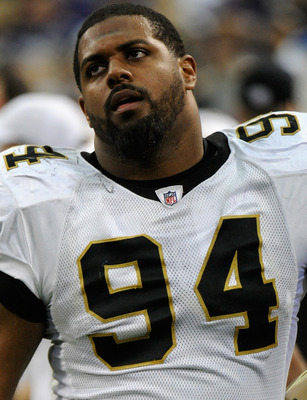 Hannah Foslien/Getty Images
Even if Will Smith weren't suspended the first two games, the Saints would need Cameron Jordan to step up. A first-round pick in 2011, Jordan provided just one sack as a rookie.
New Orleans's pass rush must improve. Its secondary struggled with the defensive front not pressuring the quarterback, and Jordan was a huge problem last year. In 2012, he has to be part of the solution.
Shonn Greene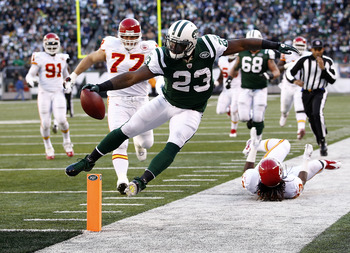 Jeff Zelevansky/Getty Images
Everyone knows Mark Sanchez can't carry an offense. If the Jets are to score points, Shonn Greene will have to provide a lot of yards and a lot of carries.
Greene took a step back the past two seasons after an intriguing rookie campaign. Now, he needs to prove he can be the focus of an offense.
O'Brien Schofield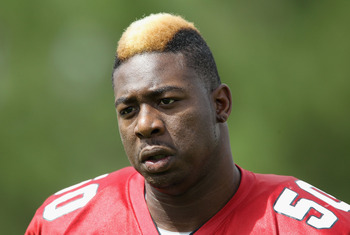 Christian Petersen/Getty Images
Arizona's pass rush was dreadful in 2011, and the team didn't do much to fix the issue. O'Brien Schofield has pass-rushing upside, but he provided just 4.5 sacks last year.
Schofield needs to get after the quarterback and provide pressure. If he does, Arizona's defense has a lot of potential.
Jared Gaither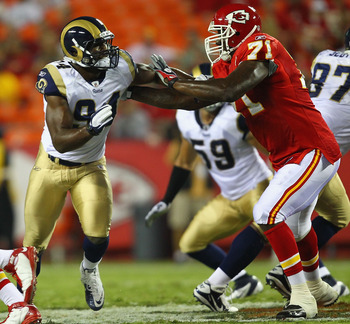 Dilip Vishwanat/Getty Images
With Marcus McNeill no longer a Charger, San Diego is left with just Jared Gaither at left tackle. Gaither looked like a beast early in his career but has struggled to see the field in recent years.
When he's playing, Gaither can dominate. Gaither isn't always playing, though, and he often seems unmotivated. The former Raven needs to show San Diego made the right move relying on him.
Keep Reading