Jeremy Stephens Talks Grandpa's Inspiration, Donald Cerrone and More
May 8, 2012

Richard Wolowicz/Getty Images
Garrett Derr: When you started fighting, you were just 16 years old. What was the Iowa underground scene like?
Jeremy Stephens: "It was very raw. You came to sign up to fight with no blood work or anything required. You didn't even need an ID, obviously. The crowd was rough but packed wall-to-wall. You'd get wrestlers, boxers, street fighters and a mix of pretty much everything. There wasn't an actual MMA school back then."
"It was just groups of people that were meeting together to train in basements. I was fighting grown men and knocking them out. I loved it. My uncle is the one that would take me and set it all up. If it wasn't for my Uncle Geno and Grandpa, I wouldn't have ever got into it and be where I'm at today. It changed my life, and I didn't have a good life before."
GD: So your grandfather actually introduced you to MMA. I'll bet not a lot of guys can say that. What was he like?
JS: "My grandpa was a true inspiration and a true fight fan. He said he knew I had a gift and was going to be something big someday. He and my uncle Geno pushed me to achieve what they knew I could do. They both are in my thoughts as I remember my roots every day, which helps push me to this day. My grandpa passed away, but I know he's still upstairs cheering me on and helping me along the way."
GD: So you made your UFC debut on your 21st birthday. I'm sure that was some kind of night. What was that experience like?
JS: "Yeah, it was great. I was there to fight. I had a lot of growing up to do, personally and with MMA. I've come a long way, and it's cool to see how I've grown up in the UFC. But despite a loss on my birthday, it was still a good night. I sure kept it positive and made the most out of it as always."
GD: You've fought guys where there has been plenty of trash talk and guys who are friends like Spencer Fisher. Which is harder to get to the right mental place to be effective in the cage?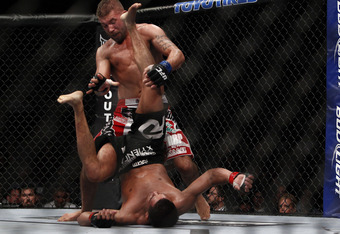 JS: "Obviously it's easier to fight guys that aren't your friends, especially if they are trash talking. But either way, it's a business and I'm going in 100-percent looking to take your head off when my job and money is on the line."
GD: You recently went to the judge's scorecards with Anthony Pettis in an extremely close bout. What were your feelings as you awaited the split decision? Did you think you had won the fight?
JS: "I know I won that fight. I'm sure Anthony knows I won that fight, but nothing I can do but look past it and move on. I guess I just should have taken a lot more risk in that fight to make the win more dominant."
GD: Having fought Anthony Pettis, do you feel he has the skill set to become the next 155-pound champion? Why or why not?
JS: "Pettis is a great fighter with a lot of great skills. I'm sure he's going to keep getting better, too. It just depends on who he fights and who brings it on the night they fight. It's tough to answer that. I can see anybody getting beat. That's the beautiful thing about MMA."
GD: Of course, it wasn't your first rodeo. Split decisions seem to be the norm for you. You've been a part of a split decision in three of your last five bouts. What is it like going through that over and over again? Is it hard to have your future in a lot of ways in the hands of the judges?
JS: "I hate decisions. My plan is to always finish the fight. Getting screwed over on a decision has happened to me more than once, so I don't want a decision again. I want to get out there and finish the fight."
"I'm not like some of the boring fighters who go out there trying to lay on someone to ride out a win. That's not my style. In the fights I've been in, that's just the way they have gone. I'm hoping to not see anything but a finish of my opponents from here on out. Vicious knockouts at that."
GD: "You're replacing Yves Edwards to take on Donald Cerrone. When you heard word of this opportunity, what were your feelings? Did you hesitate? How surprised were you to be given this fight coming off a loss?"
JS: "I've been itching to fight anyone as soon as possible, so I've been staying on my manager to get me back in there ASAP. When he called me about this fight, I was stoked right off the bat. I know Cerrone will bring it, so it sounds like a fun fight."
"I wasn't surprised at all by getting this fight. I was just surprised that it seemed so far away. I expected and wanted something sooner."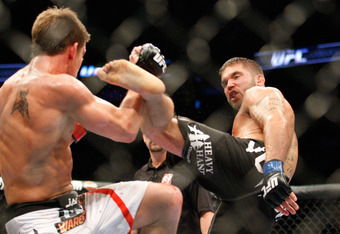 Richard Wolowicz/Getty Images
GD: Breaking down the Cerrone bout, what areas do you feel you have the upper-hand? On the flip-side of things, where are you at a disadvantage heading into this bout?
JS: "Advantages and disadvantages don't mean much to me. I'm in there to fight, and I know Cerrone will be thinking the same thing. I just want to get in there, meet him in the middle and get after it. Plain and simple."
GD: You have undeniable power in your hands. How big of an advantage is that, knowing your opponent has to approach you very, very cautiously?
JS: "I love it. The best part of MMA is knocking people out. The power is normal, but I have to be smart about everything and use every angle of MMA. Unfortunately, not many just stand right in front of you and allow you to throw bombs at them. It would make for some good highlights if they did, though."
GD: "You're 4-4 in your last eight bouts. Do you feel you've been struggling, or more like the level of competition is just so strong?
JS: "I just had some tough breaks in my recent fights. I haven't fought like myself in the past few fights and needed to change things up."
GD: You've been at Alliance for quite some time now. What are some of the major things you've learned being around bantamweight champion Dominick Cruz and with a coach like Eric Del Fiero?
JS: "I've been training and wanting to fight for quite some time. I've been going hard for a while. When I heard of this fight, it was out far enough for me to take a short break to revamp. I briefly moved to Vegas with Team Cruz for TUF 15. I've been out there training with the team along with many elite level guys from all over. I feel this has been the best camp I've had. It's the best I've ever felt mentally, and it's going to bring out the best in me."
"I just got back to my home in San Diego, CA for the last few days to focus on my weight, muscle memory and cardio. It's great being back and getting my positive high energy to an ultimate max. I feel so great, so it's hard to put into words. I just can't wait until next week."
To have an inside look at Stephen's camp and outside of training, visit his video blogs at www.LilHeathenMMA.com.
For additional information, follow Garrett Derr on Twitter.