15 Most Ridiculous Moments from First Round of Playoffs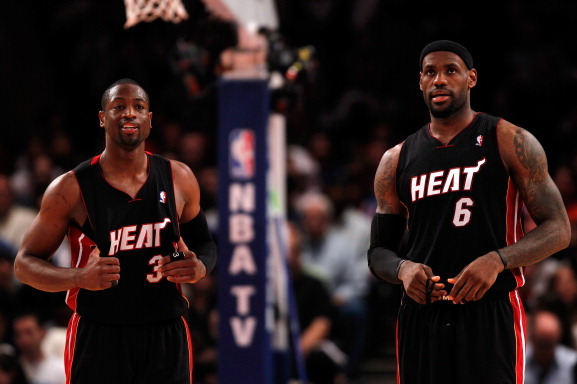 Jeff Zelevansky/Getty Images

The first round of the 2012 NBA playoffs is nearing its end, and it brought with it many memorably ridiculous moments. These playoffs have been some of the most interesting in recent memory.
The Chicago Bulls are nearly done, the Boston Celtics are looking dominant and the Miami Heat and San Antonio Spurs continue to look like the class of the NBA. Meanwhile, young teams like the Oklahoma City Thunder and the Indiana Pacers appear ready to challenge the perennial contenders.
The playoffs have been great, but also ridiculous. Here are the most ridiculous moments from the first round.
Begin Slideshow

»
First off, I apologize for the language in this clip. Second, how ridiculous can Rick Carlisle be?
He's complaining about how physical the Oklahoma City Thunder guarded Dirk Nowitzki in the first two games of the first round. That's fine, but he really needs to go back and watch tape of his own Shawn Marion guarding Kevin Durant.
Ridiculously hypocritical.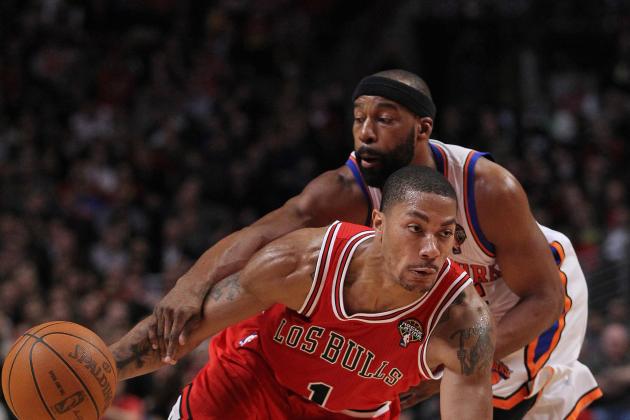 Jonathan Daniel/Getty Images

How many players have injured their knees in these playoffs?
Derrick Rose is gone for the rest of the playoffs. Baron Davis is out for at least 12 months, and might not be able to return. Iman Shumpert is also gone due to a knee injury for the New York Knicks. The number of these injuries is ridiculous, but what makes them more so is the fact that each of these players plays basically the same position.
Those are really three moments, but oh well. Ridiculous.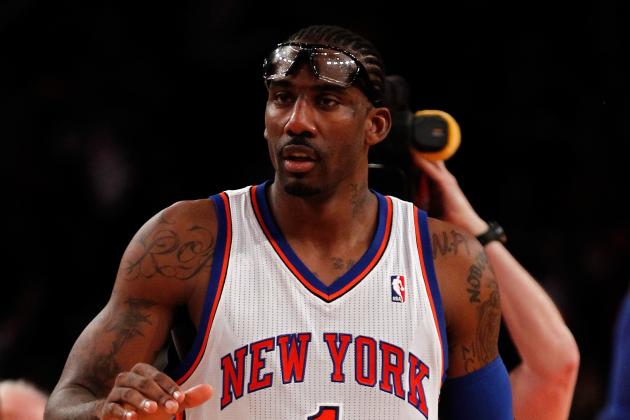 Jeff Zelevansky/Getty Images

Believe it or not, there are some thing that are more embarrassing than losing for an NBA player. Getting owned by an inanimate object should be one of them.
Amar'e Stoudemire decided to punch a fire extinguisher after Game 2 against the Miami Heat and sustained a pretty fierce-looking cut. You can see it here, but it definitely isn't for the squeamish.
The frustrated power forward was brutalized by the New York media for awhile, especially since he was forced to miss Game 3. However, he did redeem himself a bit in Game 4 with 20 points and 10 rebounds.
This is one of the funniest moments from the playoffs so far.
Mike Bibby gets a rebound, but loses a shoe in the process. Dwyane Wade, being the sportsman that he is, chucks Bibby's shoe off the court and then stares at Bibby as he back pedals down the court.
The staring is pretty funny, but Bibby's reaction is pretty funny, too. He is a bit outraged, but decides not to take it too far. Wade would win that fight.
This shot was ridiculously lucky. Kevin Durant does not get a good shot here, primarily because of Shawn Marion's tenacious defense.
Durant's size and touch are what he really shows here, but even though he is skilled in those areas, he was still incredibly lucky. If this ridiculous shot doesn't go for Durant, the entire series could have been different.
The Los Angeles Clippers were down by 27 points to the Memphis Grizzlies in the second half of Game 1 of their first-round series.
They went on a 28-3 run in the fourth quarter to take the lead, and a Rudy Gay jumper fell short at the buzzer. The comeback is the biggest in NBA playoff history, and ridiculous to say the least.
Rajon Rondo was not happy during Game 1 against the Atlanta Hawks.
He's giving the ref an earful and then bumps into him.The earful alone would have warranted a technical, but the bump along with it got Rondo an ejection and suspension for the next game.
Luckily, the Celtics were able to win without Rondo in Game 2 and now hold a 3-1 advantage in the series. It takes the kind of veteran leadership that Boston has to overcome such a ridiculously dumb play by Rondo.
After putting the Boston Celtics up by seven points late against the Atlanta Hawks with a clutch free throw, Paul Pierce struts to halfcourt and Tebows for all the world to see.
This play was so unexpected that it had to be on this list. It is especially interesting when one considers that Tim Tebow now resides in the rival city of New York.
This comment was pretty hilarious coming from Tyson Chandler, mainly because it is pretty true.
The New York Knicks have been terrible on defense in recent years, and Chandler's presence has greatly improved them in that regard. That alone is enough for Chandler to win Defensive POY. Heck, it might even be enough to put him in the MVP conversation.
The Knicks' defense is that bad.
Most people would assume that Serge Ibaka would have a better chance at dunking from the three-point line than making a shot from there. But he proved all those doubters wrong against the Mavericks in the first round.
It's pretty obvious that this shot was a last resort, as the Thunder could not get the shot they wanted for Kevin Durant. But hey, sometimes longshots pay off big.
This is a ridiculous pass from Andre Iguodala to Evan Turner.
Even if Chicago point guard C.J. Watson hadn't been standing in the way, the pass still would have been great. The fact that Iguodala bounces it perfectly between Watson's legs is insane.
It happens so effortlessly that at first it is hard to tell that it goes through his legs at all.
At first when you watch this clip, you'll think "Aww, his kid is cute." By the end of the clip, you're realizing that this kid is just as goofy and entertaining as his father has been in the NBA.
Glen Davis clearly isn't amused by his kid's antics, especially after a loss, but that doesn't mean that we can't be. It is pretty funny.
Glen Davis is so entertaining and ridiculous that he's making a second appearance on this list.
After hitting an awesome fadeaway in the lane against the Indiana Pacers, Davis does a sort of high-stepping dance back down the court. The most ridiculous part is how well Davis can move for his size.
Gregg Popovich is one of the best coaches in the NBA and is known for resting his players as much as possible to avoid injury. Tony Parker is still relatively young, despite the fact that he's been in the league for a decade.
Parker is quick to remind his coach of this when Popovich tries to take him out of a game. This ridiculously funny conversation is also pretty interesting, offering a small window into a normally closed-off Spurs organization.
"I'm 29 years old!" Priceless.
Vince Carter gives the world a ridiculous glimpse of the high-flying player he used to be. Of course, he wouldn't have needed such a big hole to go through in his prime, and I think that he would have taken off from a lot further back then, too.
But hey, let's just enjoy the ridiculous bit of Vinsanity that we get. Most of it is gone, and the fact that Carter can still even do this much is ridiculous.