NBA Playoffs 2012: 5 Improvements Miami Heat Must Make to Win NBA Title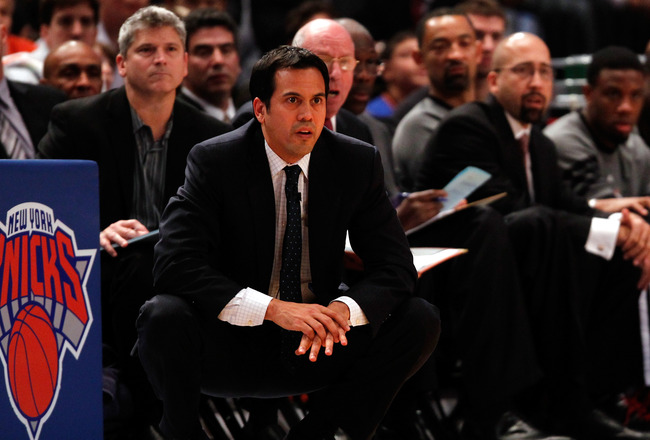 Jeff Zelevansky/Getty Images
Look, I won't lie, I think the Heat are a lock to win it all this year. I don't have to like it, but denial isn't my thing. This team is too top-heavy and determined to be stopped. Furthermore, once the smoke clears in both conferences, they're bound to be less beat up than whomever comes out of the West—what with injuries ostensibly turning their trip to the Finals into the cakewalk LeBron James always dreamed of.
That said, there are most definitely some exploitable kinks in Miami's armour, which they had best address in order not to leave the door open to an unlikely upset, or at least an unnecessarily hard-fought series—i.e., numbers one and two on the list of LeBron James' worst nightmares.
So here we go with five adjustments the Heat must make in order to guarantee a title with minimum adversity.
Tip of the hat to www.teamrankings.com for the regular-season metrics.
1. Take Better Care of the Ball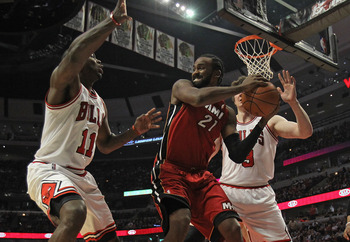 Jonathan Daniel/Getty Images
For all Miami's mystique as a well-oiled machine—not to mention LeWade's reputation as highly-skilled passers—collective ball movement is far from their strong suit.
For the 2012 season, Miami ranked in the bottom third of the NBA in assists per games (20th), turnovers per game (22nd) and—predictably—in assist to turnover ratio (24th). These are not the kinds of rankings one expects from a super-elite team like the Heat, and it points to a need for a smarter, more focused approach to their offense.
The Heat's relatively subpar ball movement may not have cost them all that often during the season, but as the playoffs wear on and Miami faces some more disciplined defenses, their penchant for sloppy plays could cost them dearly.
The only thing Miami has going for it in this respect is that they're not the only top-tier squad with issues; the Thunder rank below them in all of the aforementioned stats. This would suggest that suspect ball movement is not the fatal flaw it seems to be with that kind of talent monopolizing the rock.
2. Avoid Getting Comfortable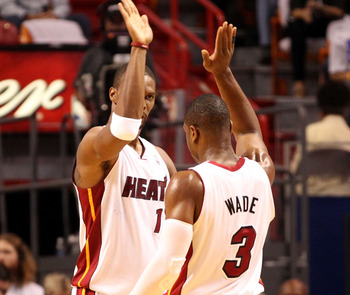 Marc Serota/Getty Images
Miami's biggest Achilles heel, by far, is their own desire to coast. If these guys had it their way, they'd have a fistful of rings without ever breaking a sweat.
It's more or less the biggest facet of their team personality; it is, after all, what brought them all together to bully the NBA in the first place. We all like to relax and kick back after work, but the Heat would rather do so before punching out.
This team has a tendency to come out strong like the beast they are, dominate their opponent for most of the game, and then take their foot off the gas as soon as they feel they have a large enough cushion. Sometimes, you get the impression they only try hard based on some unspoken promise of decreased effort later on. Some have suggested that this is simply LeBron James' entitled attitude rubbing off on the team.
This attitude has cost them some games (of varying importance) in the past, and they've yet shown no signs of outgrowing it. This season, the Heat were fifth in the NBA in first-half scoring, while falling to 18th in second-half scoring. Granted, this includes wins, losses and blowouts alike, but part of that sample would be squandered leads and failed comebacks.
As much as they'd prefer not to, these guys need to curb their mental laxity and learn how to keep the pressure on for 48 minutes, otherwise some plucky underdog (who isn't?) could once again take them down with some late-game heroics. Plug that leak, and those heroics mean nothing.
3. Patrol the Downtown Area More Closely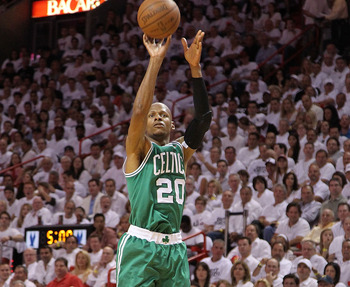 Mike Ehrmann/Getty Images
If there's one aspect of the game that Miami consistently underachieves at, it's guarding the three-ball.
This season, the Heat were dead last among Eastern playoff teams in opponents' three-pointers made (28th overall), three-point percentage (24th) and three-point rate (27th), which is the percentage of a team's total shots taken from downtown.
While this could be seen as a by-product of Miami's strong interior defense, it nonetheless exposes them to some major complications on nights when their opponent is falling back on the long-range game. Witness the back end of the '11 Finals, when Dallas' red-hot shooting put them over the top, sinking LeWade's championship cruise in the process.
The Heat need to prevent teams from negating their inside D with the long ball, and when they do, they need to put a greater emphasis on closing out on shooters to break their rhythm. Failure to do so is essentially giving opponents a free shot at stealing a W when they've got the range.
4. Rediscover the Running Game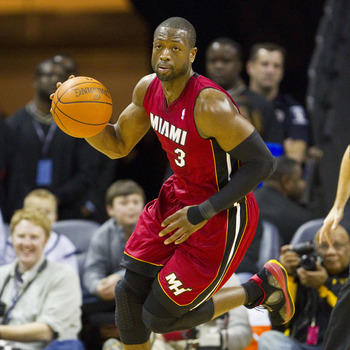 Brian A. Westerholt/Getty Images
The Heat started the season with a clear offensive paradigm: get out and run. Coach Erik Spoelstra made this the focal point of the team's offense and defense—since their ability to run the break was predicated on getting stops—and for a while it worked like gangbusters (see: 8-1 start).
Since then, for whatever reason, Miami has moved away from this style. Sure, they'll still get their share of fast breaks just like any other team (only flashier), but they apparently stopped making that their calling card as the season wore on. For the year, they ranked 21st league-wide in fast break efficiency.
Any team with a weapon as overwhelming as LeWade on the break, would be well-advised to make it their bread-and-butter as often as possible, particularly if they run into slower teams like Boston and San Antonio.
A half-court battle with these clubs would be just that, a battle—read: worst nightmare—whereas the Heat could just as easily kick the offense into overdrive and potentially run their less mobile opponents out of the gym.
This style is less dominant against athletic squads like Indiana and Oklahoma City, and yet it would still behoove them to have it right at the front of their collective Bat-belt in order to keep maximum pressure on the defense. The more missed opportunities to run and gun, the more the Heat make life easy for their opponents.
5. Don't Underuse Udonis Haslem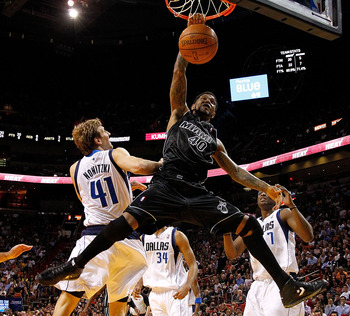 Mike Ehrmann/Getty Images
Through the first four games of the postseason, Udonis Haslem is playing 17 minutes per game, a far cry from the days when he averaged twice that much time. Granted, he still has yet to regain his mojo following his extended sojourn on the injured list, but this team needs all the grit it can get, considering who they have starting at the four.
It's possible the Heat are merely conserving Haslem, shielding him from overuse with intentions of increasing his role as the stakes get progressively higher. If this is the case, then his current decrease in playing time is not so unwise.
However, if this trend of paring his minutes continues, the Heat will find themselves in frequent need of someone to lighten their load on the boards—where Haslem is currently averaging 18 per 48 minutes in the first round.
Haslem's overall attitude towards dirty work, combined with his inherited vendetta against critics of his hometown club, make him a poor candidate to warm the bench for 30 minutes a night—even despite his decreased effectiveness.
Keep Reading

Miami Heat: Like this team?