Milwaukee Brewers Looking to Regain Consistency at First Base
May 7, 2012

Denis Poroy/Getty Images
In their last five games, the Milwaukee Brewers have started four different first basemen. This was necessary due to the likely season-ending injury to Mat Gamel, who was injured on May 1 in San Diego.
Travis Ishikawa, Brooks Conrad and Taylor Greene have each taken a turn starting at first base since Gamel's injury. Who might settle in as the replacement for Gamel is anyone's guess at this time, including the possibility that outfielder Corey Hart may see some action in the infield.
From 2006-11, the Brewers had few worries when it came to who was starting at first base. Obviously they had Prince Fielder patrolling first until he left this past offseason for Detroit.
In Fielder's past six seasons as the Brewers' first baseman, he started 937 of 972 games (96.4 percent of the starts).
In the 35 games that Fielder did not start at first for the Brewers from 2006-11, 11 different players got the starting nod at first. They were:
2006: Jeff Cirillo, Corey Hart
2007: Tony Graffanino, Joe Dillon, Damian Miller
2008: Joe Dillon, Russell Branyan, Mike Rivera
2009: None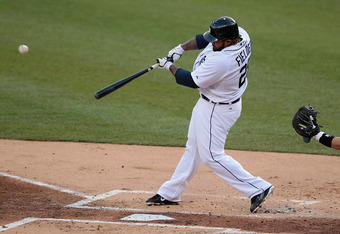 Leon Halip/Getty Images
2010: Jim Edmonds, Casey McGehee
2011: Mark Kotsay, Mat Gamel
Some of these players had quite a bit of success as Fielder's replacement. For example:
Jeff Cirillo started at first for 11 games in 2006. He was 17-for-38, batting .447.
Joe Dillon started six games at first base in place of Fielder (three games in 2007 and three in 2008). He was 14-43 (.326 batting average) as a starting first baseman with three home runs.
Tony Graffanino was 5-for-14  (.357 average) in his three starts at first replacing Fielder in 2007.
All total, the Brewers players who started at first base instead of Fielder (35 games) from 2006-11 batted .315 in those starts.
Did you know? The players who started in place of Fielder in 2010 and 2011 were a combined 1-for17 in those games.
Follow Jerry on Twitter @StatsonTapp