Suspended Bountygate Players Should Get Used to Being Suspended
May 7, 2012

Rich Schultz/Getty Images
Saints linebacker Jonathan Vilma filed an appeal with the NFL on Monday over his season-long suspension from the league in regard to his involvement in Bountygate.
Vilma shouldn't hold his breath.
The other three suspended players—Anthony Hargrove, Scott Fujita and Will Smith—filed "reservation of rights" letters to the NFL.
Scott Fujita, Anthony Hargrove and Will Smith filed notice that they reserve the right to appeal their suspensions after a grievance filed by the NFLPA on their behalf is heard.

The NFLPA is challenging commissioner Roger Goodell's authority regarding the suspensions. The NFLPA states that no appeal should be heard until an arbitrator or arbitrators rule on two grievances that were filed last week are resolved. Vilma's lawyer, Peter Ginsberg, also said that protocol also applies to Vilma.
These three should get used to being suspended, too.
Even in a perfect world—or I should say a vacuum—where only the current evidence and reports were going to be examined, the four players wouldn't stand a chance on appeal.
But new evidence keeps mounting. And it's not even coming from investigators—the players themselves are piling it on.
Yahoo! Sports obtained a declaration from the NFLPA from Hargrove in which he lays out some of the timeline.
In the declaration, he claims that defensive coordinator Gregg Williams called Hargrove into his office in late February, 2010.
Williams led with "I've got you plugged in at left end, Tony," according to the declaration. It wasn't until later that Hargrove said he realized that the starting at left end carrot Williams dangled "might have had something to do with what he was about to tell me to do."
Williams wanted Hargrove to get his story straight about the Saints' bounty program, specifically the bounty on Minnesota Vikings quarterback Brett Favre.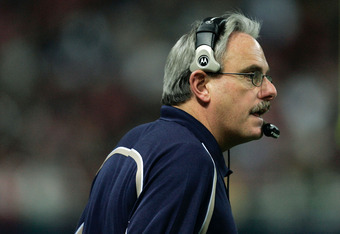 Dilip Vishwanat/Getty Images
It was at this point in the conversation that assistant coach Joe Vitt arrived, according to Hargrove's declaration, and Williams got animated.
"Those motherf-ckers (the NFL) have been trying to get me for years," and that, if they "stay on the same page, this will blow over."
Vitt continued to apply pressure by saying that "he was the person who 'brought (me) into the league and brought (me) to the Saints."
Hargrove's declaration should open a lot of eyes to what happened and to what types of people are involved.
General consensus was already on the opposite side of Williams—who has been suspended indefinitely. But now, if Hargrove's timeline is true, Vitt can also be lumped into the scumbag category. To attempt to coerce an agreeing statement by first offering a player a starting job and then reminding him that it was only by your grace that he was in the league is terrible.
Shame on Williams and Vitt.
And even though the declaration said nothing in it about Hargrove's involvement or knowledge thereof, it seems unreasonable that Hargrove didn't at least know of the bounty program's existence.
Two people in positions of power don't dangle jobs and guilt trips on a player who has no idea of what's going on. And a player who had no idea what was going on would have hit the roof had he been given this knowledge in this manner.
Hargrove's declaration submitted no evidence of his guilt, but it might as well have.
And while all of this new information gets hashed out in the appeals process, the four suspended players sit and wait. Vitt, Williams, general manager Mickey Loomis and head coach Sean Payton also are anxiously watching what's unfolding.
What they all should be hoping for is that everyone involved just shuts up.
None of these appeals are going to go anywhere, and if Monday is any indication, new information could provide evidence that could be daunting for reinstatement.
No one's suspension is going to be reduced or overturned. At this point, they should all worry that no one's going to say anything to make matters worse.