Mike Shanahan Names Robert Griffin Redskins' Starter: For Better or Worse?
May 7, 2012

Patrick McDermott/Getty Images
After trading away just shy of a king's ransom to land Heisman Trophy winner Robert Griffin III in last month's draft, Mike Shanahan and the Redskins confirmed that the starting quarterback gig would be Griffin's to lose.
Despite a majority of fans expecting Griffin to start, there were a few that questioned his learning curve at the pro level, as well as the ideology behind the team drafting Michigan State's Kirk Cousins in the fourth round.
On Sunday, Shanahan squashed the questions and confirmed his move.
"He's the starter. Period," Shanahan said about Griffin (via ESPN).
"We're going to adjust our system to what he feels comfortable with," Shanahan continued, "and we'll watch him grow and we'll do what we feel like he can do and what he does the best. … One thing the NFL is not used to is a quarterback with his type of speed and his type of throwing ability, so I think we can do some things that people haven't done."
Understandably so, fans are critical of Shanahan's early announcement of the Redskins' starter. What about camp competition? What about the fire behind Griffin to keep him motivated? What if Griffin really doesn't progress like we all had hoped?
Although all valid questions, Shanahan made the call for all the right reasons. Amidst an obsessed fanbase that is long overdue for a legitimate quarterback, Shanahan was rational, justified and necessarily confident.
1. Even if the rumors of a quarterback controversy in Washington are baseless and ridiculous, everything tends to create a bigger fire when it involves the Redskins.
Sure, Shanahan selected Cousins in the fourth round, but he had no intentions of stirring the pot. Simply put, every team needs a starting quarterback and a backup. Considering Cousins fell into the Redskins' lap and the team had a need at the position, it was a solid pick. For a very reasonable cost, the Redskins now boast a young and promising stable of quarterbacks.
2. Not that Griffin appears to be the kind of guy to lack confidence, but having the coaches in your corner certainly provides a boost.
Whether it was the Colts, the Browns or the Redskins that selected him in last month's draft, Griffin expected to be an NFL starter in Week 1. But given his professionalism and maturity, Griffin can also recognize the fact that anything is possible leading up to the season. If he succumbs to pressure, he holds a clipboard.
Forget any pressure that may lie ahead. Griffin can now enter camp with veterans and know that it's his job to lose.
3. If you're a Redskins fan, you have to be excited. As much as it means to everything football, Shanahan's announcement is just as important to the fans as it is to the team locker room or on-field performance.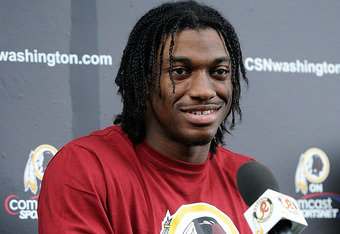 Patrick McDermott/Getty Images
Drafting a quarterback in the early part of the first round is a big deal. In addition to expecting a successful career of more than a decade, typically that team has just found their next face of the franchise. However, due to developmental progress and attempting to avoid David Carr Syndrome, often times rookies can sit. This simply wasn't the case in Washington.
Arguably more so than any other NFL franchise in the past 20 years, the Washington Redskins have had the most below-average talent at the game's most important position. So, when the trade went through and the Redskins positioned themselves to take Griffin, fans let out a sigh of relief and fully expected Griffin to start immediately.
Shanahan told the fans what they wanted to hear.
4. For a coach that continues to build his Hall of Fame resume, Mike Shanahan could very well live and die by Robert Griffin III.
Although he will always be linked to John Elway and his successes in Denver, Shanahan could ultimately be responsible for landing one of the most electrifying quarterbacks to ever play the position, while at the same time resurrecting a beloved franchise that hasn't sniffed success in over two decades.
Shanahan has nothing to lose by throwing Griffin on the field right away. If he succeeds (as we all anticipate), then Shanahan soaks in the glory that he longs for and needs. If Griffin fails, Shanahan is shown the door and he finishes his career on a less positive note.
Either way, this is Shanny's last chance to prove it wasn't all Elway.
Be sure to follow @BetBigDC on Twitter