Kentucky Derby 2012: Deep Field Will Keep I'll Have Another from Triple Crown
May 7, 2012

Travis Lindquist/Getty Images
No offense to I'll Have Another—a supremely gifted horse that deserves every bit of praise he's garnered since capturing the 138th Kentucky Derby on Saturday—but there's no way Doug O'Neill's California colt is going to be the first equine wonder to sweep through the Triple Crown since Affirmed turned out to be a three-trick pony in 1978.
And it has little to do with the horse himself.
Rather, it's an issue of competition. Winning three lengthy races—the Derby, the Preakness Stakes and the Belmont Stakes—in just over a month's time is no easy feat, even against weak competition, but  especially against a field as talented as the one that I'll Have Another has competed with and will continue to face in the two races to come.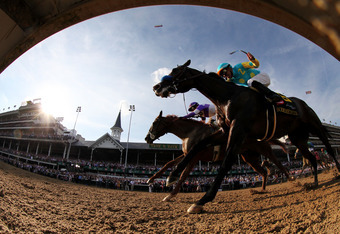 Rob Carr/Getty Images
He'll have another tough go against Bodemeister, who finished second at Churchill Downs after blazing through the first six furlongs and leading the pack for the majority of the race. The Bob Baffert entry figures to perform even better if Trinniberg, the short-distance speedster, doesn't find his way to Baltimore for the Preakness.
Dullahan, Went The Day Well, Hansen and Creative Cause will all be in the mix as well. So will Union Rags, who came into the Derby as the odds-on favorite but finished sixth after getting pinched by the field out of the gate.
That's without mentioning, too, a number of other talented horses (i.e. Derby Trial winner Hierro, Canonero II Stakes champion Pretension, Jerome-winner The Lumber guy, Cozzetti and Tiger Walk) who didn't make the Run for the Roses and should be fresher at Pimlico as a result.
This all isn't to say that I'll Have Another should be discounted entirely from the Preakness or the Belmont thereafter. He showed strong tactical speed to come from behind, as well as the intelligence to bide his time and follow jockey Mario Gutierrez's commands, the stamina to survive through the rigors of the race and the determination to finish in such strong fashion.
I'll Have Another was also incredibly lucky to come out on top, just as any horse would be and has to be to win such a competitive race. Replicating such good fortune will be no easy task, certainly not amidst so many win-worthy horses, be it I'll Have Another or anyone else for whom the difference between first place and everything else is the pursuit of horse racing history.