WVU Mountaineers Football 2012: Big Expectations in the Big 12 Conference
May 7, 2012

Jared Wickerham/Getty Images
The West Virginia football team will be exiting the Big East Conference and heading into Big 12 territory come this fall. 
And for Mountaineer Nation, expectations have not been this high in a long time.
Not since the Pat White/Rich Rodriguez days, anyway.  For someone who witnessed the Orange Bowl personally at Sun Life Stadium, here is what I see from the Mountaineers this upcoming season. 
There's no question that times are exciting for West Virginia. WVU just won the Orange Bowl by a score of 70-33 against the Atlantic Coast Conference champion Clemson Tigers.
The Mountaineers broke numerous bowl records in the process. 
It wasn't an easy path to a BCS game for West Virginia, however. After an embarrassing loss to the Syracuse Orange, the future did not look bright. But, head coach Dana Holgorsen, senior quarterback Geno Smith and the wide receiver duo of Tavon Austin and Stedman Bailey were able to bring home the Big East Championship and a BCS berth. 
Fast forward to January 4, 2012 and the Mountaineers looked like the team they were supposed to be all year. Against Clemson, the offense and defense shined all night, and college football fans around the country were in awe. 
But, the competition will only get tougher come the 2012 football season. 
West Virginia moves to the Big 12, and teams like Oklahoma and Oklahoma State will be coming to Morgantown and presenting difficulties that the Mountaineers did not see in the Big East.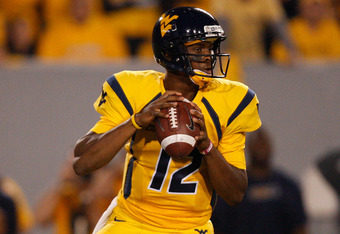 Jared Wickerham/Getty Images
For the Mountaineers in 2012, the offense shouldn't be an issue. Smith, Austin, Bailey and Shawne Alston are returning and the Mountaineers also got deeper with a new recruiting class that features wide receiver Jordan Thompson.
However, questions do remain with the defense. WVU will learn whether that side of the ball can adjust to losing key players such as Bruce Irvin and Keith Tandy. New defensive coordinator Joe DeForest will have his work cut out for him.
Looking at the schedule, WVU will have non-conference games against James Madison, Marshall and Maryland. The first Big 12 game will be against Baylor. One game I personally cannot wait to see will be against Texas on the road. That game will be pivotal for the Mountaineers to prove to both the Big 12 and the nation that they can compete with the big boys. Oklahoma will most likely be a night game at Milan Puskar Stadium on Nov. 17.
The Mountaineers have the leader in Geno Smith to go deep this season. Smith will be a Heisman contender going into 2012, and the Mountaineers should get a preseason ranking close to the Top 10. 
If WVU plays to expectations, expect a very bright future in the Big 12. A possible national title could even be in its sights.