Chris Paul Has Fooled NBA Fans into Believing Blake Griffin Is a Superstar
May 7, 2012

Chris Trotman/Getty Images
The 2012 NBA regular season was one of the better ones in recent memory for the Los Angeles Clippers thanks to the Chris Paul-Blake Griffin duo that kept fans on edge. 
Lob City produced an insane amount of highlights, and Griffin went on a rampage of posterizing NBA defenders as the Clippers franchise made the postseason for only the fifth time since the 1976-77 season when they were known as the Buffalo Braves.
Yet while Paul has had an MVP-type campaign, he also has proven to be a magician, since he's seemed to fooling NBA fans into the fact that his running mate Griffin is a superstar.
Griffin certainly had a great start to his career, averaging 21.7 PPG and 11.5 RPG and has the makings of a future NBA superstar, but he's not there quite yet. Paul's brilliance running the Clippers offense would lead you to believe that Griifin is great, but he's got a long way to go to reach that status.
At this point in his career, Griffin is a highlight factory and a celebrity, but not a superstar.
An NBA superstar has a multi-faceted game. He's a guy that elevates his teammates. A superstar is someone who raises his game at both ends of the floor when his teammates need it the most. A superstar is a guy that can be counted on when times are the toughest. He does thinks fundamentally well and finds ways to do things out of character in order to simply get a win.
Paul is definitely that guy. Griffin isn't close yet.
Superstars from Kobe Bryant to LeBron James and everyone in between have plenty of other options to their game. That's what makes them the great superstars they are.
Clippers fans may not like it, but right now Griffin is a dunker, and that's about it. He's an awesome dunker, but if you take that part of his game away, what type of player do you have?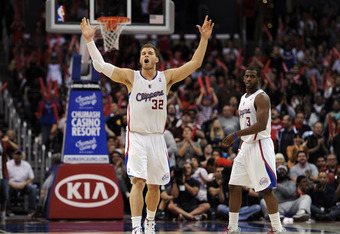 Harry How/Getty Images
He doesn't have much of a mid-range game, isn't a facilitator, can't handle the ball well and is a lousy free-throw shooter. He performs at a below-average area in almost every other aspect of his game. That alone prevents Griffin from being a true superstar, and until he improves in those areas, he's not at a superstar level.
There is no doubting Griffin's explosiveness, but his success at the NBA level is solely tied to that explosiveness and athleticism. He isn't multidimensional and isn't a leader the way superstars are in the NBA.
Paul is that guy.
Griffin has a lot of work to do.
The good news is that he's a great athlete and can develop the other parts of his game.
It's similar to the hard thrower that thinks he can get by on his fastball by striking everyone out. After the book gets out on him and hitters see him a few times, the only way that guy can succeed is by learning to become a pitcher.
Griffin has to take that next step and learn to become a basketball player.
He won't become a real NBA superstar until he does.