Stanley Cup Playoffs: 8 Reasons the Flyers Will Still Beat the Devils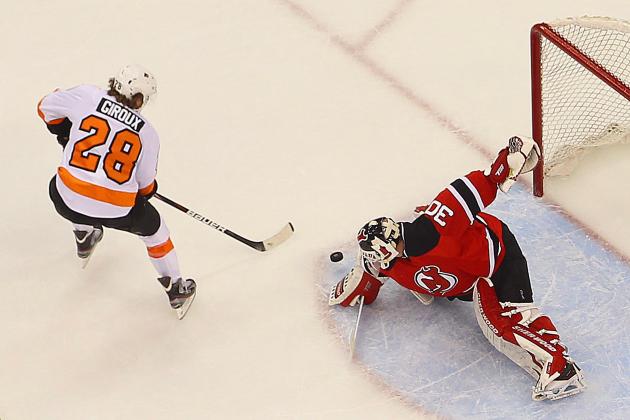 Bruce Bennett/Getty Images

The New Jersey Devils are outplaying the Philadelphia Flyers through the first four games of this series.
That is the main reason for Jersey's commanding 3-1 series lead.
The Devils are stronger on the puck, far more disciplined in their own zone, twice as physical in the corners and on the forecheck and appear to be playing with more urgency despite playing a calmer, smarter game than Philly.
But, as Gotham City's great District Attorney Harvey Dent once said, "The night is darkest just before the dawn. And I promise you, the dawn is coming."
Things cannot get much worse for the Flyers, but this is a team that has performed best when backed into a corner all season, and this is as close to the brink as it gets.
Just as going up three games to one on the New Jersey Devils in the 2000 Eastern Conference Finals was not an automatic ticket to the Stanley Cup Finals, this 3-1 deficit is not the end of the world for the Philadelphia Flyers.
With that in mind, here are the eight reasons the Flyers will come back and win this best-of-seven series.
Begin Slideshow

»
Claude Giroux, the playoff leader in goals, assists and, obviously, points, has been suspended for Game 5 because of a dirty hit to the head of Dainius Zubrus at the end of the second period of Game 4.
Giroux lost his cool, yelled at an official, basically declaring he was going to take a run at a Devil, then leveled a shoulder in or around the head of a player who had released the puck in enough time before contact to not expect to be hit.
Claude has said he is not a dirty player, and he is not. But this play was a microcosm of the series; the Flyers have played uncharacteristically and are paying for it, this time by facing an elimination game without their most productive player.
However, this could work in the Flyers' favor.
It is pretty clear Philly has taken Jersey too lightly early in this series, and now it is the Flyers' turn to ramp up their desperation.
If the Flyers dig deep in Game 5 on Tuesday and pull out a victory without their superstar, the momentum will begin to shift.
Then, with the player Laviolette deemed "the best in the world" returning for a potential Game 6, the Flyers can apply the pressure and make the Devils sweat a little, then hopefully force a Game 7 back in Philadelphia.
Giroux's suspension can be a rallying point for his teammates, and his return could be the boost this team needs to pull out the series.
"G" will be looking to make up for missing an elimination game by willing his team to victory, as he did in Game 6 in the first round against Pittsburgh (seems like a lifetime ago, doesn't it?).
Of course, all of these hypotheticals are contingent on the orange and black stepping up in the absence of their de facto captain and leading scorer.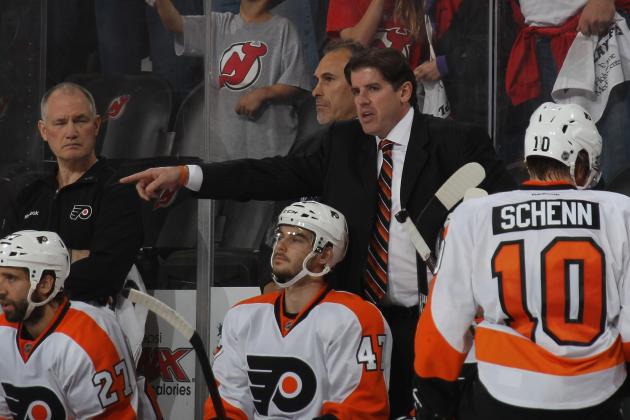 Bruce Bennett/Getty Images

Flyers head coach Peter Laviolette is one of the best motivators in the NHL, and every minute from the time Game 4 ended and Game 5 begins needs to be like one of his patented, perfectly timed timeouts.
Laviolette and his leadership circle have been to battle before and overcome substantial deficits in both individual games and playoff series, and this is just another challenge to the coaching legacy of Peter Laviolette.
His line-juggling and ice-time allotment to a certain Alaskan "defenseman" (more on him later) are certainly up for debate, but his ability to get the utmost effort from his stars and role-players is unquestionable.
It is now Lavy's job to find a line between absolute desperation and calm, smart hockey and keep his team on it for the next three games, and I believe he can keep the message simple enough for his team to pull off the comeback.
The Flyers' bench master needs to present the clichés "win one game at a time" and "it ain't over 'til it's over" convincingly enough that the veterans believe they can sweep the remaining three games, and the youngsters will follow the lead as they have all season.
Fans have called Laviolette "the perfect coach for this team" for the past 92 games. Now it's time for Laviolette to prove his coaching prowess by motivating his team to make an improbable comeback while also re-formatting the offense to break Jersey's neutral zone pressure and neutralize Marty Brodeur's forecheck-busting puck skills.
Not an easy task, obviously, but the Flyers made an organizational shift in the past offseason by shipping out the team's captain and leading goal scorer while the head coach kept his job. Now Lavy needs to show why Paul Holmgren and Ed Snider kept faith in him after last year's postseason embarrassment.
The Flyers' enigmatic goaltender was questionable in Round 1 but made big saves when he was needed.
Ilya Bryzgalov has done more in the semifinals, single-handedly keeping his Flyguys in each game thus far.
The Devils have out-shot Philly 135-106 through four games, yet every game has been a one-goal game in the third period.
Bryz has outplayed Marty Brodeur on a per-chance basis, but since Marty's defense is actually playing defense, his goals against average is 2.29 and the saves he does make are momentum changers. It seems that whenever the Flyers finally break the Devils' defense for a quality chance, that damn Brodeur, at 40 years old, is STILL there.
Bryzgalov only needs his defense to limit Jersey's chances a little bit, and he will steal a game for the franchise that believed in his ability to do so to the tune of $50 million.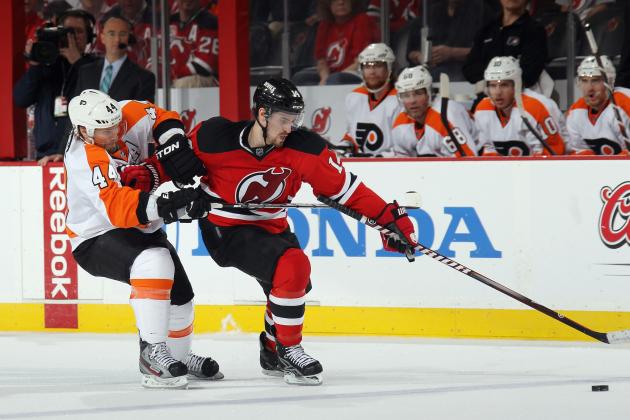 Bruce Bennett/Getty Images

Believe it or not, I have good news for the Flyers blueliners: Their play cannot get any worse.
Honestly, this is one of the most lackluster defensive efforts in franchise history.
The Devils' forechecking and cycle game is putting a lot of pressure on the Flyers' defenders, but the Devils' offense is not good enough to get as many chances as it has without the non-existent Flyers D.
Kimmo Timonen is nowhere near his level of play in past postseasons, Nick Grossmann has been a non-factor and the next time Matt Carle puts himself between the net and his man—you know, basic defensive strategy—it will be the first time.
The breakouts are an unorganized mess. The defensemen are being out-battled in every corner, holding the puck in at the offensive blue line seems like an impossible chore and every single Flyers player looks slow.
Based on the idea that the team defense cannot get any worse, and referring back to the "darkest before dawn" quote in the introduction, the D has only to display a fraction of the heart and effort it demonstrated in Game 6 of the first round for the Flyers, as a whole, to turn this series in their favor.
The defense is wretched and the games are still rather close.
The Flyers need to take the next few days before Game 5 to think to themselves, "Are we ready to go home?" And if the answer is "no," it will show in selfless, determined, physical play in their own end.
This team is definitely missing important links to its defensive corps.
Captain Chris Pronger and Andrej Meszaros are both sidelined, while Timonen is obviously battling multiple physical ailments at an advanced age.
But this defense has rallied before, and much like the suspension of Claude Giroux, the team can rally around the fact that it has a "no-name defense" and put together a few games in a row that don't embarrass itself or its fans.
Also, benching Matt Carle, who makes at least one mistake on every shift, and giving Pavel Kubina, Brandon Manning or Marc-Andre Bourdon a shot could not possibly hurt—again, it's not like the D is going to look any worse.
Bruce Bennett/Getty Images

I have a serious question for every Philadelphia sports fan out there: Are you ready for it to be Phillies season?
I'm not.
Pinning all my championship hopes to an Utley-less and Howard-less Phils squad before Memorial Day does not appeal to me.
Game 5 is Tuesday night in Philly, and honestly, I'm tired of seeing Flyers players having to pump up the crowd to create the necessary playoff atmosphere.
It's time for the "most intimidating fans in hockey" to set the tone for their team.
If the Philly Phaithful live up to their Bully reputation, the Flyers will win Game 5, then go back to Newark for Game 6 with the thought, "If we win tonight and send it back to Philly, it's over."
Granted, the Flyers finished ninth in the East in home record (22-13-6) while New Jersey's 24 road wins were tied for second in the conference. But if these playoffs have proven anything, it's that the regular season does not matter.
Home ice has scarcely mattered thus far in the playoffs; however, few cities can claim to have a dedicated fanbase comparable to the Flyers'.
But now it's time for Flyers fans to stop resting on their laurels and make a difference. The season depends on it.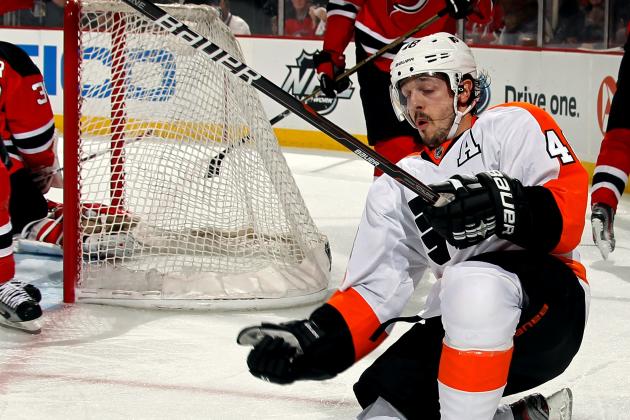 Bruce Bennett/Getty Images

Danny Briere has been the backbone to his team's playoff push to this point.
Tied with Claude Giroux in goals (eight), Briere is a captain and consummate professional, and his game-saving goals in each of the first two series have only added to "Mr. Playoffs'" resume.
Max Talbot's team-first play, plus-rating and defensive spark have been some of the few bright spots of the second round.
Kimmo Timonen is a battle-tested veteran who needs to step up. Ditto Jaromir Jagr. Ditto Scott Hartnell.
But the point is, the Flyers have a well-rounded group of veteran leaders capable of carrying and motivating their team.
Now, it is their ultimate test: an elimination game without Giroux.
Teams experiencing success never have leadership questions.
Leadership is only important in times of crisis and desperation and when looking for a scapegoat.
These veterans now face the most critical point in their season and have to prove their worth to this franchise.
Fortunately, these seasoned leaders all have an idea of what it takes to win under dire circumstances, and if I had to bet on it, I'd say this is the group that makes the biggest impact in Game 5 to prolong the series.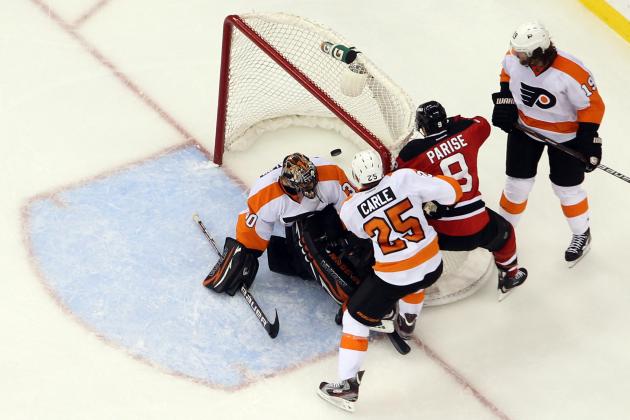 Bruce Bennett/Getty Images
great positioning by Carle
If coach Laviolette steps up, does the right thing and sits Matt Carle, there is not a question in my mind the Flyers can pull off this comeback.
Carle constantly turns the puck over, glides in his own end, finds himself way out of position and is too small to play with any kind of physical presence.
The only positive thing I can say about No. 25 is...at least his contract expires after the season.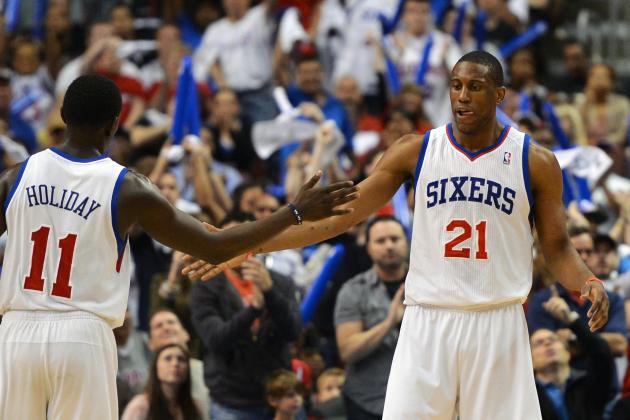 Drew Hallowell/Getty Images

I realize the Sixers are only in the first round of their playoffs while the Flyers have advanced to the second round, but there is no way the Flyers' season will end before the 76ers, is there?
Let's hear it fans, what are the chances the Flyers avenge the 2000 Eastern Conference Finals and make the 3-1 comeback?