MLB Trade Rumors: Updating 15 Hottest Names on the Block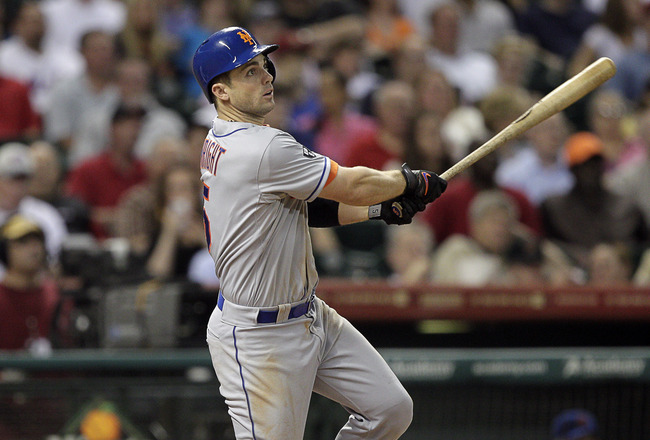 Bob Levey/Getty Images
The 2012 MLB season has not been immune to the injury bug thus far.
With Washington Nationals' Jayson Werth breaking his left wrist attempting a sliding catch on Sunday night, the disabled list claimed its latest victim.
Evan Longoria, Kevin Youkilis, Huston Street, Nolan Reimold, Mariano Rivera, Pablo Sandoval, Cory Luebke and Mat Gamel have all suffered significant injuries in the last two weeks, joining the likes of Brad Lidge, Carl Crawford, Jacoby Ellsbury, Michael Pineda, Chase Utley, Ryan Howard, Andrew Bailey, Mike Pelfrey and Chris Narveson, all of whom are lost for either a substantial amount of time or the entire season.
The Milwaukee Brewers have been hit particularly hard, with the losses of both Narveson and Gamel for the season, a potential season-ending knee injury for shortstop Alex Gonzalez and outfielder Carlos Gomez on the 15-day DL with a strained hamstring.
Suffice it to say, GMs are already scrambling. Phones are ringing in MLB offices everywhere as teams look to find suitable replacements for their fallen stars.
Here is an updated list of 15 names that are currently hot commodities on the trade block.
Brandon Belt: San Francisco Giants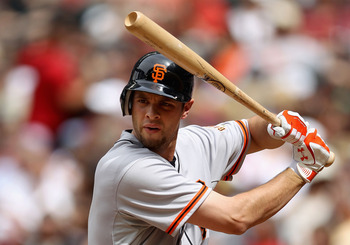 Christian Petersen/Getty Images
Left without a permanent position in the San Francisco Giants lineup, it stands to reason that first baseman/left fielder Brandon Belt could be coveted by several teams.
Whether he is or isn't, Giants GM Brian Sabean recently told Scott Ostler of the San Francisco Chronicle that Belt was staying in the Bay Area.
"He's going nowhere," Sabean said. "The kid's earned his way onto the team...and we all want him to take over as the first baseman, and help this lineup, and I think it'll turn out that way."
Okay then, if not Belt, then how about...
Aubrey Huff: San Francisco Giants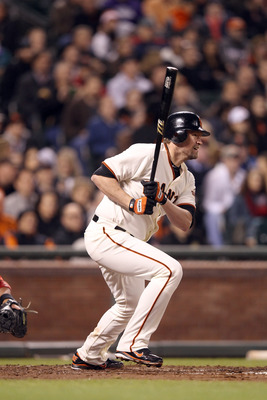 Ezra Shaw/Getty Images
Since Brandon Belt is apparently the future at first base for the San Francisco Giants, Aubrey Huff could be made available.
Huff, who was set to return on Monday from a stint on the disabled list to treat an anxiety disorder, is currently hitting .182 with one HR and four RBI. His $10 million contract will certainly be a deterrent for many teams, especially if he's unable to find the offense that's been missing since 2010.
David Wright: New York Mets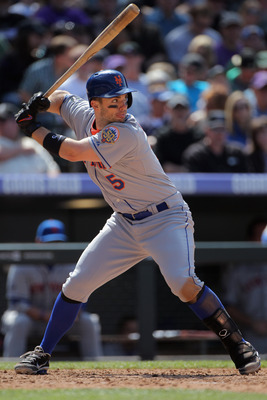 Doug Pensinger/Getty Images
As long as the financial mess in Flushing Meadows is still in the news, so too will rumors surrounding the future of New York Mets third baseman David Wright.
Fox Sports' Ken Rosenthal recently wrote about Wright's situation, saying that the Mets would be better off waiting until the offseason to deal him. Wright holds a $16 million option for the 2013 season and would likely void that, greatly weakening his trade value.
Still, with the rash of injuries facing multiple teams, desperate times may call for desperate measures.
Denard Span: Minnesota Twins
Hannah Foslien/Getty Images
With the Minnesota Twins struggling at 7-20, and the Washington Nationals without the services of Michael Morse and Jayson Werth for an extended period, the Nats' interest in Denard Span could be re-kindled.
The Boston Globe's Nick Cafardo wrote in his Sunday Baseball Notes column that with closer Drew Storen on the DL, any deal involving Span is on hold right now.
However, Cafardo wrote that column before Werth went down with a broken wrist. Could GM Mike Rizzo's interest in Span be put on the front burner again?
Joel Hanrahan: Pittsburgh Pirates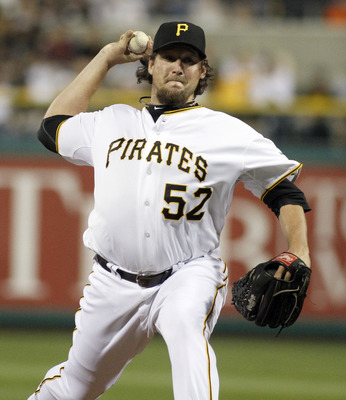 Justin K. Aller/Getty Images
With the rash of closers suddenly on the disabled list (Drew Storen, Huston Street) or pitching terribly (Heath Bell, Carlos Marmol), the need for an effective ninth-inning stopper has become of vital importance for several teams.
Tom Singer of MLB.com writes that Pittsburgh Pirates closer Joel Hanrahan could be one of the hottest names on the trading block.
Hanrahan is certainly aware of his sudden popularity, but hopes to remain in the Steel City.
"I haven't really thought about it," Hanrahan told Singer. "My goal here is to go out and get through this season, and be here and help this team win.

"I know why you'd ask that question. That's just the history we've had here. But last year kind of changed the history a little bit. We went out and got a couple of guys [outfielder Ryan Ludwick and first baseman Derrek Lee], instead of trading away guys like we had years before.

"Hopefully times have changed here, and that will be again the case this year, because I really enjoy being here."
Jeff Niemann: Tampa Bay Rays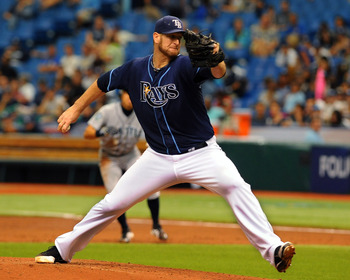 Al Messerschmidt/Getty Images
With the addition of a second wild card in each league, the number of sellers at the trade deadline are likely to drop, with many more teams carrying hope into the final two months of the season.
As such, the Tampa Bay Rays will be in a position to reap the benefits of having starting pitching that other teams covet and would likely pay a premium for.
Jeff Niemann stands out as one of those choices. Niemann is under team control through the 2014 season and, at $2.75 million this season, is a more than affordable option for all teams in buying mode.
Mark Trumbo: Los Angeles Angels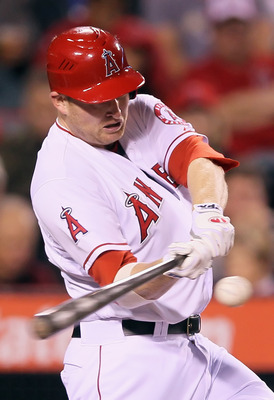 Jeff Gross/Getty Images
Over the weekend, Jon Paul Morosi of Fox Sports posited that Los Angeles Angels third baseman Mark Trumbo would be a great fit for the Toronto Blue Jays.
It's no secret that the Angels are looking for quality arms for their bullpen, but with Sergio Santos currently on the shelf, that likelihood of a match between the Jays and Angels is remote at this point.
Trumbo is still learning the nuances at third base, but his trade value will undoubtedly be high with his ability to play first, third and both corner outfield positions.
Mark Reynolds: Baltimore Orioles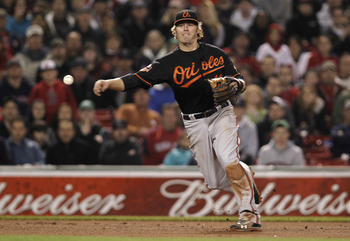 Winslow Townson/Getty Images
Two weeks ago, ESPN's Jayson Stark wrote that the Baltimore Orioles would "do anything" to unload third baseman Mark Reynolds. That stance has certainly not changed.
Reynolds is the classic Dave Kingman type—home run or bust.
The league leader in strikeouts for four consecutive seasons, new Orioles GM Dan Duquette would undoubtedly love to get rid of Reynolds and his $7.5 million deal, maybe even convincing owner Peter Angelos to eat part of that money to consummate the deal.
Wandy Rodriguez: Houston Astros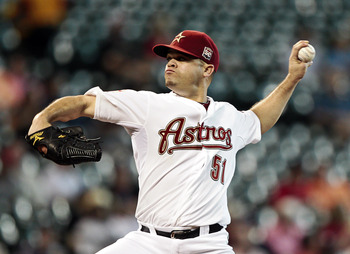 Bob Levey/Getty Images
ESPN's Jayson Stark wrote last week that several teams are already beating down the door of the Houston Astros, inquiring about several players. One player who was mentioned prominently in trade talks last season is once again a hot topic this season—starting pitcher Wandy Rodriguez.
The problem? Rodriguez's salary. One scout told Stark that Rodriguez's current salary doesn't match the production on the field.
"He's a No. 2 starter at times," the NL scout said. "But for me, what you're really getting is a fourth starter on a good team who can throw a curveball. Unfortunately, if you look at his paycheck, he's getting paid like a No. 2. And that's a problem."
However, this is baseball, where overpaying players has been the norm for years.
Brett Myers: Houston Astros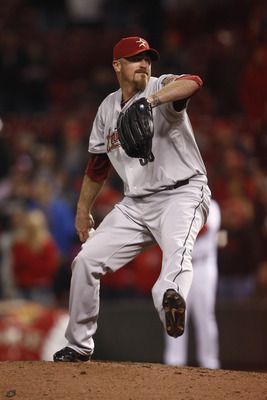 John Grieshop/Getty Images
Currently, well over one-third of the teams across Major League Baseball are experiencing issues with their closer position. Either injury or horrible pitching has caused these teams to already make changes or at least consider other options.
With ESPN's Jayson Stark already reporting that the Houston Astros are willing to talk about anyone, count current closer Brett Myers as one of those hot commodities.
Myers has not disappointed in his new role as ninth-inning stopper, posting seven saves and a miniscule 1.04 ERA in nine appearances.
His $11 million salary for 2012 may look scary, but with the state of the current market for closers, it shouldn't be a hindrance for many teams.
Bryan LaHair: Chicago Cubs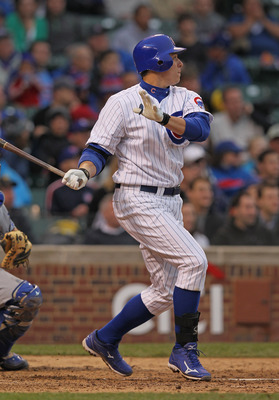 Jonathan Daniel/Getty Images
The Chicago Cubs went into buying mode over the offseason under the guidance and direction of new President of Baseball Operations Theo Epstein and new GM Jed Hoyer. Together, the two engineered trades that bolstered their sagging farm system, including adding 22-year-old first base prospect Anthony Rizzo.
Rizzo is currently raking in Triple-A ball, with a .364/.424/.617 slash line in his first 28 games at Iowa. That leaves the Cubs with a dilemma involving current first baseman Bryan LaHair.
At 29 years of age, LaHair was finally given a chance to show off his skills at the major-league level with the Cubs this year, and thus far he's making the most of it, hitting .390 with seven HR and 16 RBI.
However, it seems pretty clear that the Cubs won't hold Rizzo back if he continues tearing it up in the minors. It had been thought that outfielder David DeJesus, acquired over the offseason from the Oakland A's, would be a blue-chip trade candidate if he rebounded from a poor 2011 season—however, DeJesus has yet to figure things out this year, hitting just .250 with no homers and four RBI.
DeJesus' trade value is nominal at this point, while LaHair's trade value is definitely on the rise.
Jeff Francouer: Kansas City Royals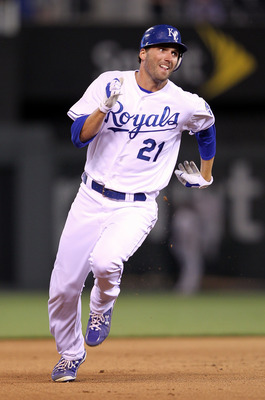 Jamie Squire/Getty Images
The Kansas City Royals enter play this week in an all-too familiar spot, near the bottom of the AL Central Division standings. At 9-18, the Royals aren't anywhere near where they thought they would be with the influx of young talent on their roster.
While the Royals continue to wait for that young talent to materialize, they will undoubtedly be sellers once again, and right fielder Jeff Francouer would seem to be the logical bait to put on the block.
Francouer is off to a slow start, hitting just .248 with no homers and only five RBI. However, he is coming off a rebound season, hitting 20 HR with 87 RBI in a 2011 campaign that saw him sign a new three-year, $16 million deal.
Francouer's salary certainly won't be an issue for any contending team, and with the amount of injuries already suffered by established outfielders, his name will continue to be thrown out there.
Erik Bedard: Pittsburgh Pirates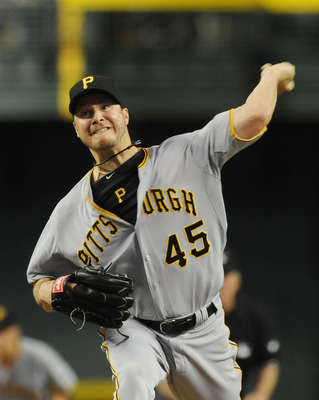 Norm Hall/Getty Images
For the past several seasons, there has always been a caveat attached to the name of starting pitcher Erik Bedard when projecting his performance: "If he can stay healthy..."
Thus far, Bedard is healthy and pitching effectively for the Pittsburgh Pirates. While his 2-4 record doesn't indicate it, Bedard's 2.65 ERA and 37 strikeouts in 34 innings clearly shows he's free of the injury issues that stagnated his career since his trade to the Seattle Mariners in 2008.
Pittsburgh was a buyer last season for the first time since 1992, but with budgetary constraints and a team that's still rebuilding, Bedard's ongoing effectiveness, along with a friendly one-year, $4.5 million contract, will be an attractive option for several suitors down the road.
GM Neal Huntington will absolutely receive value in return.
Carl Pavano: Minnesota Twins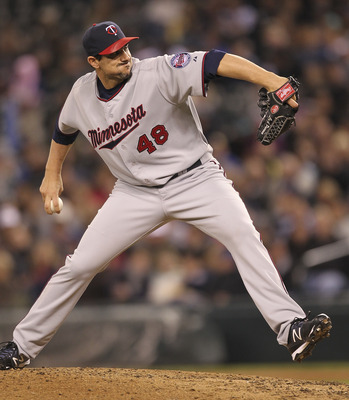 Otto Greule Jr/Getty Images
It seems like every year there are always those players in the final year of their contracts who would be perfect candidates for "rental" players—those who are traded to a contending team to help in the remaining two months of the season even though the team acquiring that player has no intention of signing them long-term.
This year, that label would seem to apply to Minnesota Twins starting pitcher Carl Pavano. In the final season of a two-year, $16.5 million deal, Pavano is toiling for a team that's already 7-20 and likely destined for another miserable fate in 2012.
GM Terry Ryan is a shrewd businessman. He knows that Pavano will have value as the trade deadline approaches, and will likely hold out for as much value as possible. Still, Pavano's veteran leadership and experience in pressure situations could prove beneficial for teams down the stretch.
Matt Thornton: Chicago White Sox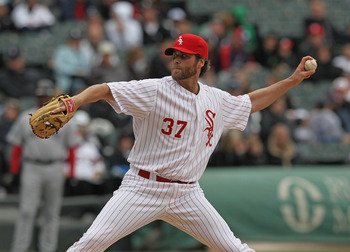 Jonathan Daniel/Getty Images
The Chicago White Sox are currently just two games under .500 and are by no means out of contention in a crowded AL Central Division race, so it's a bit early to stick a fork in them quite yet.
However, the White Sox do have a collection of arms in the bullpen that would be highly coveted, especially considering those arms are of the left-handed variety.
Southpaw Matt Thornton may be an arm that will be highly sought after by contending teams should the White Sox fall back to mediocrity. Thornton signed a two-year, $12 million deal with an option for 2014, and has been one of the most consistent left-handed relievers in the American League since his move to Chicago in 2006.
For teams like the Red Sox and Angels, Thornton would be a great fit.
Doug Mead is a featured columnist with Bleacher Report. His work has been featured on the Seattle Post-Intelligencer, SF Gate, CBS Sports, the Los Angeles Times and the Houston Chronicle. Follow Doug on Twitter, @Sports_A_Holic.
Keep Reading