2012 NBA Free Agents: Players Teams Should Be Fighting for This Summer
May 7, 2012

Chris Chambers/Getty Images
Coming off of a fairly weak class of free agents following last season, the 2012 class of free agents is looking very promising for teams in need.
Bigger names and younger talent are highlighting this year's list of available players, and teams with big pockets should be prepared to spend some money.  Let's take a look at four players who teams will be vying for this offseason.
Deron Williams, PG
This is the obvious first choice for this list since Williams is a proven, elite point guard which you could build an entire team around.  This is what the Brooklyn Nets have been trying to do, but Williams seems uneasy about the future of the team and is exploring other options.
After opting out of one more season with the Nets, Williams will be getting plenty of phone calls from teams looking to get a top-level point guard on their roster.  
My guess is that Williams will definitely listen to a lot of offers and perhaps the most enticing of them all would be the Dallas Mavericks who have already expressed interest in the 27-year-old point guard.  
The Nets will also be looking into convincing Williams to stay with a lucrative contract and possibly other signings to bolster the roster.  
Williams won't sign with a team that can't win right now, otherwise he would be staying long term with the Nets who are also moving into a larger market area in Brooklyn.  Look for playoff contenders with some cap room this offseason to try and steal D-Will away from the Nets and vastly improve their team in the process.
Michael Beasley, SF/PF
Beasley has had his struggles on and off the court, but this kid is still only 23 years old, and he can flat out play basketball.
He's a restricted free agent but don't expect his current team, the Minnesota Timberwolves, to be over-paying to keep him.  Beasley was a hot topic for the trade deadline, and the T'Wolves came very close to dealing him.  
Therefore, he is expendable in their eyes, and if someone makes a big offer, he'll more likely than not be in a different uniform next season.
A change of scenery would really benefit Beasley, who has shown flashes of brilliance during his NBA career so far.  He is a very athletic wing player who has a decent shot to go with his driving ability.  
The Nets could be a possible option for Beasley, depending on if Gerald Wallace signs long term, but he might also end up for a team like the Los Angeles Lakers who almost worked out a deal for him at the trade deadline earlier this season.
Eric Gordon, SG
After the dust settled on the blockbuster Chris Paul trade to the LA Clippers, the centerpiece that the Hornets were left to build around was the young scorer Eric Gordon.
Gordon has a great knack for scoring the basketball and, like the other players on this list, is still young and has a lot of room to grow for a franchise.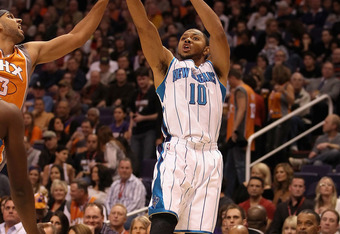 Christian Petersen/Getty Images
He is also a restricted free agent so it will take a great deal of money to lure him away from the Hornets who don't really have any other pieces in place for a foundation.  But if teams are willing to overpay for Gordon and hope he continues to develop as quickly as he has, it could be a risk worth taking.
Potential teams that I see being interested in Gordon are the Cleveland Cavaliers and the Charlotte Bobcats.  Both of these teams are in desperate need of a go-to scorer, and we saw how much that hurt them since they both finished in the lower-area of the standings last season.
Gordon could escape the Hornets for the right price, and I'm sure the Cavs and the Bobcats aren't the only teams making some calls.
Nicolas Batum, SF
Like Beasley, Batum is not really comfortable with where he is, and the team might see him as an expendable player who will demand more money than he's worth.
After failing to reach an extension with the Blazers, Batum is now a restricted free agent and is possibly the most talented small forward in this free agent class.  He is a solid perimeter defender who uses his length and athleticism to his advantage on both sides of the ball.  
Batum is another young player who can be a core piece to a team, but not necessarily a franchise cornerstone.  
Regardless, teams will be making offers to the disgruntled Batum who could make a lot of contributions to a franchise.  Teams that miss out on Michael Beasley or who want a player with a little less of a track record of off-court problems will take a look at Batum who has a similar skill set and size to Beasley and could be a suitable backup plan.