Baltimore Ravens Would Be Smart to Sign Free Agent WR Jacoby Jones
May 7, 2012

Andy Lyons/Getty Images
The Baltimore Ravens still need to solve the issue of who will be the No. 3 receiver this year. Last year, it was Lee Evans, but Evans missed nearly half the season with injuries, leaving the Ravens to rely on receivers Torrey Smith and Anquan Boldin and tight ends Ed Dickson and Dennis Pitta in his absence.
The four could prove to be an effective receiving combo for quarterback Joe Flacco this season, but the lack of a true No. 3 receiver could also hold back the progress of their passing game. In a league that is quickly becoming pass-centric, falling behind in this area shouldn't be an option for the Ravens this season.
Clearly, the Ravens know that a No. 3 receiver is an area in which they need help and now it appears they may be turning to a veteran free agent to take on that role. The team hosted former Houston Texans receiver Jacoby Jones over the weekend, and reports are that he is still in Baltimore. Jones met with the Carolina Panthers last week and may have visits with other teams lined up.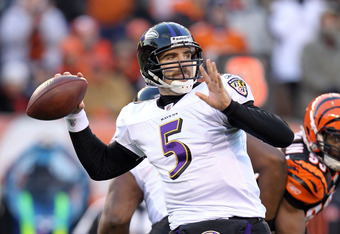 Andy Lyons/Getty Images
Jones had a down year in 2011, thanks to a number of drops, but his overall numbers didn't look all that bad, with 31 catches for 512 yards and two touchdowns. He was also the Texans' punt returner last season, and has a career average of 10.3 yards per punt return as well as an average of 23.3 yards per kickoff return as well (though he didn't take on the latter duties last season).
Though Ravens receivers Tandon Doss and LaQuan Williams should get more time in the offensive rotation this year, neither may be developed enough to take over the No. 3 spot full time. The Ravens also drafted a receiver this year—Tommy Streeter, in Round 6—who possesses similar speed as Jones and who may also compete for that No. 3 position.
But if the Ravens want to bring in a known quantity at the position, at least for 2012, then Jones is a fairly safe bet. He's yet to slow much—he's just 27 years old and will turn 28 in July—and has proven himself effective, if not entirely consistent. 
Further, Jones shouldn't be all that expensive, either. The Ravens have around $2 million in cap space to work with this offseason—not a lot of money, to be sure, but enough to afford Jones for one year.
The passing game is the one area the Ravens have shown weakness in the past few seasons. While some of the blame can go to Flacco—the self-described "best quarterback in the league" who may have hit a plateau in his development—a lack of weapons is also a cause for the team being less effective passing than rushing.
Jones is certainly a weapon, and though he's not flawless he should be more reliable in 2012 than Evans was for the Ravens last season. Add on his considerable punt and kick return skills, and he could be a true asset.
It would make a lot of sense for the Ravens to sign Jones before he is scooped up by another team. He'd be another receiving weapon for an offense that needs one, and likely at a bargain price.