Montreal Canadiens: 4 Reasons Ron Hextall Would Be a Great GM
Ron Hextall is on a path to being the next great NHL GM.
Bruce Bennett/Getty Images
Despite naming Marc Bergevin as their general manager, the Montreal Canadiens' Ron Hextall would be a great GM for the Canadiens or any other struggling franchise.
Whether Bergevin fails or another opening presents itself, Ron Hextall has shown he has what it takes to be an NHL GM.
While he has been successful as an assistant GM for the L.A. Kings, the future is even brighter for Hextall. Here are four reasons why Hextall would be a great GM.
Hextall Comes from a Hockey Family
Ron Hextall may be the greatest hockey player in his family, but he certainly isn't the only member of his family that laced it up in the NHL.
He was the fourth member of the Hextall family to make it to the NHL. His father, Bryan Jr., his uncle, Dennis and his grandfather, Bryan Sr. all had successful NHL careers. His grandfather was even inducted into the Hockey Hall of Fame in 1969.
Ron's son has also been drafted by the Phoenix Coyotes and has a chance to become a fourth-generation NHL player.
This rich family history shows that Ron truly has hockey in his blood and would be a great GM.
He Personally Knows the Ups and Downs of the Business of Hockey
Ron Hextall knows what it's like to be traded when he was traded for No. 1 pick Eric Lindros.
Jim McIsaac/Getty Images
Despite being a great, young goalie, Hextall was traded in three straight offseasons.
His understanding of how the NHL works as a business only helps him in the front office.
He has learned firsthand that hockey can be cut throat and he also saw what a team can get in return when they make a blockbuster trade.
Hextall was the centerpiece of the trade that brought Eric Lindros to the Philadelphia Flyers in 1992.
Knowing the good and the bad of the NHL will help Hextall succeed in the front office.
Hextall's Toughness on the Ice Will Translate to Success off the Ice
As a player, Hextall was gritty and hard working. He fought through multiple injuries and was still able to have a long and successful career.
He showed toughness on the ice by attacking opponents near his net or getting into fights.
That passion has translated off the ice where he has shot up the ranks and is now the assistant GM for the L.A. Kings.
His guts will help with the difficult decisions that front-office personnel struggle with.
He Has Shot Up the Front Office Ranks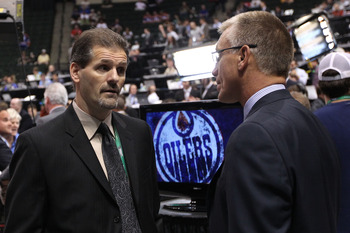 Ron Hextall has helped turn around the L.A. Kings.
Bruce Bennett/Getty Images
Upon his retirement, Hextall joined the Philadelphia Flyers staff as a professional scout.
He excelled and was promoted to director of professional player personnel three years later.
His success with the Flyers led to his most recent opportunity as the assistant GM with the L.A. Kings. Within three years, the Kings recorded their first 100-point season in almost two decades.
Whether on or off the ice, Hextall has succeeded. Whichever team is smart enough to give him the opportunity to be their next GM will be greatly rewarded.
Keep Reading

Montreal Canadiens: Like this team?