Boston Red Sox: What Can the Sox Do About Clay Buchholz?
May 7, 2012

Hannah Foslien/Getty Images
Some people still believe wins are a good statistic for evaluating starting pitchers. They're wrong, and Clay Buchholz is proving why.
Through six starts this season, Buchholz has a 3-1 win-loss record. The people who think wins are a reliable indicator or performance would say this was good. Of course, winning three quarters of your games is a good thing, but in this case, it hides just how terrible Buchholz has actually been.
With another terrible outing on Sunday, he now has a 9.09 ERA, almost as many walks as strikeouts, and is allowing just under three home runs per nine innings. In 2010, his only full injury-free season, Buch allowed 0.47 HR/9, five times fewer.
He's allowing 37% of his runners to score, 16 points worse than last year. His ERA is the worst in all of baseball, as are his FIP (7.64) and WHIP (2.02). Opponents are also hitting .338 against him.
In all six of his starts this year, Buchholz has allowed five runs or more. The last Red Sox pitcher to be that bad for that long was Red Ruffing in 1925, who allowed five earned runs in eight consecutive starts.
Boston cannot afford to have Buchholz break that record. Aside from six innings of one-run ball a week ago, there hasn't been a stretch where he has looked like a major league pitcher.
The 27-year-old does have a minor league option. He would have to pass through optional waivers were the Sox to send him to Triple-A Pawtucket, but most teams view this as a formality and it's unlikely he would be claimed.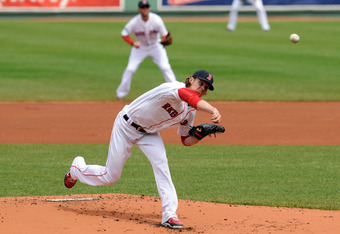 Darren McCollester/Getty Images
Going purely by his numbers, he has to be sent down because there's only so many five-inning, five-run games you can take from a starter.
However, the question then becomes: what do the Red Sox do about replacing him?
Aaron Cook has landed on the disabled list after injuring his knee on Saturday against the Orioles. He joins starters John Lackey and Daisuke Matsuzaka; the former is out for the year and the latter is making rehab starts in the minors.
Calling up Ross Ohlendorf is a possibility but one which makes little sense unless the Sox are convinced he can be an upgrade over what Buchholz is giving them now.
Until Dice-K can come back, and he probably needs another two starts after his game on Monday night, Boston might have to make do with putting Buchholz out there every five days and just hope that he can turn things around.