NHL Playoffs 2012: 4 Reasons Overtime Is the Best Part of Playoff Hockey
Joel Ward's OT goal won the series for the Washington Capitals.
Elsa/Getty Images
Overtime is the best part of playoff hockey. With one team already advancing to the conference finals (the Los Angeles Kings) of the 2012 Stanley Cup playoffs, extra frames have made this year wildly entertaining for hockey fans.
With 20 games going into overtime in the first two rounds, including a record 16 in the first round, overtime has helped make this year's playoffs must-see television.
Here are four reasons why the OT experience is the best part of playoff hockey.
Overtime Maintains the Team Component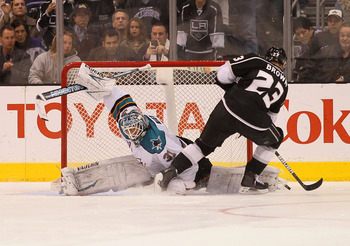 Hockey is a team sport and playoff games should be decided as a team, not as individuals.
Victor Decolongon/Getty Images
Shootouts are fun to watch, but they lack a team component.
After teams battle it out for 60 minutes during the regular season, they are subjected to games coming down to which goalie can make a save, or which player will miss the net.
That is not hockey.
Overtime preserves the team component of the game and the result is a team-win or loss, not which player can make a fancy deke on a goalie. The game should never end with two players on the ice.
Fans Get to See the Best of the Best

Fans deserve moments like this.

When a playoff game goes into overtime, fans are rewarded by seeing players give it everything they've got.
I am not saying that players don't give it 100 percent during regulation, but in overtime, a single play is the difference between winning and losing.
Players know what is on the line and that results in guys giving it everything they can on every single shift. This makes for the most intense and entertaining hockey for fans to watch.
Fans Become Glued to the TV

You step away and you could miss history.

Unlike in regulation, when a team scores in overtime, the game is over.
This means fans need to stock up on whatever snacks and drinks they want, because once overtime begins, they can't walk away. Even though we live in a world with DVRs and amazing replay ability, there is nothing like live TV.
As a fan, the thrill of overtime hockey is unlike anything else in sports. In a matter of seconds the puck can go from one end of the ice to the other. Fans are glued to the TV to see who will step up and be their team's playoff hero.
Guaranteed excitement
No matter what, if a playoff game goes into overtime there will be excitement.
The NHL has excelled with overtime hockey because it has everything a sports fan could want.
It has the game-changing moments that every sport has. Baseball has the walk-off. Football has a game-winning field goal. Basketball has the buzzer-beater.
But hockey has the best of all of those wrapped into one, because of the speed and intensity that is unmatched in the other three major sports.
Keep Reading