2013 NFL Mock Draft: Predicting Every First-Round Pick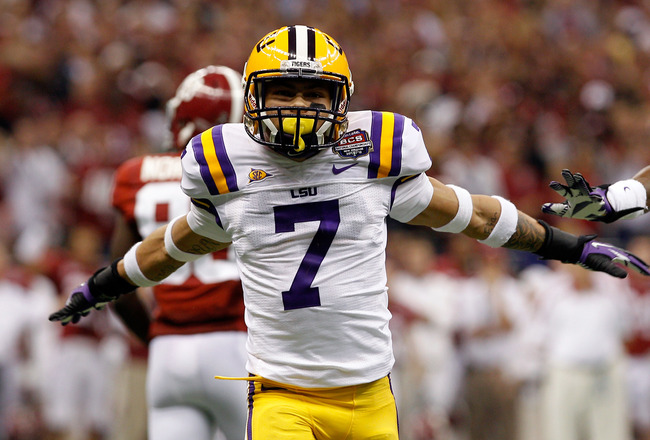 Chris Graythen/Getty Images
You think the 2012 NFL draft class was stellar?
Wait until you see the slew of playmakers in the 2013 class.
There are a handful of insanely talented pass-rushers, a few lockdown cornerbacks, possibly three or four first-round quarterbacks and two feature running backs.
Let's take an early shot at next year's entire Round 1.
1. Jacksonville Jaguars: Matt Barkley, QB, USC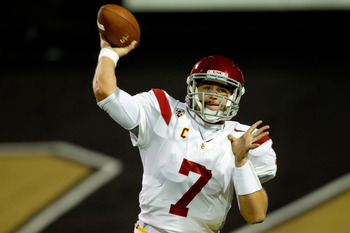 Justin Edmonds/Getty Images
The Jaguars already have trouble selling tickets, and another disappointing 2012 from Blaine Gabbert won't bring any more fans to the seats in Jacksonville.
Matt Barkley would.
The AFC South is entering a changing of the guard of sorts.
Andrew Luck is taking over in Indianapolis, and Jake Locker should be securing the starting role in Tennessee in the near future.
Barkley plays in a pro-style system at USC and has the accuracy, pocket poise and smarts to be a fine NFL quarterback.
The Jaguars need him in more ways than one.
2. Indianapolis Colts: Jarvis Jones, OLB, Georgia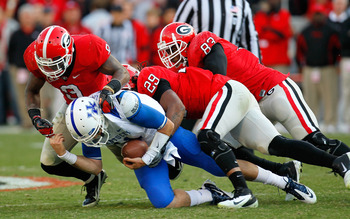 Kevin C. Cox/Getty Images
The Colts did a marvelous job in the 2012 draft to surround new franchise quarterback Andrew Luck with young offensive weapons to help aid his transition to the NFL.
In 2013, they'll look to add bulk to their defense.
Jones was a menace to the SEC society last season, totaling 13.5 sacks.
If he has another season like that this fall, he'll be Indianapolis' pick next April.
3. Miami Dolphins: Robert Woods, WR, USC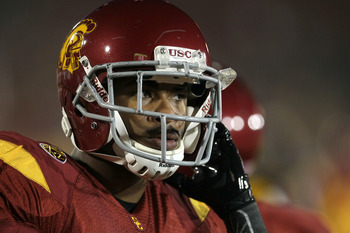 Stephen Dunn/Getty Images
The Brandon Marshall experiment is done in Miami, and although it didn't fail miserably, both sides were ready to move on after the 2011 season ended.
With Ryan Tannehill the signal-caller of the future and the guy next in line trying to fill the void left by Dan Marino, the Dolphins need to provide him with a threatening No. 1 receiver.
Although he's a lanky 6'1'' and only 185 pounds, Woods has a knack for getting open, and he's as equally productive down the field as he is underneath.
He should have a huge season at USC with Matt Barkley this year.
4. Minnesota Vikings: David Amerson, CB, N.C. State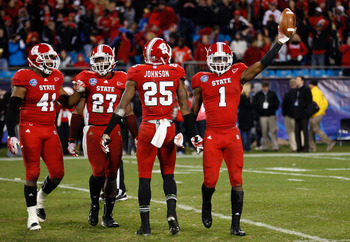 Streeter Lecka/Getty Images
Morris Claiborne was the "cleanest" cornerback prospect in the 2012 class, with Stephon Gilmore a close second.
Amerson trumps them both.
At 6'3'' and 195 pounds, Amerson can match up with the league's bigger receivers without being physically overmatched.
He had a totally ridiculous 2011 with 59 tackles and 13 interceptions—two of which he returned for touchdowns.
He's the premier prospect for the Vikings to plug in to their porous secondary.
5. St. Louis Rams: Manti Te'o, MLB, Notre Dame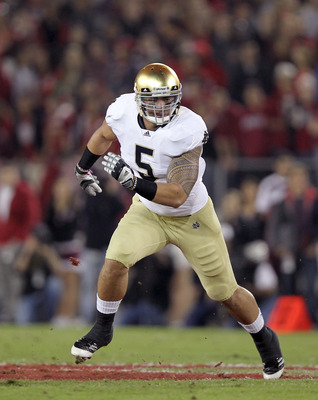 Ezra Shaw/Getty Images
Although offensive upgrades were needed, new St. Louis Rams head coach Jeff Fisher wanted to fortify the middle of his defense early in the 2012 draft.
So, he drafted LSU's Michael Brockers.
In 2013, he'll look to find the perfect linebacker complement to Brockers and will do so with Notre Dame's Manti Te'o.
The Fighting Irish's defensive captain has the size and fluidity to be a three-down middle linebacker at the next level.
6. Tennessee Titans: Barkevious Mingo, DE/OLB, LSU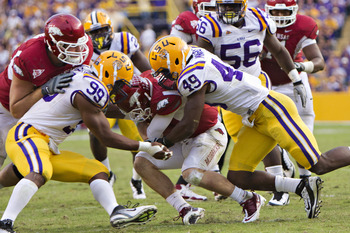 Wesley Hitt/Getty Images
Mingo got it done with pure athleticism in 2011.
With a year of productivity under his belt, he'll become a more-well-rounded football player in 2012.
He had five sacks and 15 tackles for loss with the Tigers last season.
If he improves his overall game, he'll be the ideal fit the Titans—a team in dire need of a flashy edge-rusher.
7. Seattle Seahawks: Keenan Allen, WR, California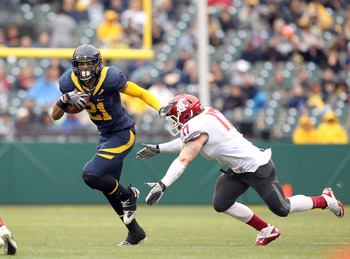 Ezra Shaw/Getty Images
The Seahawks were impressive in the final stretch of 2011, but their offense clearly needed improvement.
They signed quarterback Matt Flynn during the free-agency period and drafted Russell Wilson.
Now, they need a true No. 1 receiver.
Allen had more than 1,300 yards last season for the Bears, and at 6'3'' and 205 pounds, he can physically dominant smaller corners.
8. Tampa Bay Buccaneers: Sam Montgomery, DE, LSU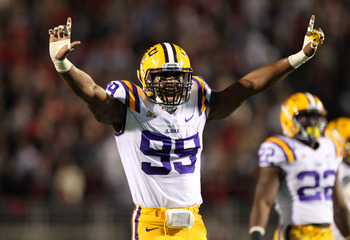 Joe Murphy/Getty Images
If you're a member of the NFC South, having dynamic pass-rushers is a must.
The Buccaneers have to deal with Drew Brees, Matt Ryan and Cam Newton six times a year, so they need a guy like Montgomery to compete in their own division.
Montgomery should enjoy a marvelous 2012, playing on the opposite end of Barkevious Mingo.
9. Cleveland Browns: Brandon Jenkins, DE, Florida State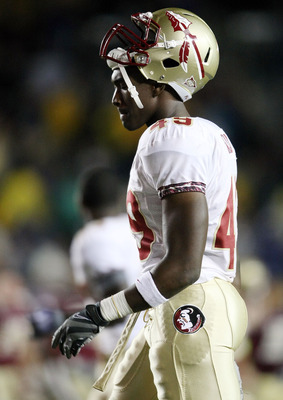 Elsa/Getty Images
Four pass-rushers in the top 10?
With the way teams today are passing the football in the NFL, it makes sense.
Jenkins had a monster 2010 with 13.5 sacks and managed eight in 2011 when more attention came his way. If he has a steady 2012, the Browns would be an extremely logical landing spot.
10. St. Louis Rams (from Washington): Marcus Lattimore, RB, South Carolina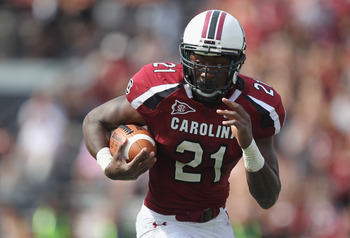 Streeter Lecka/Getty Images
Steven Jackson is entering the twilight of his career, and the team would be doing Sam Bradford a big favor by finding a feature back replacement.
At 6'1'' and with 230 pounds of raw power and deceptive speed, Marcus Lattimore is the perfect option.
He was injured for the majority of the 2011 season, but if he returns to full health this fall, he should wreak havoc in the SEC.
With a rare combination of strength and shiftiness, Lattimore will be the most NFL-ready runner in the 2013 class.
11. San Diego Chargers: Tyrann Mathieu, CB, LSU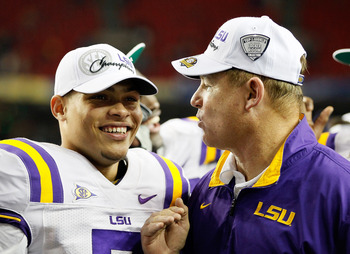 Kevin C. Cox/Getty Images
Mathieu was the nation's premier defensive playmaker in 2011, and although he won't have secondary-mate Morris Claiborne this fall, he should have an incredible 2012 for the Tigers.
The Chargers would presumably like to add more youth to their defensive backfield, with Quentin Jammer turning 33 in the upcoming season.
Mathieu may be best suited as nickel cornerback, but his innate play-making abilities are second-to-none.
With more teams utilizing four- and five-receiver sets, nickel corners have more value than ever before.
12. New York Jets: D.J. Fluker, OT, Alabama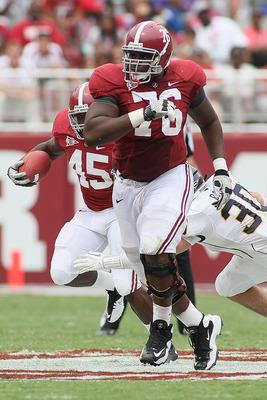 Greg McWilliams/Getty Images
Fluker is an absolute mammoth individual at 6'6'' and 340 pounds.
The Jets need an upgrade at right tackle, after watching Wayne Hunter last season.
Having gained experience with Alabama in the SEC, Fluker's a prime candidate to play for the Jets in 2013.
13. Oakland Raiders: Tyler Wilson, QB, Arkansas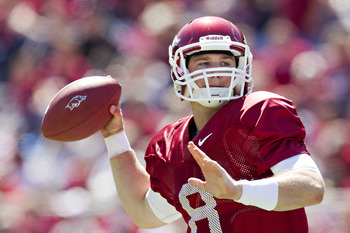 Wesley Hitt/Getty Images
The Raiders took a risk with Carson Palmer in 2011, but they were unable to overcome the injury to Darren McFadden and missed the playoffs.
They'd love to have a young franchise quarterback they could mold for the future.
Tyler Wilson has the size and natural arm strength to become a sound NFL starter.
He's played in a pro-style system at Arkansas, and after what should be a big 2012, he'll be a hot commodity come draft-time.
14. Arizona Cardinals: Jake Matthews, OT, Texas A&M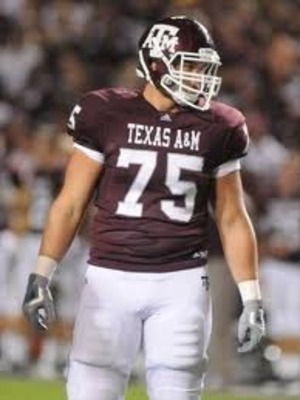 Matthews makes a ton of sense for the Cardinals at No. 14, after watching recently re-signed Levi Brown play left tackle over the years.
Arizona has allowed 104 sacks over the last two seasons—far too many for any quarterback to endure.
15. Buffalo Bills: Logan Thomas, QB, Virginia Tech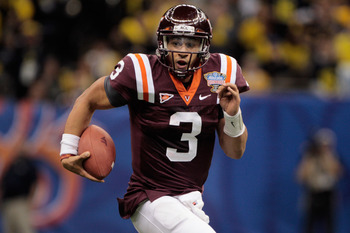 Chris Graythen/Getty Images
With the re-signing of Stevie Johnson, the acquisitions of Mario Williams and Mark Anderson and the extension of Fred Jackson, the Bills have pieced together one of the league's best offseasons.
Ryan Fitzpatrick is the team's unquestioned starter, but can he take them to the playoffs and beyond?
Even if he plays better in 2012, which is a big if, Chan Gailey will be too enamored with Logan Thomas's size, arm strength and deceptive mobility to pass on him.
16. Carolina Panthers: Kawann Short, DT, Purdue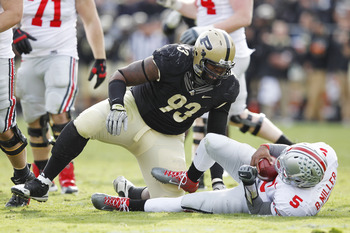 Joe Robbins/Getty Images
No matter how tremendous Cam Newton becomes, he'll need a quality defense to fall back on.
Short is a beefy mover that makes many plays in the opponent's backfield.
He had 17.5 tackles for loss last season with the Boilermakers and should improve upon those numbers this season.
The Panthers need a guy like Short to add an intimidating factor to their defensive line.
17. Dallas Cowboys: Barrett Jones, OG, Alabama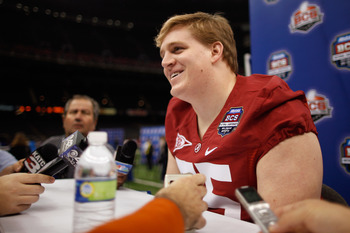 Chris Graythen/Getty Images
The Cowboys have an abundance of skill-position players and a quarterback they believe in. Grabbing Tyron Smith in the 2011 draft was a brilliant move, and in 2013, adding guard Barrett Jones to the mix will be another step in the right direction.
Jones has experience in the SEC on one of the better and more punishing offensive lines in the country.
A solid addition to a talented Cowboys roster.
18. New York Giants: Kevin Reddick, LB, North Carolina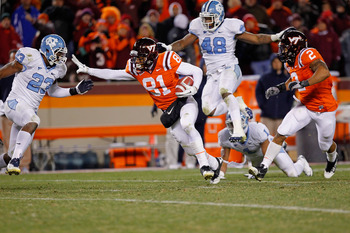 Geoff Burke/Getty Images
The Giants don't have many holes, but they could add another linebacker to their already dominating defense.
Reddick had nine sacks last season for the Tar Heels and is rangy from sideline-to-sideline.
He'd flourish within Perry Fewell's 4-3 defensive scheme.
19. Denver Broncos: T.J. McDonald, S, USC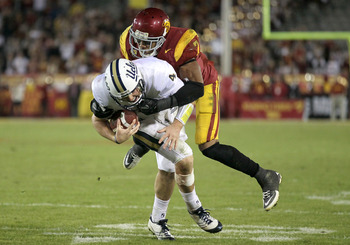 Stephen Dunn/Getty Images
With Brian Dawkins retiring, the Denver Broncos will be desperately searching for a new safety to lead their secondary for the next decade.
T.J. McDonald can be that safety.
Like many of the players at USC, he's wildly athletic and has been relatively productive for two full seasons now.
If he has a big 2012, he'll be a top-20 pick, and the Broncos would love if he fell to them.
20. New Orleans Saints: Ricky Wagner, OT, Wisconsin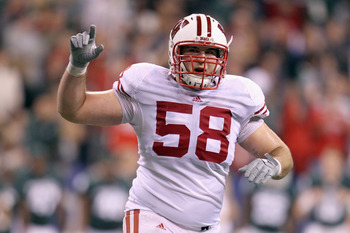 Andy Lyons/Getty Images
If you want a quality offensive lineman, you should probably look first at a Wisconsin Badger trenchman.
Ricky Wagner is a fine offensive tackle prospect who'll be welcomed to a Saints team that's as pass-happy as any.
Drew Brees needs to be protected, so at the very least—at 6'6'' and 332 pounds—Wagner would provide quality depth for a team that needs it.
21. Cincinnati Bengals: Knile Davis, RB, Arkansas
Streeter Lecka/Getty Images
The Bengals acquired BenJarvus Green-Ellis in free agency, but one would think that they'd like to find their big-play feature back relatively soon.
That's exactly what Davis can be.
He missed 2011 with an injury, but in 2010, he was one of the most dynamic yet underrated backs in the SEC.
The Razorback runner averaged a crazy 6.48 yards per carry and scored 13 rushing touchdowns.
At 6'0'' and 220 pounds, he has the size to take punishment, as well.
An ideal prospect for the Bengals.
22. San Francisco 49ers: Tony Jefferson, S, Oklahoma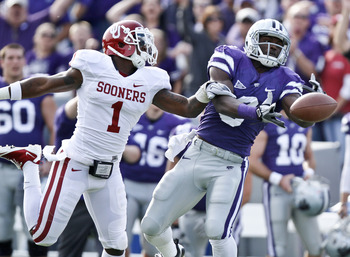 Ed Zurga/Getty Images
The 49ers are set at safety—for now.
Dashon Goldson was hit with the franchise tag this offseason, and there's no telling if San Fran will be able to lock him up long-term after the 2012 season is over.
Jefferson can step into a starting safety position and contribute from Day 1.
He had 52 tackles and a respectable four interceptions last year for the Sooners.
23. Kansas City Chiefs: Landry Jones, QB, Oklahoma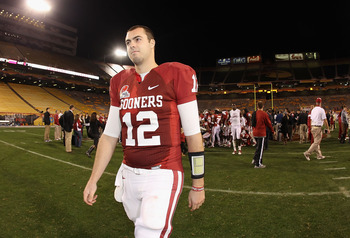 Christian Petersen/Getty Images
The Kansas City Chiefs are another team that doesn't have many roster holes.
However, is Matt Cassel a franchise quarterback?
I'm not sure.
Landry Jones would provide nice competition to Cassel and could learn the nuances of the game before taking over as the starter, at the latest, during the 2014 season.
Jones's 2011 made a turn for the worst when he lost his favorite target, Ryan Broyles, for the season.
However, he's big, throws a ball with a lot of zip and has upside.
24. Atlanta Falcons: Seantrel Henderson, OT, Miami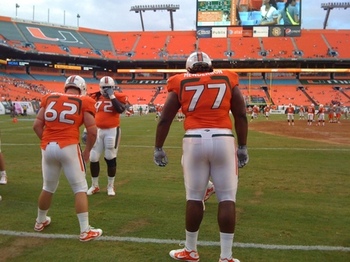 The Falcons were disgraced by the New York Giants defensive line in the first round of the 2011-2012 playoffs.
They've learned their lesson.
Henderson was a prized high school recruit, has been a steady force for the Hurricanes and is 6'8'' and 340 pounds.
25. Pittsburgh Steelers: C.J. Mosley, ILB, Alabama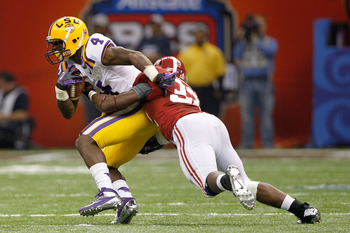 Chris Graythen/Getty Images
With the recent release of James Farrior, the Steelers should be looking for his inside linebacker replacement.
David DeCastro was too good to pass up at No. 24 overall this year, but in Mosley next April they get an ultra-athletic linebacker oozing with upside.
He'll fill Dont'a Hightower's role this fall and should have a good year with the Crimson Tide.
26. Detroit Lions: Johnny Adams, CB, Michigan State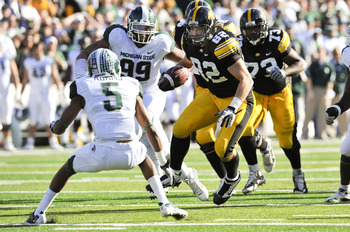 David Purdy/Getty Images
Now that they're set on offense, the Detroit Lions need to make a concerted effort to add talent to their defense over the next few drafts.
Johnny Adams has had three interceptions in each of the last two seasons, and if he pieces together another solid campaign in 2012, he'll be on the Lions' radar.
27. Philadelphia Eagles: Chris Faulk, OT, LSU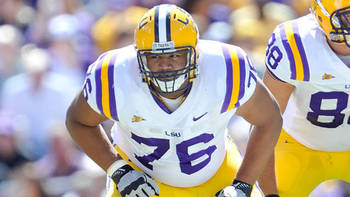 The Eagles signed Demetress Bell as left-tackle-insurance to Jason Peters, who went down with an Achilles injury. The only problem is that Bell has an injury-prone past of his own.
Faulk has experience in the SEC at a top-flight university and has great size at 6'6'' and 325 pounds.
He's the ideal backup plan to Bell and Peters and can provide sound offensive-line depth.
28. New England Patriots: Kwame Geathers, DT, Georgia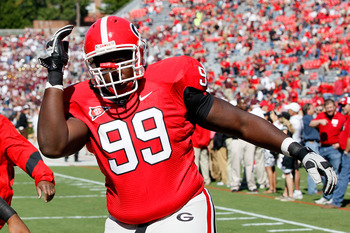 Kevin C. Cox/Getty Images
You think Dontari Poe is a huge guy?
How about Geathers, who's listed at 6'6'' and 350 pounds?
Bill Belichick has reaped the benefits of having a beefy and disruptive nose tackle over the years with Vince Wilfork, so he'll draft his future replacement next April.
29. Chicago Bears: Jackson Jeffcoat, DE, Texas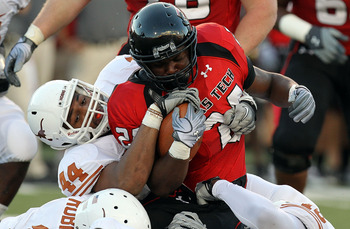 Ronald Martinez/Getty Images
The Bears would love to pair another quality pass-rusher with Julius Peppers on their defensive line.
Jeffcoat is a menacing 6'5'' 250 pounds and has a nice repertoire of moves to get to the quarterback. During a solid 2011 season, he had eight sacks and 63 tackles.
With Aaron Rodgers and Matt Stafford in their division, it's impossible for the Bears to have too many edge-rushers.
30. Baltimore Ravens: Sean Porter, OLB, Texas A&M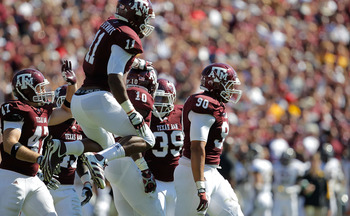 Sarah Glenn/Getty Images
I'm not sure if he's as explosive as Von Miller, but there are many similarities between Porter and the current Denver Broncos outside linebacker.
Porter recorded a whopping 79 tackles with 9.5 sacks in 2011.
He'll be the defensive headliner for Texas A&M this season. As long as he has a respectable 2012, Porter should be a target for the Ravens—especially with Terrell Suggs coming off an Achilles injury.
31. Houston Texans: Tavon Austin, WR, West Virginia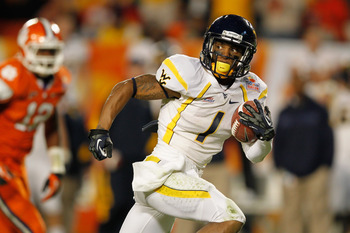 Streeter Lecka/Getty Images
This pick makes too much sense not to happen.
The Texans are ready to make a run at the Super Bowl and drafted DeVier Posey to hopefully take pressure off Andre Johnson in the passing game.
Austin would make Johnson's life even easier, as the team's Wes Welker-type demon underneath.
32. Green Bay Packers: Montee Ball, RB, Wisconsin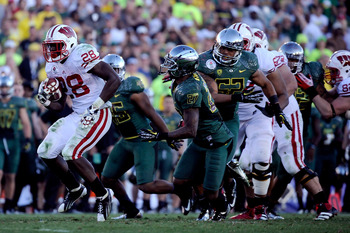 Kevork Djansezian/Getty Images
The Packers are known for their passing prowess, but they'd like to become a more-balanced club, and they need a quality running back to do that.
Montee Ball might not be the biggest or fastest guy in the class, but he has experience running behind an NFL-sized line and has amazing shiftiness.
He also runs with an unparalleled patience.
Keep Reading