Messi and Ronaldo Watch: Ronaldo and Real Win Title, Messi Breaks More Records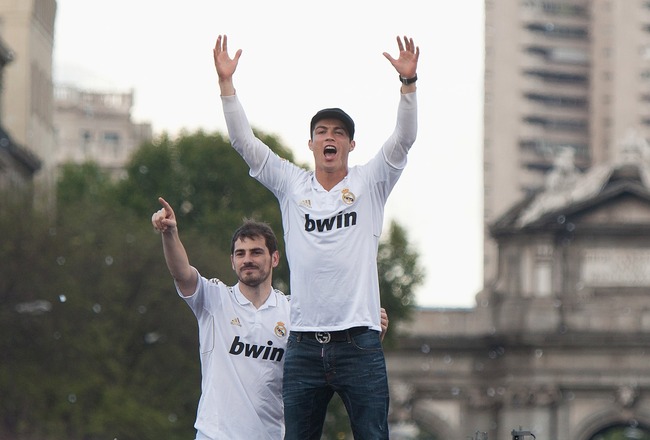 Pablo Blazquez Dominguez/Getty Images
One won the league and experienced the pasillo.
The other set two more records.
Both are adding to their growing legends with each passing week.
This week, Cristiano Ronaldo celebrated a league title with Real Madrid. Lionel Messi, meanwhile, kept scoring goals and smashing records.
Read on for all the details in this week's edition of the B/R Messi and Ronaldo Watch.
Champions
Real Madrid clinched the Spanish title on Wednesday with a 3-0 win at Athletic Bilbao.
Ronaldo's early penalty was saved, but the Portuguese superstar responded with an assist and a goal later in the match.
Gonzalo Higuaín scored Real's first before Ronaldo set up Mesut Özil for their second. Ronaldo then added the third (video at left).
It was Real's 32nd league title, the most in Spanish history.
Click here for full highlights from the match.
Messi Breaks Another Record
Another game, another record for Messi.
Messi scored yet another hat trick and set yet another record during Barcelona's 4-1 home win over Málaga on Wednesday.
This time, the record was Gerd Müller's, and the category was most goals in a European season. After Wednesday, Messi held the record at 68. He has since added to it (more on that later).
Click here for full highlights from the match.
Messi Breaks Yet Another Record
Another game, yet another record for Messi.
This one he dedicated to his outgoing manager Pep Guardiola.
Messi scored all four of Barcelona's goals Saturday in a 4-0 home win over Espanyol. After the fourth, Messi celebrated with Guardiola—who will leave Barcelona after the season—along the touchline.
Messi's four goals gave him 72 this season in all competitions, and 50 in La Liga. In comparison, Athletic Bilbao have scored 49 in the league with one game left.
With 72 goals, Messi has broken Archie Stark's record of 70 for Bethlehem Steele in 1924-25. Apparently that was the all-time world record.
Messi's fourth goal Saturday, a penalty, appears in the video at left. Click here to see all four goals he scored against Espanyol, and here for all 72 he has scored this season.
Another Win, and the Pasillo
Real kept winning at the weekend, coming from behind to beat Granada 2-1 away Saturday.
Ronaldo scored Real's equalizer in the 81st minute (video at left) before an own-goal gave Real the victory.
Click here to see Granada give Real the traditional pasillo, the honor reserved for newly crowned league champions.
Up Next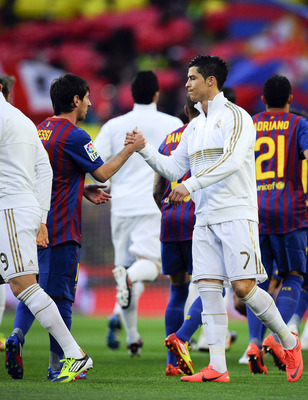 David Ramos/Getty Images
Both Real Madrid and Barcelona complete their league schedules this week.
Real host Mallorca on Sunday. Barca travel to Real Betis on Saturday.
Then Barcelona have one more game before the season ends, the Copa del Rey final against Athletic Bilbao at Madrid's Estadio Vicente Calderon on May 25.
Keep Reading