Required Reading: Links to the Best in AFC North Coverage, 5/7 Edition
May 7, 2012

Christian Petersen/Getty Images
Today's AFC North required reading includes a potential veteran wide receiver addition for the Baltimore Ravens, a scouting report of sorts on new Bengals cornerback Dre Kirkpatrick, a few details on Brandon Weeden's future as the Browns' starting quarterback and what the Steelers and their players have been up to over the weekend.
Bleacher Report's James Reagan wonders if anyone can be a reliable third receiving option for the Baltimore Ravens.
A potential third receiver paid a free-agency visit to the Ravens, according to Jeff Zrebiec of the Baltimore Sun—former Houston Texan Jacoby Jones.
The Cincinnati Enquirer's Joe Reedy spoke with Phil Savage, a former NFL scout and general manager and current radio voice of the Alabama Crimson Tide, about newly-drafted cornerback Dre Kirkpatrick.
Bleacher Report's Chris Roling predicts the Bengals' final 53-man roster and depth chart for this season.
Brian Stepanek of Bleacher Report says that Cleveland Browns quarterback Brandon Weeden is their starter now and will be for years to come.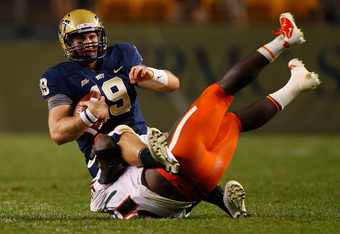 Jared Wickerham/Getty Images
Bill Lubinger of the Cleveland Plain Dealer spoke to coaches who played against Weeden's Oklahoma State team and says the biggest key for Weeden will be making accurate throws when the pocket collapses.
The biggest news over the weekend out of the Pittsburgh Steelers is that they were able to sign fourth-round draft pick Alameda Ta'Amu and fifth rounder Chris Rainey while quarterback Ben Roethlisberger finally finished his Bachelor's degree. The Pittsburgh Post-Gazette breaks down both stories.
Bleacher Report's Nick Signorelli makes a case for something I've been championing since the draft—that the Steelers brought on Sean Spence to ultimately move him to strong safety.