NFL Releases and Free-Agent Signings: Latest Updates
May 7, 2012

Marc Serota/Getty Images
With offseason workouts and rookie minicamps beginning across the league, some NFL teams are subtly reworking their rosters by releasing veterans and making free-agent acquisitions. 
Here are the latest updates on the most notable NFL transactions from the past five days. 
New England Patriots agree on a deal with Joseph Addai and Jabar Gaffney
In an attempt to add even more firepower to their offense, news broke late last week that the New England Patriots agreed to deals with veterans Joseph Addai and Jabar Gaffney. 
ESPN's Josina Anderson received a text from Gaffney saying "I'm going to the Patriots." He played in New England from 2006 to 2008 and was on the Denver Broncos when Josh McDaniels was the head coach in 2009 and 2010. 
Peyton Manning, via Mike Chappell of the Indianapolis Star, reported that Addai would be signing with the Patriots on May 5. 
With the loss of BenJarvus Green-Ellis, it's not surprising that the Patriots looked to bring in an experienced back with two 2011 draftees and Danny Woodhead the other running backs on the roster. 
Buffalo Bills release Drayton Florence
In a move that caught some by surprise, the Bills cut Drayton Florence on May 4.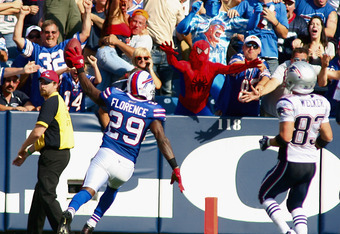 Rick Stewart/Getty Images
Florence, 31, had his worst year in Buffalo in 2011, with opposing quarterbacks averaging a 103.3 QB rating when throwing in his direction. He was called for a few critical pass interference penalties throughout the year. 
The two biggest factors that probably led to his release were the drafting of Stephon Gilmore and Ron Brooks, along with the $4 million in base salary he was owed in 2012. 
According to Mike Gehlken of the San Diego Union-Tribune, the Chargers reached out to Florence immediately after he was let go by the Bills. 
Remember, he started his career in San Diego and played there from 2003 to 2007. 
Miami Dolphins extend Cameron Wake
The biggest news of the weekend came on Sunday, when the Miami Dolphins extended pass-rushing demon Cameron Wake to a four-year extension with $49 million with $20 million guaranteed. 
NFL.com's Jason La Canfora reported the inking. 
The 30-year-old Wake has registered 28 sacks in three seasons with the Dolphins. He exploded in 2010 when he racked up 14.0 sacks, and with added offensive line attention given to him in 2011, he still managed a respectable 8.5 quarterback takedowns. 
Good news for a Miami need desperately searching for something positive heading into offseason workouts.