UFC on FOX 3 Results: Five Fights to Make After Diaz vs. Miller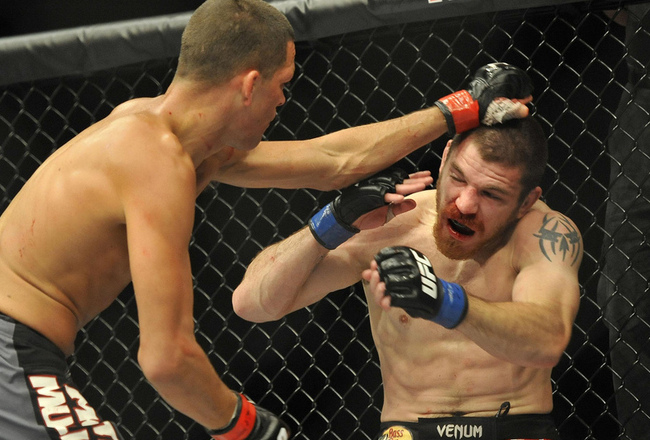 Joe Camporeale-US PRESSWIRE

UFC on FOX 3 wasn't a strong ratings success, but it was a night full of exciting fights.
That's essentially what most of us expected going into fight day: Due to a lack of big names and a bevy of other things working against the show, it likely wouldn't be all that successful in drawing in Cinco de Mayo revelers out on the town for margaritas and Mayweather.
But I think the true test for this show will come down the road, when we see how effective Nate Diaz, Johny Hendricks, Alan Belcher and Lavar Johnson do when they're paired up in a bout with higher profile. Because if this show, low rating and all, was successful in turning Diaz into a legitimate draw in the lightweight division, it'll all be worth it come December or so when he challenges for the championship belt.
Let's take a look at what's next for five of the most impressive stars of UFC on FOX 3.
Nate Diaz vs. Benson Henderson/Frankie Edgar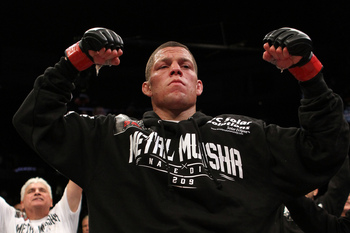 (Photo by Josh Hedges/Zuffa LLC/Zuffa LLC via Getty Images)
Some of you will say Anthony Pettis still deserves his chance at the UFC lightweight title. And we'll get into that in a second, but first I'll tell you why Diaz is the undisputed top contender of the moment.
Diaz didn't have the best run at welterweight, but since returning to 155, he's looked utterly dominant. You can discount his win over Takanori Gomi after the fact, because Gomi isn't nearly the fighter he once was.
But you can't gloss over what he did to both Donald Cerrone and Jim Miller, both of whom were nearing legitimate contender status in the division at the time they faced, and were wrecked by, Diaz.
When someone makes your potential contenders look like non-threats, it may just turn out that he's the real threat. That's Nate Diaz. And on top of his stellar performances, he's also one of the biggest names available in the lightweight division. It only makes sense to fast-track him to a title shot.
And as for Pettis? He'll get his shot, unless he loses a fight in the meantime. The UFC still feels bad about asking him to stand aside from his promised title shot last year, so they'll do everything in their power to keep him in the mix.
But losing to Clay Guida, winning a close split decision over Jeremy Stephens and knocking out Joe Lauzon doesn't make you a legitimate title contender. It just doesn't.
I'd like to see Pettis face Cerrone, so long as Cerrone gets by Stephens this summer. It would prepare another lightweight challenger, and it would also be an incredible fight.
Johny Hendricks vs. Jake Ellenberger/Martin Kampmann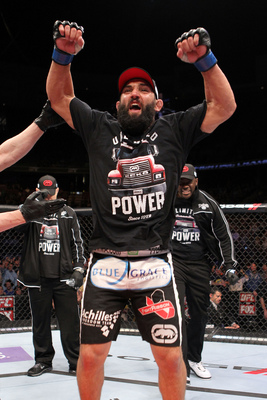 (Photo by Josh Hedges/Zuffa LLC/Zuffa LLC via Getty Images)
The following names are a list of people who could conceivably challenge for the UFC welterweight or interim welterweight title in their next fight: Jake Ellenberger, Johny Hendricks, Martin Kampmann and Nick Diaz.
All four of those names have claims to the throne, or at least to the interim throne. Ellenberger and Kampmann will face off later this summer, and how could you deny the winner of that bout a title shot?
Hendricks was promised a title shot with a win over Josh Koscheck, and he delivered. And Nick Diaz still has that whole rematch thing with Carlos Condit hanging in the wind, provided he's able to get past the Nevada State Athletic Commission in his next bout.
The most important thing to keep in mind here is that Georges St-Pierre isn't returning until November, which means Condit won't be fighting until November either, as he's waiting on St-Pierre to heal up for a title unification fight.
Once those two fight, they'll want some time to heal up before stepping back in the cage. Which means that Hendricks, in order to secure his title shot, would likely be waiting at least 10 months and possibly a year.
That sounds like nonsense to me. It's better to pair Hendricks up with the winner of the Ellenberger/Kampmann bout. You could do the fight as part of the proposed November card with Condit/St-Pierre headlining, and the winners of each fight meet down the road for the title.
Yes, I am proposing a mini-tournament. But it makes perfect sense.
Alan Belcher vs. Wanderlei Silva/Vitor Belfort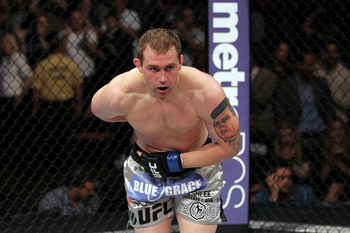 (Photo by Josh Hedges/Zuffa LLC/Zuffa LLC via Getty Images)
Alan Belcher won't get a title shot against Anderson Silva, like he asked for after defeating Rousimar Palhares on Saturday night. He's not quite there yet.
But he's getting close. And for his next bout, Belcher needs and deserves an opponent with a bigger name. Which is why I'd pair him with the winner of next month's UFC 147-headlining bout between Wanderlei Silva and Vitor Belfort.
Let's be honest here for a second: There is very little chance for Silva to beat Belfort. I like Silva just as much as the next guy. He's one of the nicest dudes in the sport, and he's also a legend of the game, but he's past his expiration date.
I enjoy watching him fight, but not when he's paired up against someone like Belfort. It's just not a good matchup for "The Axe Murderer."
And so we'll assume Belfort is going to beat Silva, and likely in the first round. He won't take much damage. Why not see if Belfort would be willing to turn around and face Belcher on the next FOX card in August?
The rating for Saturday night proved they need stars to sell the FOX cards to mainstream audiences, and Belfort gives them a pretty good name for that purpose.
It also gives Belcher a purpose and an opponent with the kind of name value that can boost his own credibility.
Lavar Johnson vs. Matt Mitrione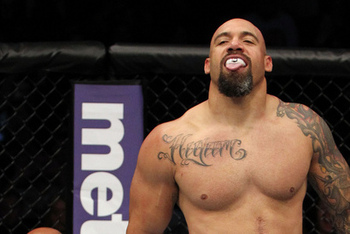 (Photo by Josh Hedges/Zuffa LLC/Zuffa LLC via Getty Images)
Lavar Johnson is a heavyweight on the rise. How far can he actually go?
As we saw on Saturday night, Johnson isn't the best in the world at takedown defense or working off his back, which means he'd be eaten alive by top heavyweights with good wrestling at their disposal.
But there is no good reason to push Johnson so far up the ranks that he's meeting the likes of Cain Velasquez just yet. He's still a work in progress, and should be paired up with fellow under-construction heavyweights.
Enter Matt Mitrione. The former TUF star has been on the shelf since an October loss to Cheick Kongo.
I know Joe Silva doesn't typically pair up a guy coming off a win with a fighter coming off a loss, but he makes exceptions from time to time. This is one of those times. Mitrione and Johnson are right at the same level in their careers, and both would provide a stern test for the other.
John Dodson vs. Louis Gaudinot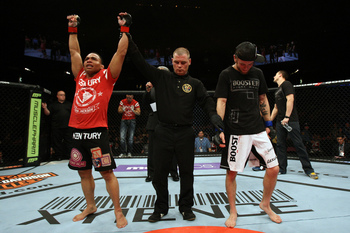 (Photo by Josh Hedges/Zuffa LLC/Zuffa LLC via Getty Images)
The two best fights of the entire night at UFC on FOX 3 were the two flyweight bouts. That isn't a coincidence, and you can expect a lot more exhilarating performances from the tiny dudes on future fight cards. It's quickly going to become the most exciting division in the company, and by a wide margin.
John Dodson and Louis Gaudinot each had impressive performances in their flyweight debuts. Gaudinot was a revelation, actually.
For a guy who didn't look like very much at bantamweight on The Ultimate Fighter, Gaudinot looked very impressive at flyweight. He was an entirely different fighter than the one we saw each week on television last fall.
And Dodson, while struggling with Tim Elliott, still looked right at home at flyweight.
With the flyweight tournament likely playing out until at least October, we should see each of these guys fight one more time. Why not against each other?
The winner of Dodson vs. Gaudinot would be ready to take on the eventual flyweight champion (Joseph Benavidez, in all likelihood), and we'd get one hell of a fight in the process.
Keep Reading