2012 NHL Mock Draft: Best 1st-Round Fit for Each Team
May 7, 2012

Richard Wolowicz/Getty Images
The 2012 NHL playoffs are giving hockey fans plenty of excitement right now, but after the Stanley Cup is raised, everyone's attention will turn to the 2012 NHL draft in Pittsburgh.
There aren't as many superstar talents in this year's class compared to the last few drafts, but the defensive depth in this class is tremendous.
Let's look at the best first-round fit for each team.
1. Edmonton Oilers: Nail Yakupov, RW, Sarnia (OHL)
Since the Edmonton Oilers have an abundance of young forwards already, I would trade this selection for a young No. 1 defenseman to build around for many years.
If the pick is kept, Yakupov is the obvious choice.
2. Columbus Blue Jackets:  Mikhail Grigorenko, C, Quebec (QMJHL)
The Blue Jackets need a No. 1 center who can be a playmaker and score goals. With Jeff Carter gone from the team, star winger Rick Nash needs a center who can give him the puck in places where he can score.
3. Montreal Canadiens: Filip Forsberg, LW, Leksand (SWE-2) 
Forsberg is a raw talent who could develop into a legitimate first-line player for a long time. His goal-scoring and speed would improve the Canadiens offense tremendously. His great size also makes him a strong power forward.
4. New York Islanders: Mathew Dumba, D, Red Deer (WHL)
The New York Islanders would be wise to add another talented defenseman to their organization who has top-pairing potential.
5. Toronto Maple Leafs: Alex Galchenyuk, C, Sarnia (OHL)    
The Leafs may look at a defenseman such as Ryan Murray with this pick, but addressing their need at the center position with a great talent like Alex Galchenyuk seems more likely.
6. Anaheim Ducks: Ryan Murray, D, Everett (WHL)
The Ducks need a player with No. 1-defenseman potential, and at pick No. 6, Anaheim would be thrilled if Ryan Murray's still on the board.
7. Minnesota Wild: Jacob Trouba, D, US NTDP (USHL)
The Minnesota Wild never fully replaced Brent Burns in their lineup this season and need to address their need for a top-tier defenseman by selecting Jacob Trouba.
8. Carolina Hurricanes: Zemgus Girgensons, C, Dubuque (USHL)
The Hurricanes have two good young centers in Eric Staal and Zac Dalpe, but they still need to add depth at the position. The Hurricanes will be a playoff team next year if they plug a few holes on their roster.
9. Winnipeg Jets: Radek Faksa, C, Kitchener (OHL)
There may be a team that takes a chance on Radek Faksa in the first five or six picks, but the Winnipeg Jets would certainly draft him with hopes that he will fulfill his top-six-forward potential.
10. Tampa Bay Lightning: Griffin Reinhart, D, Edmonton (WHL)
Victor Hedman and Griffin Reinhart would be a great, young defensive tandem for the Tampa Bay Lightning to build around for the future.
With upgrades on the blue line and between the pipes, the Lightning are a dangerous Eastern Conference team next season.
11. Washington Capitals (from Colorado): Olli Maata, D, London (OHL)
Olli Maata would be the best fit for a Washington Capitals team that has proven in this year's playoffs that a defensive, physical style of play is best for it.
12. Buffalo Sabres: Teuvo Teravainen, LW, Jokerit (FIN)
The Buffalo Sabres need another reliable goal scorer, which makes Teuvo Teravainen of Finland a good pick here. The Sabres cannot rely on their top six forwards to remain healthy for an entire season or put the puck in the net on a consistent basis.

13. Dallas Stars: Morgan Rielly, D, Moose Jaw (WHL)
The Dallas Stars are one solid defenseman away from being a playoff team next year, and Morgan Rielly could end up being a steal at pick No. 13.
14. Calgary Flames: Cody Ceci, D, Ottawa (OHL)
It's time for the Calgary Flames to rebuild, and one position of weakness that must be addressed this summer through the draft or free agency is defense.
Cody Ceci is a smart, safe pick for the Flames at No. 14.
15. Ottawa Senators: Sebastian Collberg, RW, Frolunda (SWE)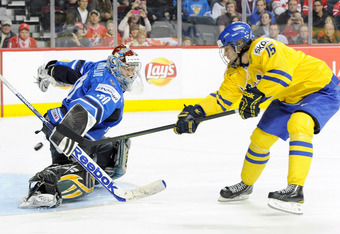 Richard Wolowicz/Getty Images
The Senators are an up-and-coming team that has developed several young players over the last two years. Injecting some more speed and skill into their top six forwards would be a smart idea.
16. Chicago Blackhawks: Andrei Vasilevski, G, Ufa (KHL)
The Blackhawks need to improve the quality of their goaltending, or they won't get past the first round of the playoffs next season.
Andrei Vasilevski will likely be the best netminder available at pick No. 16.
17. Florida Panthers: Brendan Gaunce, C, Belleville (OHL)
When elite forward prospect Jonathan Huberdeau joins the Panthers full-time next season, they will replace his place in the organization with Brendan Gaunce, who, like Huberdeau, has top-line potential.
18. Columbus Blue Jackets (via Los Angeles): Ludvig Bystrom, D, Modo (SWE)
Even with the addition of Jack Johnson at the trade deadline, the Blue Jackets will want to add another defenseman to their organization with one of their two first-round picks.
19. San Jose Sharks: Pontus Aberg, LW, Djurgarden (SWE)
The Sharks would be smart to trade Patrick Marleau because of his playoff struggles and replace him with a talented, young winger such as Pontus Aberg.
20. Boston Bruins: Martin Frk, RW, Halifax (QMJHL)
Since the Boston Bruins have great depth on defense, adding a winger with goal-scoring abilities is a top priority, especially given the uncertainty surrounding Nathan Horton's health.
21. Phoenix Coyotes: Tomas Hertl, C, Slavia Praha (CZE)
The Coyotes have a lot of veteran forwards who are either at the end or past their primes, so adding some youth to the organization at center is a wise idea.
22. Washington Capitals: Stefan Matteau, C, USNTDP (USHL)
With Braden Holtby proving he's capable of being the future goalie of the Capitals, the team can address its need for center depth in the first round.
23. New Jersey Devils: Colton Sissons, RW, Kelowna (WHL)
If star forward and captain Zach Parise leaves this summer through free agency, the New Jersey Devils are going to need more scoring from the wing, which makes Colton Sissons a smart pick.

24. Tampa Bay Lightning: Malcolm Subban, G, Belleville (OHL)
Malcolm Subban, brother of Montreal Canadiens defenseman P.K. Subban, could very well end up being the best goalie in this draft class.
Selecting him would also address the glaring weakness on the Lightning, which is talent between the pipes.
25. Philadelphia Flyers: Slater Koekkoek, D, Peterborough (OHL)
The Flyers defense has been often criticized this season, and while the team might look in free agency to address the blue line in a major way, doing it through the draft is a smart idea too.
26. Buffalo Sabres (via Nashville): Hampus Lindholm, D, Rogle (SWE) 
The Sabres defensive corps was disappointing at times this season, so adding a physical player such as Hampus Lindholm would be an ideal scenario toward the end of the first round.
27. Pittsburgh Penguins: Derrick Pouliot, D, Guelph (OHL) 
The playoffs proved that the Pittsburgh Penguins badly need help on defense, so taking the best blue-liner available in Derrick Pouliot is a no-brainer.
28. St. Louis Blues: Scott Kosmachuk, RW, Guelph (OHL)
The Blues have enough big and tough forwards and need to find a goal scorer in this draft, like Scott Kosmachuk.
29. New York Rangers: Thomas Wilson, RW, Plymouth (OHL) 
Adding another power forward such as Thomas Wilson to the mix would be a smart move for the New York Rangers, who have done a fabulous job of developing young talent over the last few seasons.
30. Vancouver Canucks: Scott Laughton, C, Oshawa (OHL)
The Canucks' lack of young offensive talent was obvious in the playoffs, and after trading Cody Hodgson at the trade deadline, it's time for Vancouver to stock up on more prospects with top-six potential.