2012 NBA Free Agents: Power Ranking Top Unrestricted Players
May 7, 2012

Chris Chambers/Getty Images
Unrestricted free agents are free to go to whatever team their heart desires, and this summer the NBA is loaded with athletes who fit that mold. 
Teams will be lining up to sign several of these talented unrestricted free agents, but there's no question some players are much more enticing than others. 
It will certainly be an interesting summer, as several teams are sure to shake up their rosters, and I know I'm not the only one who can't wait for it all to unfold. 
With that said, here's who I have as the top 2012 unrestricted NBA free agents. 
Deron Williams 
The All-Star point guard has a player option at the end of the year, and it wouldn't be a surprise to see him walk away from the New Jersey (soon to be Brooklyn) Nets. 
Williams wants to win a championship, and there will be some strong contending teams coveting him this summer. 
Nobody will blame him for leaving the Nets, because after all, it wasn't his desired choice. Williams was traded there, and soon he'll have the option to stay with them or play elsewhere.
Joining a team with a better shot at winning a title would be the wise decision for Williams, unless the Nets are able to sign additional elite talent to help convince one of the best point guards in the league to stay.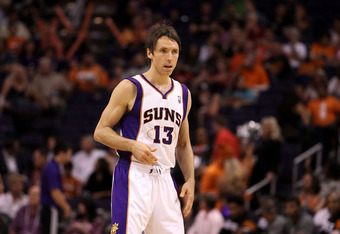 Christian Petersen/Getty Images
The veteran point guard can still hang with the best of them, despite the fact that he turned 38 earlier this season. 
Averaging 12.5 points and 10.7 assists on the year, Nash proved he's still a dominant player, and there is no question that big-time teams will be after his services. 
The Phoenix Suns never tried to trade him this year, which was a bit of surprise to me. Now Nash will have the chance to sign with any team out there, and it would be insane for him to chose any team that didn't have a legitimate shot at winning the title. 
Nash will be a hot name this summer, and wherever he ends up, he instantly makes that team much better. 
Ray Allen 
Another aging guard, Allen does have some injury concerns moving forward, but there's no denying his ability to shoot the ball. 
Allen is still a terrific shooter, even though he turns 37 later this summer. He would like to remain in Boston, but there's no telling what the Celtics have in store for their future. 
How the team fares in the 2012 NBA playoffs will likely determine what they plan to do this offseason. Allen may want more money than the Celtics are willing to give him, which means he would then likely bolt to a new team. 
Since he is getting older, Allen should only care about playing for a team that will be a strong contender. He's a clutch shooter that will help in crunch time for a team, but that's only if he remains healthy.