Pacquiao vs. Mayweather: How Money's Victory Affects Boxing's Biggest Tease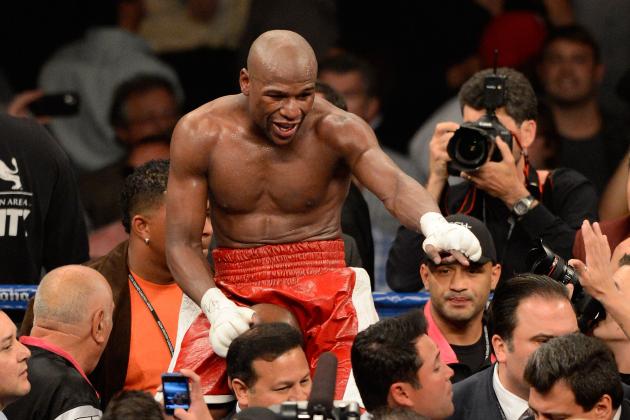 Ethan Miller/Getty Images
Floyd Mayweather
Floyd Mayweather got the win against junior middleweight champion Miguel Cotto on Saturday to relieve him of his belt, but not without much effort.
Now what?
Does this victory affect what will ultimately happen in the next round of negotiations between Mayweather and Manny Pacquiao?
Does the difficulty of this victory improve chances of seeing the two boxing icons get in the ring together, or does it provide the opposite effect?
Here's a couple of factors to consider.
Begin Slideshow

»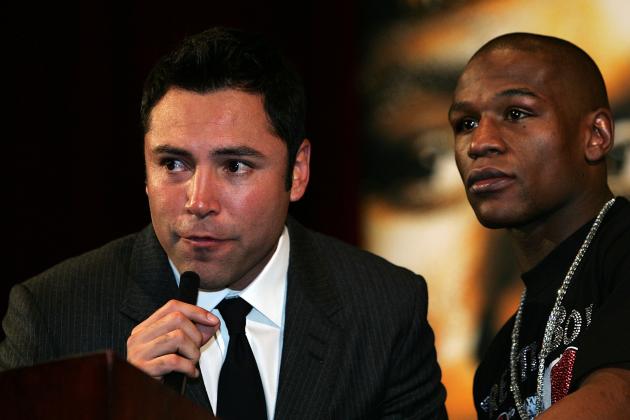 John Gichigi/Getty Images
Oscar De La Hoya and Floyd Mayweather hoping to get rich together
Floyd Mayweather has told Manny Pacquiao that Pacquiao doesn't pull in big enough PPV numbers to get a 50-50 share of the revenue.
While Mayweather's all-time record-breaking fight with Oscar De La Hoya managed 2.4 million PPV buys compared to Pacquiao's 1.25 million PPV buys against De La Hoya, they've achieved nearly equal numbers against similar opposition.
If Mayweather's numbers from the Miguel Cotto fight reach the near two million PPV buys that co-promoter Golden Boy is projecting to see, Pacquiao may have to concede to lesser money.
By comparison, Pacquiao managed 1.25 million PPV buys against Cotto.
Ethan Miller/Getty Images
Miguel Cotto's left jab powers through Floyd Mayweather's face
Floyd Mayweather looked the most human he ever has in probably his entire career.
If Freddie Roach is watching, Manny Pacquiao's trainer can develop a strategy to beat Mayweather.
The only problem is Miguel Cotto is an entirely different fighter.
Besides Cotto's different style, his bigger frame allowed him to bully Mayweather around the ring.
Pacquiao won't have the strength advantage, and his left jab won't be nearly as effective as Cotto's, but he will have the edge in punching power against Mayweather as well as near equal speed.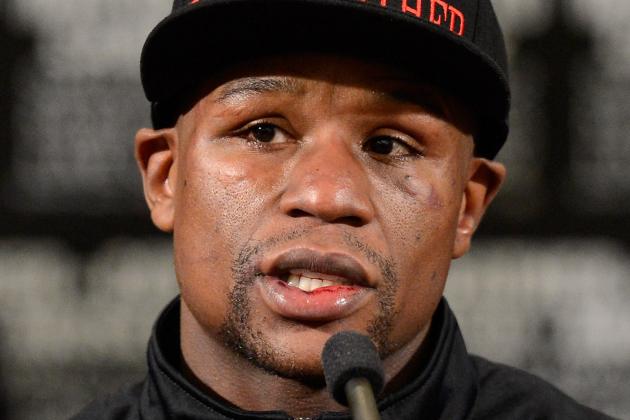 Ethan Miller/Getty Images
Floyd Mayweather during the postfight press conference
Floyd Mayweather has his doubts about the validity of Manny Pacquiao's achievements, going so far as to accuse the man of taking steroids.
Mayweather often notes Pacquiao's ability to walk down Miguel Cotto during their 2009 welterweight battle.
After tasting the punches of Cotto himself, Mayweather may be even more puzzled by Pacquiao's ability to take those kinds of hits.
Expect more accusations of steroids, but look for Pacquiao to potentially look human against undefeated Black American Timothy Bradley during their June 9th clash.
If Pacquiao looks as human as he did against Juan Manuel Marquez last November, Mayweather may be inclined to have a change of heart in jail and suddenly become much easier to negotiate with.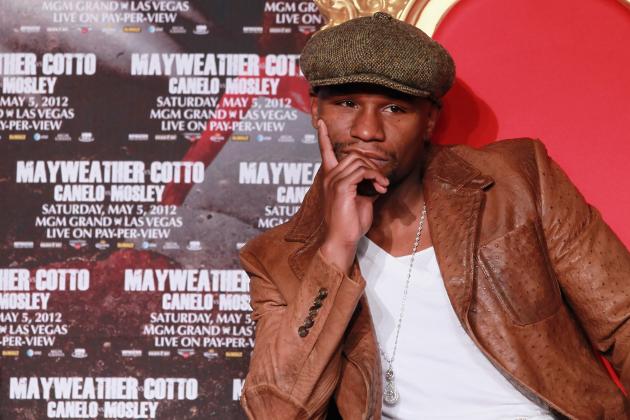 Jeff Gross/Getty Images
Floyd Mayweather contemplating his next opponent
Manny Pacquiao knew after going to war against the bigger Antonio Margarito at a catchweight of 150, he wouldn't ever travel north of 147 again.
Likewise, Floyd Mayweather has been put through the fire at 154 pounds by Miguel Cotto and will not want to feel the flame again.
A dream match versus middleweight champ Sergio Martinez can be officially dismissed. This leaves Mayweather to mull over his sparse options at 147.
Golden Boy Promotions has a nice stock of young fighters facing each other to decide who the chosen young one will be to try to beat old Mayweather, but that fight is still at least a year away.
Pacquiao is the only logical choice for Mayweather's next and possibly last fight. Mayweather has talked retirement as if it's approaching fast.
December 8, 2012 will be the anniversary of the first time Mayweather retired after beating a good fighter.
That night in 2007, his opponent was Ricky Hatton, but the pressing question of Miguel Cotto was left unanswered at the time.
Now, as December 8 approaches again in seven months, Mayweather has the chance to face one more opponent and retire with a period at the end of his sentence.
That last unanswered question of Mayweather's storied career is Pacquiao.
Now more than ever, Mayweather and Pacquiao must come to terms to bring the people the fight they want to see.
If they do not, their legacies will be forever marked, and history won't be kind to their memories.