Paul Konerko: The Fine Wine of First Basemen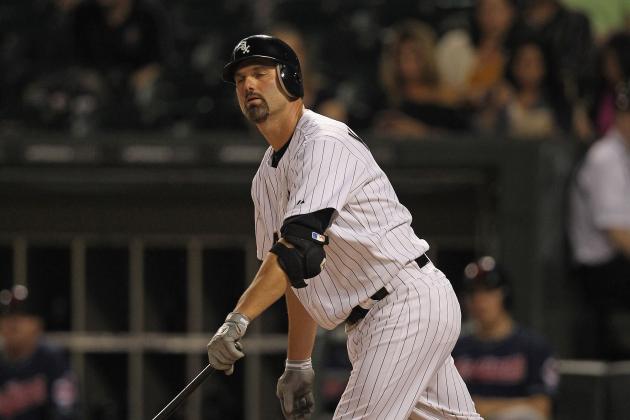 Jonathan Daniel/Getty Images

Paul Konerko is really good at playing baseball.
This statement might not necessarily be profound or earth shattering, but when did I ever say I was Socrates?
When it comes to Paulie, the man can plain stroke.
The Rhode Island native, as of May 8th, has a robust stat line to the tune of a .343 BA while whopping 6 HRs and collecting 17 RBI.
The most fascinating about Konerko's career is not his success, but the timing of his success.
Most baseball people consider the age of 27 to be the prime of a player's career. Konerko's late success does away with this assumption.
So the real question to ask is the following: why did it take Konerko this long to elevate his game to its current stature?
(And no, there won't be any age conspiracies. To my knowledge, Konerko didn't pull a reverse Danny Almonte and claim to be older than he is.)
Begin Slideshow

»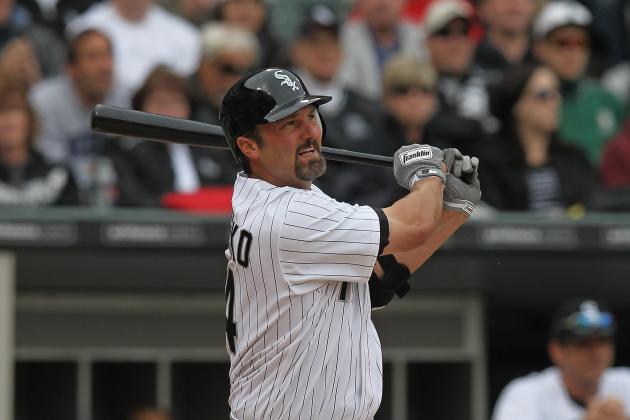 Jonathan Daniel/Getty Images

Throughout a hitter's time in the big leagues, he is constantly playing a game of chess against the opposing hurler.
Hitting is thinking as much thinking as it is physical. For one Paul Konerko, he has seemingly mastered the art of out-thinking the pitcher.
Over the last couple of seasons, it seems as if Konerko has always punished mistakes in hitters' counts. While this might seem like something every major league hitter should be capable of, this is just not the case.
Often times, I hear Hawk Harrelson complaining about Beckham or somebody just being "underneath it." To put it simply, Konerko is usually "right on it" these days.
Konerko rarely swings out of the zone and focuses on one thing: smoking his pitch. Needless to say, his patience has worked out pretty nicely.
Maybe Dayan Viciedo can learn a thing or two from Konerko instead of swinging at everything in sight?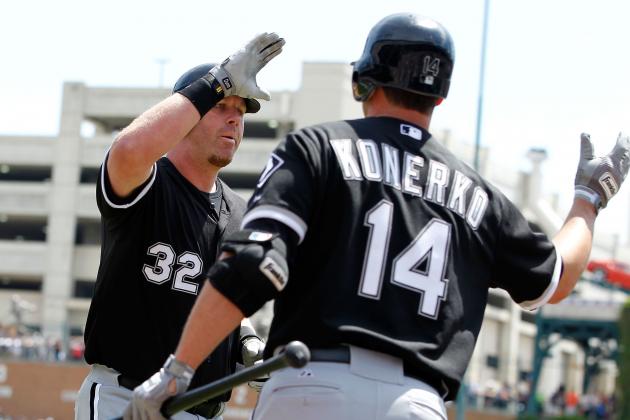 Gregory Shamus/Getty Images

I hope I just didn't jinx it. I really hope I just didn't jinx it. What have I done?
I was starting to forget about how nightmarish 2011 was for both me and my pal Adam Dunn.
Nevertheless, Konerko has been a main beneficiary of both Dunn's and Rios' strong starts this baseball season.
As of May 8th, Dunn has crushed at a .236 BA (I'm hilarious) while slugging 9 HRs and driving in 23 RBIs.
Not bad for a guy who might have had the worst season ever for a big-leaguer.
But seriously, good for both Dunn and Rios. They took the punches and rolled with them nicely.
As a result of this added protection, it is difficult for teams to pitch around Konerko. In turn, Konerko knows that he will get at least one good pitch an at-bat. His job: not to miss it.
To this point, he really hasn't.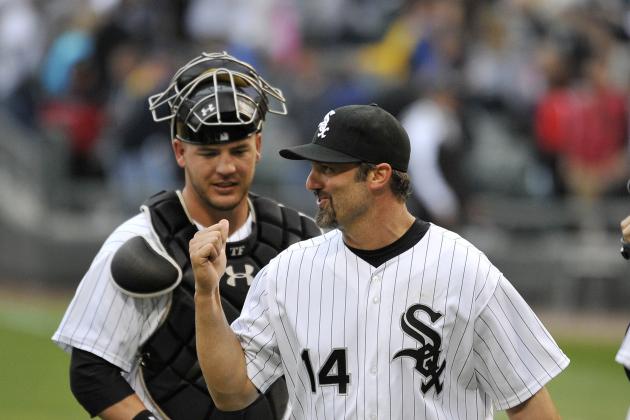 Brian Kersey/Getty Images

Fun fact about Paul Konerko: He hit an inside-the-park home run against the Tampa Bay Devil Rays in 2000. For those of you are wise guys, he wasn't exactly fleet of foot from the beginning.
Because Konerko's game isn't necessarily founded on athleticism, he is more inclined to having success later in his career.
In other words, Konerko hasn't really had to change his game as he has aged. While most athletes suffer some drop off eventually, Konerko's decline should be gradual and less noticeable.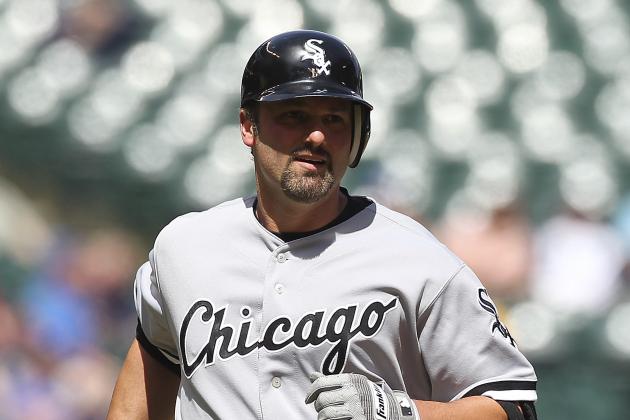 Otto Greule Jr/Getty Images

While Konerko does suffer the occasional knick, his durability over the course of his career has been remarkable.
To be correct, Konerko's only had one injury-shortened season (122 games in 2008). Pretty amazing in today's game if you ask me.
His continued health is probably a testament to his own physical upkeep and the work of long-time White Sox trainer Herb Schneider.
When Konerko does get hurt, he is usually able to play through it and still be effective. Whether it's a matter of his toughness or the severity of the injuries, Konerko sports a quality that you want in a franchise player.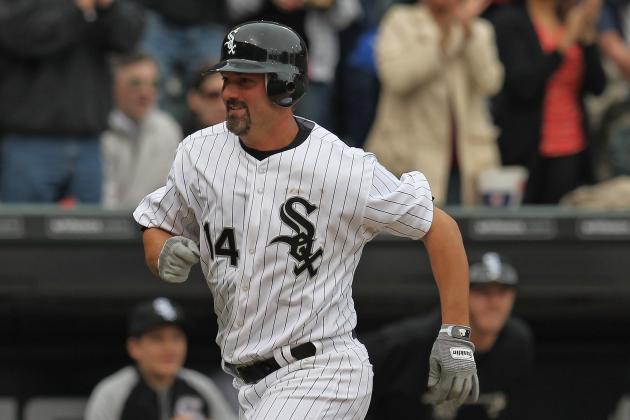 Jonathan Daniel/Getty Images

While the Sox might be Chicago's second team, Konerko is still the face of the franchise that we all know and love.
And until someone takes over this title from Paulie, he's still got us to play for. At least, that's the way this life-time fan sees it.
Right now, Gordon Beckham and Dayan Viciedo aren't necessarily on the fast track.
In terms of personal accomplishment, Konerko still has some achievable milestones on the horizon. Most notably, his 402 career bombs makes the 500 HR club a viable challenge.
While his odds of sneaking into Cooperstown might not be great, he still has a shot. With a couple solid seasons, anything is possible.
It's funny. If you would have asked me in 2002 if I thought Paul Konerko would be on the team in 2012, I would have had the common sense to say no way.
But that's baseball for you.
While both me and Konerko have aged, we're both thriving and kicking. Well, at least Paulie.