Could Will Middlebrooks' Hot Start Mean the End for Kevin Youkilis?
May 7, 2012

Brian Kersey/Getty Images
Will Middlebrooks' dominance at the Triple-A level this season prompted a call-up to the Boston Red Sox for the 23-year-old third baseman after Kevin Youkilis hit the 15-day disabled list with a strained back.
At Triple-A Pawtucket this season, Middlebrooks hit .333 with nine homers, 27 RBI, three stolen bases, three doubles and a .380 on-base percentage.
Boston's hot prospect—the No. 5 prospect for the Red Sox, and 55th overall in all of baseball according to MLB.com—has continued his torrid streak at the MLB level.
In his first game on May 2 against the Oakland Athletics, Middlebrooks went 2-for-3 with a double and a stolen base.
He followed up that effort by going 1-for-6 with a run scored against the Baltimore Orioles, and then sat out Saturday's game due to a hamstring cramp.
Sunday, however, is where Middlebrooks really shined.
The Red Sox's young gun went 2-for-7 at the plate in a 17-inning marathon, hitting his first career home run, a mammoth grand slam that easily cleared the Green Monster.
Middlebrooks is hitting .313 with a homer and four RBI since his call-up.
So that begs the question: Could Youk's days in Boston be numbered?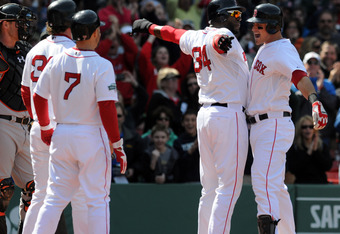 Darren McCollester/Getty Images
Well, despite the great stats from the prospect, the Red Sox are 0-3 in the three games Middlebrooks has played in. Although that's certainly no fault of his own considering he's played very well, it's not as if he's flipped the team's poor fortunes on its head.
However, with David Ortiz solidifying the DH position and the struggling Adrian Gonzalez needing to play every day at first base, where could Youkilis (hitting just .219 this season before going down with injury) fit in if Middlebrooks solidifies his spot on the roster?
The 33-year-old Youkilis has played in the outfield as recently as 2009 (where he played two games in left field and picked up an error in five fielding chances), and back in 2006 Youk started 17 games in left and had a perfect fielding percentage.
The Red Sox outfield has been stretched thin lately, but placing Youkilis in the outfield would be unfamiliar territory and a patch job at best.
It's only a matter of time before Jacoby Ellsbury returns for the Sox, and the addition of Marlon Byrd via trade would be in vain if he didn't see the field.
Adding insult to injury (literally in Youk's case), he's in the final year of his contract in Boston. Although there is a $13 million team option for next season, there's a slim to none chance of the Red Sox utilizing that option.
Chances are high that this will be Youk's final season in a Red Sox uniform; he's already acknowledged that fact himself.
However, could he be out the door before the trade deadline and open up the job for Middlebrooks for the rest of 2012?
Further, would he be willing to embrace the role of Red Sox super-sub for the remainder of the year if Middlebrooks continues his production in the big leagues?
Youk is an unselfish, team-first player, but his baseball future moving forward seems far from set.