Why New York Knicks Will Never Win Big with Carmelo Anthony as Their Star
May 7, 2012

Jeff Zelevansky/Getty Images
NBA Champions, New York Knicks and Carmelo Anthony.
These are three things that you will never hear in the same sentence as long as Anthony is the face of the franchise.
Regardless of how talented Melo is, he has shown throughout his career that he can never win when it counts.
Sure, Carmelo has made the playoffs every season he has been in the NBA. Last time I checked though, teams are trying to win championships, not just to make the playoffs. In his nine postseason appearances, Anthony has only made it past the first round once.
You know, for all the criticism LeBron James gets from the media, at least he has played in two NBA championships.
After being swept last postseason and down 3-1 in their playoff series this year against the Miami Heat, it looks like Anthony and the Knicks are going to be eliminated once again in the first round of the playoffs.
Melo is going to continue to hold the Knicks back because he cannot work with others.
Throughout his career, whether it has been with the Denver Nuggets or now with the Knicks, Anthony has came in and was supposed to be these team's star player.
The only thing is though, your star player is supposed to lead you to championships.
Not only can Melo not make it past the first round of the playoffs, but his style of play is selfish.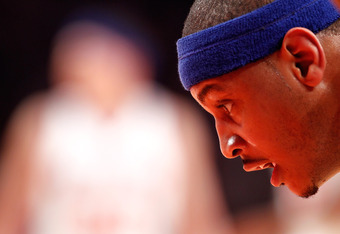 Jeff Zelevansky/Getty Images
Throughout his career, Melo has been teamed up with other top players including, Chauncey Billups, Allen Iverson and Amar'e Stoudemire.
This past season, the Knicks had found a diamond in the rough in Jeremy Lin. The point guard made the Knicks relevant again when Anthony and Stoudemire were out with injuries.
However, as soon as the Anthony returned, the Knicks continued to struggle again. Melo showed that he could not work with two other top players. He wanted to have the ball in his hands every time, rather then spread it out and play as team.
Anthony was only able to help out the Knicks when he was playing by himself. This season, he went 9-4 when Stoudemire and Lin were not in the lineup.
However, we all know that despite the regular season success he may have with his selfish style of play, it will fail in the postseason just like it has every other season.
The fact of the matter is, Anthony does not have what it takes to be the leader of the team.
He cannot work with others and he does not put the team first. If you want to be the face of a franchise, you need to do whatever it takes to win.
This past season, Melo never bought into former Knicks head coach Mike D'Antoni's offensive system. Anthony wanted to play his own style of basketball and it ended up costing D'Antoni his job.
If Melo ever wants to win a championship and have postseason success, he is going to have to start buying into a coach's system and focus on winning.
Forget the individual stats and awards. Melo has shown he can score. Now he has to show that he can win.
It is a shame because Melo is one of the most talented players in the NBA. He has all the skill in the world.
However, the Knicks need to head in a new direction. Anthony has shown no signs of changing his playing style and that is going to keep the Knicks out of the championship as long as he is the face of their franchise.