WWE Judgment Day 2004: Top 10 Moments on a Night Critics Were Proven Wrong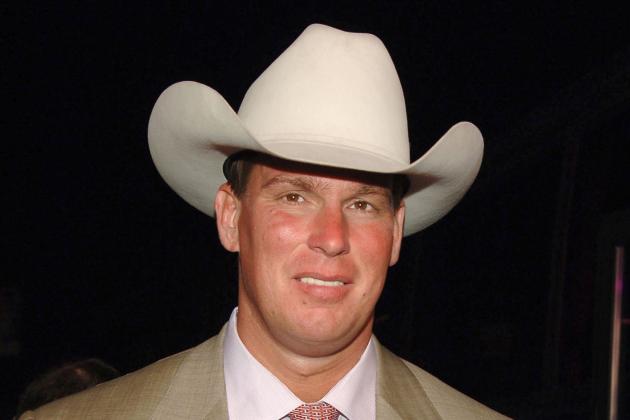 John Sciulli/Getty Images

WWE was losing talent in the beginning of 2004. Brock Lesnar, Bill Goldberg, Mick Foley, The Rock, Stone Cold, Big Show, Kurt Angle and others were all either taking time off or leaving the company.

It was a rough time. However, WWE always has found new performers to step up and continue the "machine." Business went on, and Judgment Day was an exclusive Smackdown branded event.

How did they do against such odds? Let's find out!
Begin Slideshow

»
Torrie Wilson and Dawn Marie feuded on and off for well over a year.

At Judgment Day, Kurt Angle (Smackdown General Manager) was trying to make life miserable for Torrie. He put her in a match against Dawn with her job on the line.

Of course, Torrie ended up winning in a hard fought battle. She usually did.

Overall, I would grade this event a B-. Just like this match, it wasn't bad. It just wasn't very good either.
There is this myth that only recently has the WWE tag team division become meaningless.

That would be 100 percent false.

This night showed just as much. The tag division has been down and out for nearly a decade. Nothing has changed, and it likely won't for a long time.

The tag champs were Charlie Haas and Rico. Walking them to the ring each week was Miss Jackie. Their opponents at Judgment Day 2004 were Hardcore Holly and Billy Gunn.

Yes, that was the tag team title scene on Smackdown.

The champs prevailed in a solid ten minute match.
Jacqueline was the Cruiserweight Champion. She defeated Chavo Guerrero for the gold on Smackdown in early May.

At Judgment Day, Chavo got his shot to regain the title. With Chavo Classic by his side, he would do whatever it took to win.

In the end, he did.

Chavo got his title back, and this entire scenario was quickly forgotten about.

I didn't have a huge problem with it, but there was never anywhere to go. Jacqueline won the title, and Chavo got it back two weeks later. Then it all ended...
This is how you start a pay-per-view!

I remember just getting back home from a week in Colorado, and I needed a huge match to start the show! Being a little tired, this was the perfect match to get me into the show after a long trip.

Rob Van Dam and Rey Mysterio did work well together, even though they were not a "real" team. The Dudleyz always performed just fine as a team, so this was going to be good.

These four men worked hard, before RVD picked up the victory.
Like I said earlier, WWE was in need of new talent.

Tons of big names were either injured or leaving. Right or wrong, wrestlers were going to be given an opportunity in 2004. On Smackdown, Mordecai got his chance.

The video does not do this man justice. At Judgment Day, he had his debut match against Scotty 2 Hotty. He destroyed him in a few minutes.

He had many vignettes hyping him up, but it just didn't translate well in the ring. The videos were amazing, but it was near silence every time he wrestled.

All plans for this man were quickly thrown away. He did not last long.

You can never fault WWE for trying new ideas. Some concepts will be terrible, while others will catch fire and become huge. In this case, it simply didn't connect with the audience.


Booker T was recently turned heel and drafted to Smackdown.

Undertaker was now the Deadman and had Paul Bearer with him.

These two made sense for a feud right off the bat. Kurt Angle was injured, Big Show was heading off to surgery soon and Brock Lesnar had just left.

Taker needed somebody to defeat.

Booker fit that role nicely. After tons of creepy segments and promos, the stage was set for their Judgment Day match.

The two had a good match, with the right man picking up the win. After a tombstone, it was all over.
In May 2004, it was very clear that John Cena was being built up to be WWE Champion.

Just like Sheamus right now, there was just no reason for him to lose very often. The man was gaining steam, and everybody knew he had a great future.

John Cena defended his United States Championship here against Rene Dupree.

Like I mentioned earlier, new talent were getting a chance. Rene was the next in line to see how well he performed on a major stage.

At Judgment Day, both men did just fine. Cena retained his title, but Rene had a nice showing.
I love that promo video!

It has an annoying heel going after a beloved face. After a few weeks of this happening, the good guy promises revenge on the bad guy.

You can't get any simpler than that.

Eddie Guerrero was the WWE Champion. His challenger was JBL.

The former APA member had guaranteed victory for weeks. Many didn't believe him, but he swore he would win at Judgment Day. Well, he did live up to that promise.

These two wanted to beat each other half to death, and the sold out crowd at the Staples Center knew it. Thus, it was only mildly disappointing when the main event ended in a disqualification.


Be honest! When you realized that Bradshaw from the APA was getting a main event run, you laughed. You may have even hopped on the Internet and whined and cried about it until you were blue in the face.

Bradshaw was done drinking beer and becoming a rich New York character?

This was a joke. He was terrible. The man was going to fail. WWE was out of their minds. The fans know talent, and JBL doesn't have it.

As usual, the cynical and negative fans were wrong. WWE (and JBL) knew exactly what they were doing. He delivered a quality main event at Judgment Day, had a memorable run and a nine month long WWE Title reign. He will be headed to the WWE Hall of Fame one day.

I leave you with quotes from JBL just days before Judgment Day 2004, as he set his critics straight:

"JBL will deliver Sunday and you can 'report' whatever you want, but you will also realize how little influence you have, except to your little nerd friends."

Further more, he ended on this note:

"I have worked my entire career for this match on Sunday. Believe me, I will do whatever I have to do to have a great match. I am in the best wrestling shape I have been in in years. If we got a half an hour, I will be ready."

Well said John. Where are all of his critics now?
The video posted is very graphic. Anybody with a weak stomach should not view it. You have been warned!

Eddie Guerrero vs. JBL was filled with blood. If I take anything away from Judgment Day 2004, it is the sight of the ring painted red by the end of the night.

As most probably know, Eddie was busted open extremely deep. The blood flowed from his head like a river. It was a very nasty moment.

JBL bled as well, but most of the attention was on Guerrero.

It is because of matches like this that I love the wrestling business.

It is also matches like this that show why "blading" is (rightfully) gone.

If you bleed on accident, then that is fine. However, cutting yourself on purpose really is a sick act that has no place in this industry anymore.

Follow Justin Watry on Twitter!