Stanley Cup Playoffs: Coyotes Seek to Close out Predators
May 7, 2012

Frederick Breedon/Getty Images
As the Stanley Cup playoffs progress, the Phoenix Coyotes appear to have changed its game.
Not so, according to participants.
Holding late leads in the Chicago series and early in the Nashville series seem to melt like an ice cream cone in the searing desert sun. The result was five overtime games against the Blackhawks alone and an eventual lesson in survival.
In Game 2 and Game 4 of the Nashville series, the Coyotes held third period leads and, unlike previous postseason contests, they were able to hold off the Predators and find ways to win.
The result is a 3-1 advantage in this best-of-seven series, Western Conference Semifinal round, and a chance to send Nashville packing for the summer with a win Monday night in Jobing.com Arena.
A quick survey around the Coyotes locker room after practice Sunday morning in preparation for Game 5 indicated there has not, in reality, a conscience change in style or tactics.
A difference, which has been detected, is sharper execution and greater puck movement.
"In the last few games, we have fore-checked better and able to move the puck better out of our zone," said defenseman Derek Morris after practice Sunday. "We still need to do a better job in our zone and we also know how desperate (Nashville) will play."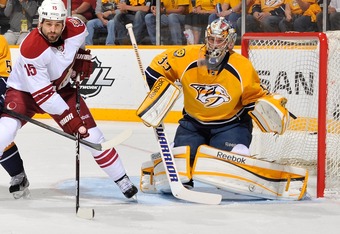 Frederick Breedon/Getty Images
After Sunday's practice, the word "desperation" was heard frequently. Clearly, the Predators' season is on the line and, to the point, it's win or go home.
"The desperation level has been there for us all season," said coach Dave Tippett. "Every game, for the last few months, has been a must win."
Tippett, among others, pointed out that the Coyotes' execution, over the last week, has been stronger.
In Game 2 against Nashville, Phoenix created two goal leads three times and Shane Doan's tally 3:36 into the third period created a 5-3 Coyotes lead. From there, the defense kept the Nashville wingers wide and enabled goalie Mike Smith to make eight saves on nine third period Nashville and preserve the win.
In Game 4, Doan's goal in the first period stood up and Smith and defense again turned back every Predator assault and a 1-0 win.
"We're used to playing a tight game and we don't panic," said Antoine Vermette, whose eight points leads the Coyotes in post-seasons scoring. "We like to think we learned from our mistakes. We've also learned to overcome that push other teams make and when we're down, we always think we can come back."
If the Coyotes body language is any indication, the Predators should be prepared for an intense, focused bunch of hockey players.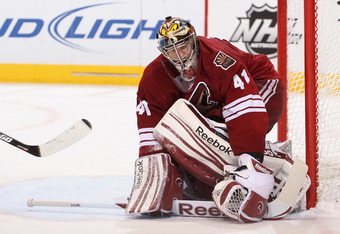 Christian Petersen/Getty Images
During practice Sunday, there was hardly talking on the ice and, collectively, the team showed a quiet realization of what is at stake.
That was confirmed by Doan in speaking with reporters after practice.
The Coyotes captain mentioned a quiet bus ride after Game Four back to the Coyotes' hotel. "Just a few words," Doan said, and indicated the team, at this point, is fully concentrated and committed to the immediate task at hand.
The Mike Smith Factor
A large measure of the Coyotes success in finishing atop of the Pacific Division and playing deep into the second round of the playoffs is the play of goaltender Mike Smith.
Largely forgotten in Tampa and sent packing by the Dallas Stars, Smith, as a free agent last summer, was directly on the Coyotes radar screen.
Knowing the team could not sign Ilya Bryzgalov, who eventually inked a $51 million deal with the Flyers, the general Phoenix consensus was Smith was the best available in the marketplace.
"We did our research on Mike, spoke with Gary Roberts who worked with Mike and came to the conclusion he was the best fit for us," said Sean Burke, the Coyotes goaltending coach. "Mike was our Plan A, and we really had no Plan B."
Smith responded with a stellar season.
Appearing in 67 games, he finished with a 2.21 goals against average, career-high eight shutouts, was the NHL First Star for the month of February (11-0-1) and completed the season on a five game winning streak, including three straight shutouts from March 29 to April 3.
In the Coyotes 10 playoff games this spring, Smith continued his exceptional play.
He remains right behind the Kings' Jonathan Quick and the Rangers' Hendrik Lundqvist with a 1.84 goals against and a league-leading two shutouts.
"In Mike, we saw many things we liked," Burke added. "First, he is a great athlete and displays a high level of athleticism. He's very positive, a great teammate, well liked and genuinely a nice person. When we signed him, we thought he had the make up to be one of the top five goalies in this league."
After languishing with the Lightning over the past three and a half years, Burke pointed out, Smith merely wanted an opportunity to prove his worth.
"I don't think he has exceeded expectations," Burke added. "I think, we, as a team, have exceeded what people thought we could do. Mike has been a huge part of the success of this team."
League Decision
Phoenix defenseman Rostislav Kleska was suspended by the NHL for one game. That resulted from a boarding call when Kleska drove the Predators' Matt Halischuk into the boards at 6:39 of the first period in Game Four. On the play, Klesla was assessed a boarding minor.
Kleska is the second Phoenix player to be suspended during the 2012 Stanley Cup season. Earlier, Raffi Torres was banned for 25 games after his hit against the Blackhawks' Marian Hossa in Game Three of the Western Conference Quarterfinal series.
Mark Brown is a Featured Columnist for Bleacher Report. Unless otherwise noted, all quotes were obtained first-hand.