Knicks Rumors: JR Smith Would Be Wise to Test Free Agency
May 7, 2012

Chris Trotman/Getty Images
The New York Knicks have had a mostly positive experience with J.R. Smith this year, but that doesn't mean it's the right long-term fit. The New York Post's Marc Berman claims Smith is, "leaning toward opting out," which really shouldn't come as a surprise to anyone.
Berman doesn't close the door on Smith's chances of returning entirely, but this is a split that probably makes sense for both sides.
For their part, the Knicks have more affordable long-term options at the 2 in Landry Fields and Iman Shumpert.
The latter has some point guard abilities but would see more minutes at shooting guard as long as Jeremy Lin is in town. He's also a potential All-Star in the making and should become a centerpiece of New York's plans going forward (at least once his ACL heals).
As for Fields, he may not have Smith's shooting ability, but he's a good defender who hustles. His offense might get better too.
New York's backcourt depth certainly looks like a godsend at the moment, but it could create a crowded rotation over the long haul.
Even if the Knicks did want Smith, though, it might not be in his best interests to return.
He's just not good enough to flourish on a deep team with go-to options like Carmelo Anthony and Amar'e Stoudemire. There are plenty of bad teams that could desperately use Smith's scoring ability, and just might be willing to show him the money.
The Charlotte Bobcats, New Orleans Hornets, Cleveland Cavaliers and Toronto Raptors could all use a perimeter scorer like Smith.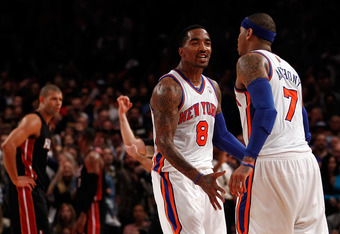 Jeff Zelevansky/Getty Images
And beyond the financial incentives, Smith would also find a more prominent role and the opportunities that come with it. He's been a bit player on some very good teams, but we've yet to see what this guy can do when more is actually expected from him.
He remains susceptible to poor decision-making on both ends of the floor, but some teams are still in love with his talent and potential. For every pointless foul he commits, Smith makes an endearing if not highlight-worthy play.
For every 3-15 Game 4, there's an efficient 6-11 Game 2.
If Smith isn't interested in leading the charge of a rebuilding campaign, that doesn't mean the Knicks are the next best option. New York is in a state of flux that won't do a bit of good for someone like Smith.
He could look at teams like the Los Angeles Clippers and Minnesota Timberwolves, relatively young clubs on the up-and-up in the Western Conference. Despite their youth, these clubs are fairly stable and glued to a plan.
That plan just might involve adding a shooting guard.
J.R. Smith may find himself in more headlines as a New York Knick, but he could make a bigger impact on another club and secure a lucrative long-term deal for his trouble.