Miguel Cotto's Wife: Where Melissa Guzman Ranks Among Boxing's Top WAGs
May 6, 2012

While Miguel Cotto was taking a beating from Floyd Mayweather, it was impossible not to notice something that should ease Cotto's pain: his wife is an absolute goddess.
More importantly, Melissa Guzman is also clearly a loyal and loving woman. She can often be seen looking distraught as her husband gets his face pounded in, and she's stayed with him despite major mistakes on Cotto's part.
All of these qualities make her one of the more noteworthy wives in boxing. And since everyone loves pictures of beautiful women, and apparently we're ranking everything these days, here's how Guzman stacks up against the rest of boxing's top wives and girlfriends.
Denise Tarver
Antonio Tarver is one lucky man.
He will be defending his IBO cruiserweight title against Lateef Kayode on June 2nd, and you can bet his lovely wife Denise will be in attendance.
The two have been married for a little while now, which is good for both the sport of boxing and Tarver's career. As the 43-year-old nears the end of his prolific career, he no longer attracts the fans like he used to.
Luckily, Denise will probably draw some extra eyeballs to the screen.
Jennifer Dooley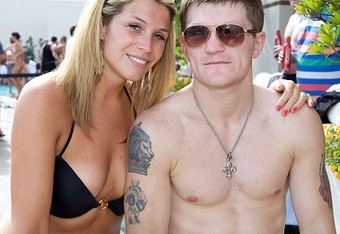 Like Guzman, Jennifer Dooley is absolutely gorgeous. Also like Guzman, she's been prone to getting emotional as she watches her husband Ricky Hatton fight.
Just check out the look of horror on her face when Manny Pacquiao damn near killed Hatton back in 2009.
Hatton decided to hang up the gloves after that fight, which was probably a great idea. His brain will probably thank him, and so will the rest of the world, because a smiling Dooley is beautiful thing.
Rachael Cordingley
If you don't love Carl Froch's wife after watching that clip, then I really don't know what to tell you.
The woman is passionate, funny, caring and unbelievably gorgeous. She even has that incredible English accent.
Seriously, what more could you ask for?