NBA Playoff Schedule 2012: Spurs Must Finish off Sweep to Ensure Rest
May 7, 2012

Steve Dykes/Getty Images
The San Antonio Spurs are in prime position to emerge from the first round with the ample rest to match this team's sky-high confidence.
Gregg Popovich's club has the opportunity to sweep the Utah Jazz on Monday night in Game 4 of a series that has yet to look even remotely close. With Ty Corbin's young club all but finished, the Spurs might be more interested in this week's contests between the Los Angeles Clippers and Memphis Grizzlies.
At the very earliest, that series will conclude on Wednesday if the Clippers win their next two games against Memphis. Los Angeles wouldn't be able to start a series against the Spurs until Friday, giving San Antonio a minimum of four days to rest (assuming they sweep Utah).
Should Memphis take the Clippers to Game 6, San Antonio might have well over a week worth of rest.
If it goes to Game 7, well...you can do the math.
Of course there's some cause for concern that so much time off could interrupt San Antonio's rhythm. And when you've won your last 13 games in a row, that's not a dynamic you want to mess with.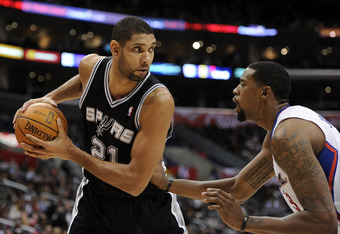 Harry How/Getty Images
Still, no team would turn down a mini-vacation in the middle of arduous postseason grind. With players dropping like flies to injury in series after series, the additional rest is an invaluable safeguard against wear and tear.
The Spurs might not be as old as their detractors imagine, but there's no doubt Tim Duncan and Manu Ginobili will appreciate a chance to catch their breaths.
Popovich has already done a masterful job of managing minutes and back-to-back situations in this uncharacteristically hurried season. San Antonio's incredible depth has certainly made his job easier.
Even deep teams can use time off, though.
Only the Oklahoma City Thunder face a comparable amount of rest before the second round, with contenders like the Los Angeles Lakers and Miami Heat mired in at least somewhat protracted affairs.
A long series between the Clippers and Grizzlies would also mean whichever team emerges won't be nearly as fresh as their second-round opponent: the San Antonio Spurs.
Memphis and Los Angeles have put together a series that is thoroughly entertaining in its own right–and for the Spurs especially. They'll have some great games to watch at home this week.