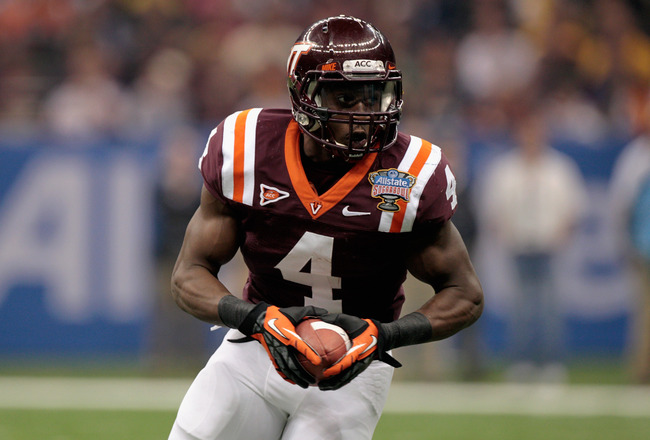 Chris Graythen/Getty Images
The New York Giants have become successful players in the NFL draft process under the guidance of general manager Jerry Reese.
With the 2012 NFL draft a week in the books now, the Giants rookies prepare to hit camp and many pundits are optimistic about the talent Reese added in New York.
Bleacher Report's draft guru Matt Miller was pleased with what the Giants picked up, sticking the defending Super Bowl champions with a B in his NFL draft grades.
Such promising, young talent should give the Giants a much-needed boost, even coming off the triumphant season they had in 2011. The Giants love to utilize the youth they add through the draft process with the hopes of getting their very best out of them from the get-go.
Here are some projections for those seven drafted rookies in their first season in the NFL.
Markus Kuhn, DT, North Carolina State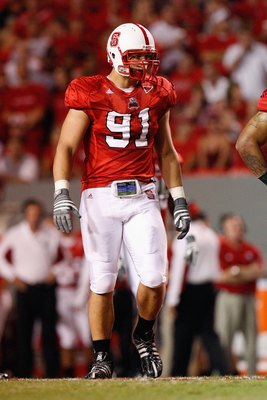 Kevin C. Cox/Getty Images
A gym rat according to Tom Coughlin, the selection of defensive tackle Markus Kuhn will bolster a veteran Giants defensive line.
With Linval Joseph, Chris Canty, Marvin Austin and Shaun Rogers already on the roster, the likelihood of Kuhn seeing much playing time in 2012 is slim. His versatility, boasting evident athleticism—having run a 4.89 40-yard dash—and good size, makes him a hot commodity for a Giants defense that loves to use different packages.
Born in Germany, Kuhn is still a very raw talent and will take time to develop into an NFL-ready player. This season, however, Kuhn will likely be little more than a member of the practice squad as he tries to work his way into the defensive rotation.
Projected Stats: No games played
Matt McCants, OT, UAB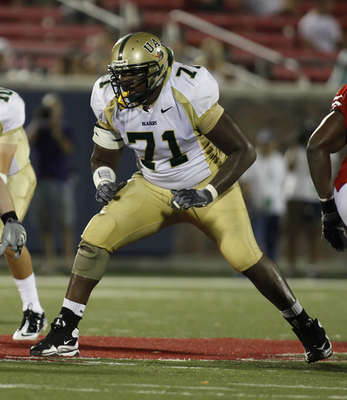 The New York Giants are not getting any younger along their offensive line and did not ignore that fact in the 2012 NFL draft. The Super Bowl champions added a mammoth project player in UAB's Matt McCants with the future in mind.
At 6'7" and 295 pounds, McCants has phenomenal size with room for needed mass. He displays impressive athleticism with the potential to be a successful tackle in the NFL, according to National Football Post's Wes Bunting.
The Giants are not desperate yet, with Will Beatty anchoring the left tackle position, but an injury-prone past could force McCants into service prematurely. This would be a worst-case scenario for the Giants, in which case more seasoned rookie Brandon Mosley or former tackle David Diehl would likely fill the left tackle spot—assuming veteran Sean Locklear wins the starting right tackle vacancy this summer.
Projected Stats: No games played
Brandon Mosley, OT, Auburn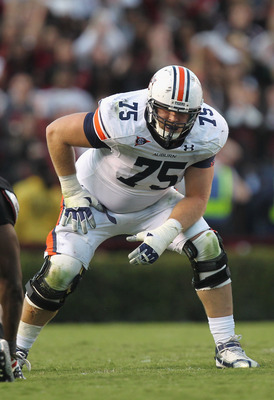 Streeter Lecka/Getty Images
Speaking of Auburn's Brandon Mosley, the 6'6", 314-pound tackle joins the team after an impressive collegiate career against some of college football's best defenses.
Mosley still needs time to develop, but he boasts the athletic ability to be a serviceable swing tackle from day one. The former Tiger is a tough kid, excelling as a pass blocker on the edge—though he does have some troubles against the bullrush.
With a void at right tackle—Mosley's more natural fit at the NFL level—the Auburn product has the opportunity to win the job in camp. However, he will see veteran competition in the form of former Redskin Sean Locklear and second-year player James Brewer.
With room to improve, Mosley likely will not walk out as the starter, but he has the potential and ability to certainly take the job over time and should become an integral part of the Giants offensive line.
Projected Stats: Two games with no starts
Adrien Robinson, TE, Cincinnati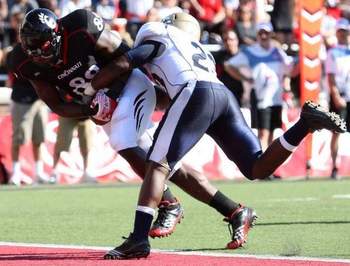 The New York Giants really needed to add a tight end who could contribute from the start, but Cincinnati's Adrien Robinson is certainly not that.
Despite this, Robinson's prospects as a major steal in the middle rounds of the draft makes him a quality acquisition—especially considering the notion of him being the "JPP of tight ends".
Tight ends coach Mike Pope has his work cut out for him with this prospect, but one thing is almost for certain—Robinson should not see the field in 2012. He has a long way before he has developed the heap of potential he carries with him.
Don't expect that to come before this season has come.
Projected Stats: No stats
Jayron Hosley, CB, Virginia Tech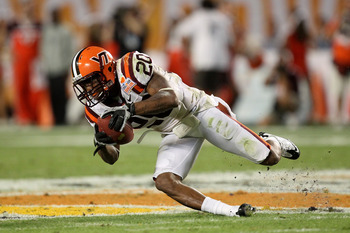 Streeter Lecka/Getty Images
The New York Giants secondary was riddled with injuries in 2011 and still managed to march their way to a Lombardi Trophy. In 2012, they have shored up a lot of depth, adding Virginia Tech cornerback Jayron Hosley as the final piece to the puzzle.
Hosley has a lot of competition to overcome this offseason, but he should be the fourth corner behind Corey Webster, Terrell Thomas and 2011 first-round pick Prince Amukamara by the end of training camp.
As an ideal fit for a Cover 2 system like the one the Giants administer, Hosley's rookie season bodes well as he eases into playing at the pro level. With numerous veteran players on the roster, Hosley has tons to learn and plenty to learn from.
He should be a valuable contributor in certain packages for the Giants with the ability to post impressive interception numbers. He should see time on special teams as well as an opportunity to prove himself to the Giants coaches.
Projected Stats: 14 tackles, 2 interceptions, 1 forced fumble
Rueben Randle, WR, LSU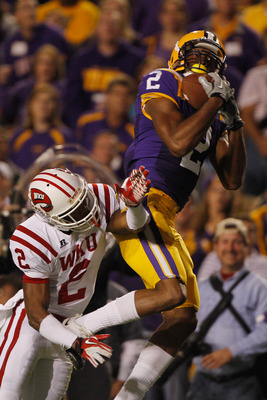 Chris Graythen/Getty Images
With the departure of valued No. 3 receiver Mario Manningham, the New York Giants had a void that needed to be filled. When a potential top 25 pick fell to their laps at the end of the second round, the Giants could not say no to LSU's Rueben Randle.
His numbers were marred as part of a run-first offense at LSU, but Randle brings the kind of size, athleticism and potential the Giants were looking for to replace Manningham.
At 6'3", he becomes the big receiver they have been looking for in New York and should become an immediate red-zone target for Eli Manning. Behind Hakeem Nicks and Victor Cruz, he will not post huge numbers, but should enable Manning to tear opposing defenses apart with a plethora of options to throw the ball to.
After a record-setting season in 2011 for the Giants which saw two integral pieces to their offenses leave one would think it would be impossible to replicate those numbers. However, with the addition of Randle, the Giants offense has just become that much more dangerous.
Projected Stats: 44 receptions, 597 yards and 5 touchdowns
David Wilson, RB, Virginia Tech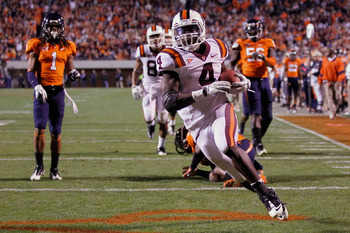 Geoff Burke/Getty Images
Virginia Tech's David Wilson will not add the kind of power and size Brandon Jacobs brought to the table, but considering the lack of its success in recent years, the New York Giants will not complain considering the skill set they will be getting in return from the former Hokie.
The selection of Wilson did not address a desperate need in the first round but did add quality value. Wilson has the potential to be a top back in the NFL as an explosive, speedy ball-carrier with a penchant for breaking tackles.
Wilson boasts power of his own and will make a very capable complement to Ahmad Bradshaw in the Giants backfield.
Many people will have their eyes on Andrew Luck, Robert Griffin III and Trent Richardson this season, but don't be surprised if Wilson makes his own case for offensive rookie of the year.
Projected Stats: 163 carries, 701 yards, 7 touchdowns; 13 receptions, 140 yards, 1 touchdown
Keep Reading

New York Giants: Like this team?
Load More Stories