Lyons Makes Arizona a National Championship Contender
May 10, 2012

Christian Petersen/Getty Images
The biggest thing separating Arizona from their 27th NCAA Tournament appearance in the last 28 years in 2012 was the quality of play at point guard.
Nick Johnson made a valiant effort, Jordin Mayes could never get healthy and Josiah Turner didn't seem mature enough to adapt to college basketball.
Enter Mark Lyons.
The 6'1" Lyons was a part of Sean Miller's last freshman class at Xavier. He redshirted during Miller's last season in Cincinnati in 2008-09. 
Arizona received excellent play from its forwards and shooting guards in 2011-12. Seniors Kyle Fogg, Jesse Perry and Brendon Lavender and Junior Solomon Hill were the Wildcats most consistent players last season. Arizona's 1.08 assists to turnover ratio ranked just 83rd in the country. Arizona's 21 turnover deficit ranked 212th in the country in turnover margin per game.
Enter Mark Lyons.
Lyons 1.27 assist to turnover margin was not much better than the Arizona guards. He will be moving to point guard after playing off the ball for most of his Xavier career. With Tu Holloway at the point for the Musketeers, Lyons was the second option running the offense.
He agreed with Xavier coach Chris Mack that a mutual parting of the ways was better. 
Lyons and Arizona are a good fit.
The Wildcats definitely need a point guard after prodigy Turner was suspended twice last season and eventually decided to transfer to SMU following the season.
The transfer of former Duquesne point guard T.J. McConnell creates a one season need.
He will be eligible in the fall of 2013 per NCAA transfer rules. As a fourth-year junior on pace to graduate, Lyons will be eligible immediately. He will enroll in a to-be-determined graduate program at Arizona, not offered at Xavier. Both McConnell and Lyons were third team all-Atlantic-10 in 2012.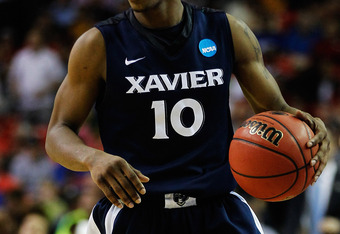 Streeter Lecka/Getty Images
Lyons will give the Wildcats more a scoring point guard than the "pass-first" point Miller was in college and that Turner was supposed to be. Arizona advanced to the 2011 Elite Eight with scoring point guard Lamont "MoMo"Jones.
Point guard was the missing link for Miller entering the 2012-13 season.
Their incoming recruiting class was ranked No. 1 before the spring signing period. Shabbaz Muhammad to UCLA and Nerlens Noel to Kentucky pushed the Bruins and UK above UA. The addition of Lyons might change that. 
Arizona had to frequently play a small lineup in 2012.
Their incoming class will change that. Power forwards Brandon Ashley and Grant Jerrett, Center Kaleb Tarczewski and the return of Solomon Hill, Kevin Parrom and Angelo Chol give the Wildcats one of the best frontlines in the country.
Arizona's mix of experience with Seniors Parrom and Hill, and Junior Mayes gives Miller great experience to go with Sophomores Chol and off-guard Johnson and the incoming recruiting class.
Their run to the Elite Eight in 2011 was a Jamelle Horne missed three-point shot from announcing Arizona was completely back. 
If this unit gels as expected, Arizona should become of the elite powers in college basketball like it was for almost 20 years under Lute Olson.