Tampa Bay Buccaneers: 5 Prospects the Bucs Will Regret Passing on
May 6, 2012

Sarah Glenn/Getty Images
Even the best draft has to have some faults. 
If teams were able to grab seven starters with seven picks, then the draft would be more boring than the Pro Bowl. Sure, it's fun to project how a prospect will fit into a team's scheme, but the entertainment comes from the surprises, the sleepers and the busts. 
I haven't been contacted to take over an NFL franchise, but I feel that I have a right to question draft selections, especially when some poor sap takes a punter in the third round. Seriously, a punter? We need not wonder why the Jaguars will end up with the first overall pick in 2013. 
Luckily, the Tampa Bay Buccaneers did not make any crazy reaches or trades. However, the draft was not perfect. 
From Rounds 1 to 3, the selections were genius. With three picks in two rounds, Tampa filled three needs and got each player just before they were projected to be taken or after the prospect slid far below his projected number. 
Still, there are plenty of young men the Bucs will regret passing on.
Robert Griffin, G, Baylor
He has the same name as the No. 2 overall pick and was tasked with keeping him off the dirt. The Bucs have depth at guard, but they don't have Robert Griffin.
Brandon Marshall, LB, Nevada
Like the previous mention, Marshall shares his name with a famous football player. Linebacker Najee Goode was taken by Tampa Bay just two picks before Marshall went to Jacksonville. When given the chance, I'd take a guy whose name has been gracing jerseys for years over a "Goode" guy any day of the week. Unless the "Goode" guy was significantly better, but by the fifth round, who can tell the difference?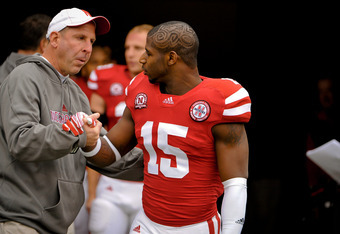 Eric Francis/Getty Images
Alfonzo Dennard, CB, Nebraska
Dennard may have experienced the biggest draft-day free fall in the 2012 NFL draft. Despite his obvious talent, he ended up in the seventh round after punching a police officer just days before NFL teams got to choose who they wanted on their squads. Most NFL teams do not want "gentlemen" who punch cops on their teams. 
For Dennard, I would have taken the risk. Cornerback was a huge need entering the draft, and though the Bucs added West Virginia's Keith Tandy, it still remains a problem as they prepare for the new season.
Cyrus Gray, RB, Texas A&M
Personally, I had no idea why Cyrus Gray was still waiting for his name to be called in the sixth round. Here was a player that I, and many analysts, had ranked as a third- or fourth-round selection left twiddling his thumbs until late day three.
The value of Gray would merit his selection even if the Bucs had Arian Foster, Adrian Peterson and Maurice Jones-Drew as young Barry Sanders' benchwarmers. What makes this snub weird is that Tampa Bay drafted a running back not too much later.
Audie Cole, LB, NC State
Audie Cole could have gone in the fifth round, but he didn't. Cole is raw, yet his athleticism and potential should have landed him a selection far earlier than the seventh round. 
Linebacker is still a need, and Cole would have filled the need. 
Honorable Mention: Bryan Anger, P, California
Forget Andrew Luck, Bryan Anger should have been the first overall pick. Tampa Bay passed on Anger three times before Jacksonville stole him in the third round. 
For that, Mark Dominik should have immediately been fired. 
I am being sarcastic, Einstein.