Baseball's All-Overrated Team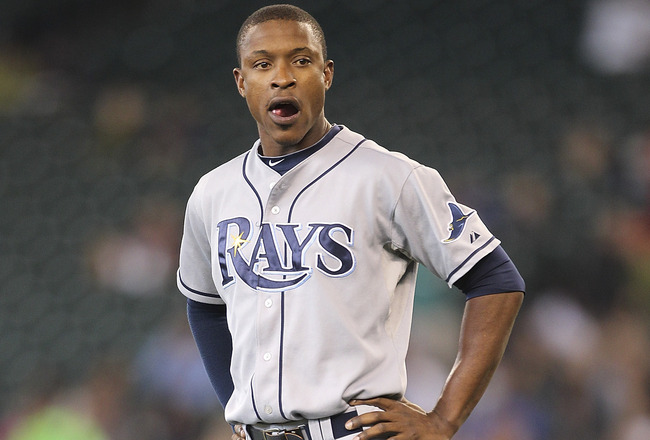 Otto Greule Jr/Getty Images
Regardless of how you come to the conclusion that a player is overrated, the fact is that a lot of guys are paid a lot and do a little.
Often times, a player is perceived to be a great player or an ace pitcher, and that's just not the case.
When judging whether a player is overrated, batting average and production (RBI and runs scored), as well as postseason statistics and contract details, are taken into account.
Let's meet the MLB's all-overrated squad:
Josh Beckett, SP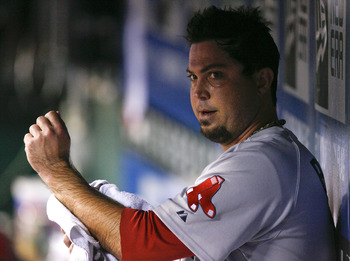 Ed Zurga/Getty Images
A 2-3 record and 4.45 ERA are what defines the Josh Beckett of 2012.
Even at the height of his career, Beckett never consistently lived up to his label as an ace.
Sure, he went 20-7 and sported a 3.27 ERA in his best season in 2007, but he went 16-11 with a 5.01 ERA the year before and 12-10 with a 4.03 ERA the season after in 2008.
He was solid again in 2009, posting a 17-6 record to go along with a 3.86 ERA, but he has yet to win more than 13 games since that season.
CC Sabathia and Roy Halladay are aces. Not Josh Beckett.
Ubaldo Jimenez, SP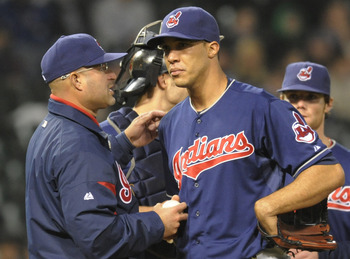 David Banks/Getty Images
Ubaldo Jimenez was epic in 2010, going 19-8 with a 2.88 ERA.
But what has he done since then?
He was a mediocre pitcher before the 2010 season and seems to have come down from his 2010 high, posting a 10-13 record and 4.68 ERA with the Colorado Rockies and Cleveland Indians in 2011.
Though he's 3-2 this season, his ERA is over 4.00 and he has just 20 Ks in 35.2 IP.
In five postseason starts, Jimenez has never earned a win, making him one of baseball's most over-hyped hurlers.
Yovani Gallardo, SP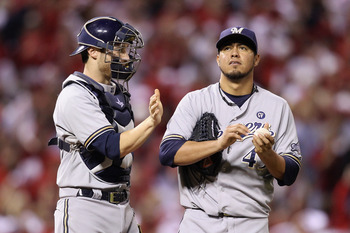 Christian Petersen/Getty Images
Yovani Gallardo is the definition of an overrated player.
He has electric stuff, had one great season, but lacks the consistent statistics to cement his status as an elite pitcher.
Gallardo had his best season in 2011, going 17-10 with a respectable 3.52 ERA and 207 Ks in 207.1 IP.
But from there, aside from his strikeout numbers, Gallardo has been average.
He went 13-12 in 2009 and 14-7 in 2010 with high strikeout numbers, but he never reached the peak that most had established for him.
And this season?
Gallardo is currently 1-3 with a loaded 5.79 ERA, making him one of the most overrated pitchers in the MLB.
John Lackey, SP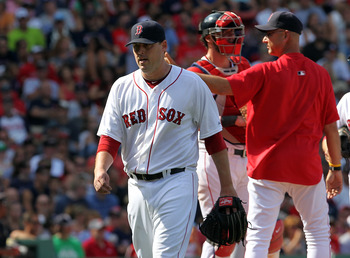 Jim Rogash/Getty Images
John Lackey has consistently digressed since his 19-9 campaign in 2007.
Since '07, Lackey has gone 49-36, and has seen his ERA rise each season, showing a 4.59 ERA from 2008-2011.
In his second season with Boston in 2011, Lackey went 12-12 and carried a heavy 6.41 ERA through the season.
Lackey is currently shelved due to undergoing Tommy John surgery during the offseason, but things don't look promising for the 10-year veteran.
So, Red Sox fans, has he been worth the $82.5 million?
John Danks, SP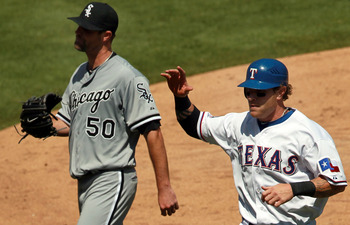 Ronald Martinez/Getty Images
What has John Danks done to earn the No. 1 slot in the White Sox pitching rotation and the label ace?
Danks has never won more than 15 games in a season, nor has he ever struck out more than 162 batters in a season.
He sports a career 56-60 record and a 4.13 ERA. Is that what you want from your No. 1?
This season, Danks is 2-4 with a bloated 6.51 ERA and just 25 Ks in 37.1 IP.
He may be the ace of the White Sox, but he's definitely not the ace of anyone's fantasy team.
Miguel Montero, C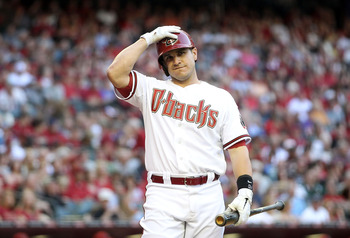 Christian Petersen/Getty Images
Miguel Montero sure is pretty popular for a guy who has only played in more than 85 games twice in his six-year career.
Montero had his best season in 2011, hitting 18 homers and driving in 86 runs while averaging .282 at the plate.
But 2011 also saw Montero strike out 97 times and collect just 139 hits, which is not a good balance at the plate.
He's known as an offensive catcher, which is apparently based off of one season.
Don't get me wrong, Montero is a good young catcher, but he's not great, which many people seem to think he is.
Ike Davis, 1B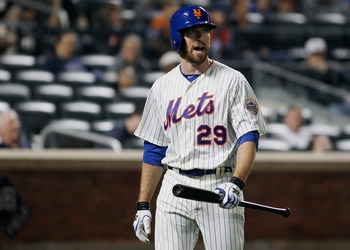 Mike Stobe/Getty Images
If you have friends who are Mets fans, then you probably know the name Ike Davis.
Mets fans seem to have this idea in their head that Davis is the savior in New York, which clearly isn't the case.
Davis made a splash in 2010, hitting 19 HRs and 71 RBI in his rookie season, but played just 36 games in 2011.
To say he's struggling this season would be an understatement—a .168 average, three homers and nine RBI—and Davis even has fans thinking of a demotion.
At 25, Davis is still young and probably will produce as he ages, but for now, he's another over-hyped product from the Mets.
Brandon Phillips, 2B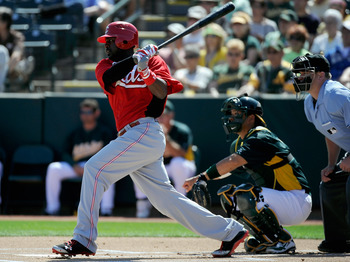 Kevork Djansezian/Getty Images
Brandon Phillips is good, but is he $72.5 million good?
In 10 seasons, Phillips has never driven in 100 runs, has only scored at least one hundred runs twice and has only hit .300 once.
Phillips hit .300 in 2011 along with 18 HRs and 82 RBI, which is what most likely triggered the pay raise.
Following the extension, Phillips is off to a slow start in 2012, hitting just .215 with two home runs and nine RBI.
He's been a great fit for the Cincinnati Reds, but they definitely overpaid the 30-year-old second baseman.
Alex Rodriguez, 3B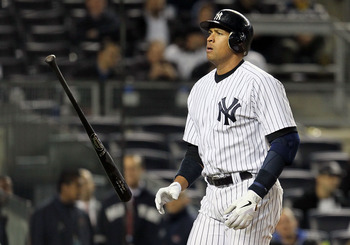 Jim McIsaac/Getty Images
I'm a Yankees fan and even I know that Alex Rodriguez is overrated.
A-Rod has missed portions of the past four seasons and it's hard to tell how legit his statistics really are, given his admitted use of steroids.
Rodriguez seems to always pad his stats with meaningless home runs when the game is out of reach or a clutch moment has passed. A perfect example is A-Rod's three-run bomb in the eighth inning of a 7-3 lead by New York on May 6.
He's a prima donna who's more concerned with his public image than how he's performing on the baseball field, and is always trying to get back into the good graces of teammate and captain Derek Jeter.
He's great defensively, but his knack for blowing it in big postseason spots makes Rodriguez arguably the most overrated player in the MLB.
Asdrubal Cabrera, SS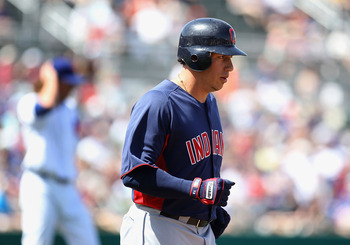 Christian Petersen/Getty Images
Asdrubal Cabrera had a nice season in 2011—25 HRs and 92 RBI—but he hit just .273 and struck out 119 times.
Prior to 2011, Cabrera had never hit more than six home runs in a season or driven in more than 68 runs.
The year 2009 saw him hit .308, but the production wasn't there, as he had just 68 RBI and scored only 81 runs.
Cabrera has made 27 errors in the field over the course of the past two seasons and is highly overrated as a shortstop in the big leagues.
Jason Bay, LF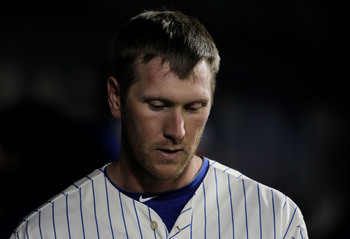 Nick Laham/Getty Images
Jason Bay has been extremely inconsistent during his nine-year career, which has been riddled with injuries.
Currently making $16 million per season, Bay has not lived up to his hefty contract with the New York Mets.
He played in a combined 218 games in 2010 and 2011, failing to hit better than .259 in either season.
When healthy, Bay has been productive. He has four seasons of at least 30 HRs and 100 RBI.
Though he's solid when healthy, Bay's injury-prone career does not warrant him earning $16 million a season.
B.J. Upton, CF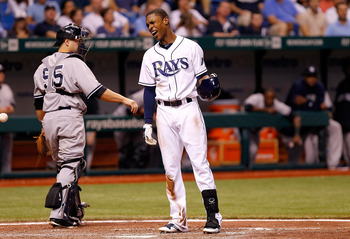 J. Meric/Getty Images
If there was ever any question as to who the better Upton brother was, I think MLB fans know the answer by now.
B.J. Upton has been more of a disappointment for the Tampa Bay Rays than a star. In seven seasons, Upton has never driven in more than 82 runs and has hit .300 just once.
Upton has utilized his speed, however, swiping 36 bags or more in four consecutive seasons between 2008 and 2011.
Upton's best season came in 2007—his third—when he hit 24 HRs, drove in 82 RBI and hit an even .300. Rays fans have been let down every season since, due to Upton's consistent sub-.250 average and high strikeout totals.
At 27, Upton should be hitting his stride, instead he's still just average at the plate.
Jayson Werth, RF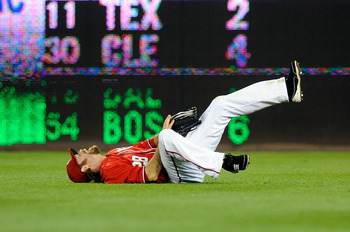 Greg Fiume/Getty Images
Jayson Werth is a good player, but he's never been a great one.
Werth has never hit .300 in a season or driven in 100 runs. Somehow, he jacked 36 homers for the Philadelphia Phillies in 2009 but didn't eclipse the 100 RBI mark.
Werth began his career with a streak of injuries and appeared to resurrect his career in Philly, but was dealt to the Nationals after four seasons for a whopping $126 million.
It'd be an understatement to say Washington overpaid for the 32-year-old Werth, making him one of baseball's most overrated players.
Manny Ramirez, DH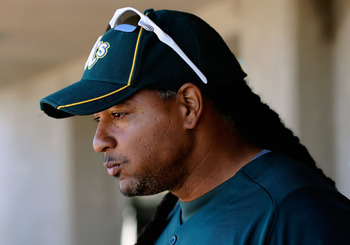 Kevork Djansezian/Getty Images
Once known as one of the most feared hitters in the game, Manny Ramirez is now a shell of the player he once was.
As if serving a suspension for getting caught with a banned substance in 2009 wasn't enough, Ramirez doubled it up by being caught a second time.
The kicker?
It was a women's fertility drug.
After retiring and un-retiring, Ramirez is now serving a 50-game suspension (his 100-game suspension for being caught a second time was reduced to 50 games) as a member of the Oakland Athletics.
He's basically been a joke since leaving the Los Angeles Dodgers in 2008.
I'm not really sure what the A's were thinking with this one, but you should have stayed retired, Manny.
Huston Street, CL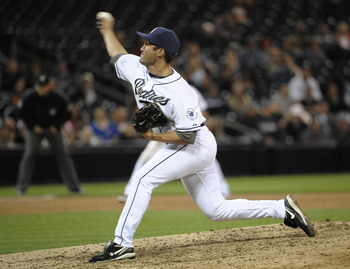 Denis Poroy/Getty Images
With an exception of Mariano Rivera—the greatest closer to ever toe the rubber—closers in general are overrated.
They get paid to do what any other pitcher can do—come in for one inning and shut the opposing offense down.
Huston Streets' name is often mentioned with some of the best closers, but why?
He blew 11 saves for the Oakland A's back in 2006 while sporting a 3.31 ERA, and posts an ERA over 3.00 in five of his seven seasons as a closer. For his career, Street has a 3.07 ERA.
The most saves Street has ever recorded in a single season is 37, which was the same year that he blew 11.
Unfortunately for most closers, Rivera has set the bar high for what a closer should be, and Street doesn't even come close.
Keep Reading