Chelsea vs. Liverpool: Why Blues Need to Go All-In at Anfield
May 7, 2012

Shaun Botterill/Getty Images
After speculating that Chelsea might concede the last two English Premier League games, the Blues suddenly have a pretty good chance of finishing in the top four.
Accordingly, Chelsea need to do everything they can to beat Liverpool at Anfield.
After winning the FA Cup, Chelsea seemed content cruising to the Champions League Final and  conceding the Premier League matches. The team would need a Champions League trophy to qualify for next year's competition, and it just made sense to forget about these two matches.
Not anymore.
On Sunday, Newcastle United lost and Tottenham Hotspur drew, priming Chelsea to steal the fourth spot in the league. The Blues are five points back of Spurs with a game in hand, and both of their next two games are winnable.
If Chelsea can steal three points at Anfield on Tuesday, they have no reason not to put everything into the last Premier League game of the year.
Given how tired everyone on Chelsea's roster has looked, though, I wouldn't be surprised to see Roberto Di Matteo rest some players. That doesn't mean it's the best decision.
Chelsea could beat Liverpool, which opens up a world of opportunities for the final weekend. Chelsea would be able to finish fourth, and the Blues would be kicking themselves if they didn't give it everything they had.
On the last weekend of the year, Chelsea face Blackburn at Stamford Bridge. Meanwhile, Spurs host a solid Fulham side and Newcastle must travel to Everton. If Chelsea win that match and the other two teams lose or draw, Chelsea will finish in the fourth spot.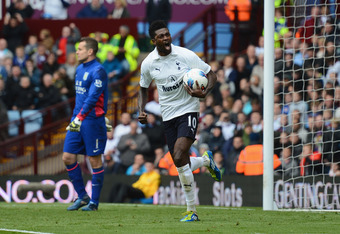 Shaun Botterill/Getty Images
If Spurs draw, the Blues will need to win one of their next two matches by multiple goals to qualify on goal differential, but that shouldn't be an issue. Chelsea understand the importance of goal differential, and they should be pressing for a multi-goal win against Blackburn.
However, none of that excitement will happen without a win over Liverpool.
Chelsea dominated Liverpool for a majority of the first 60 minutes, and they need to play like that on Tuesday for the whole match. Chelsea were outplayed for the last half hour of the FA Cup Final. The Blues can't have that happen again.
If Chelsea can win at Anfield, the last day will be madness.
For the Chelsea supporters who think they should rest their players for the Champions League Final, remember that the team will have six days off before the final.
Additionally, for the final Premier League match, Roberto Di Matteo will most likely start the four players that are suspended, meaning only six position players would have to worry about a full recovery.
If you count a Didier Drogba/Fernando Torres swap and a Daniel Sturridge omission (from one match), the lineup from each match will already be different, regardless of rest. Chelsea owe it to themselves to fully commit to the Premier League first.
If they fall short of fourth place, then the Champions League Final becomes much more important. However, they can avoid that unnecessary pressure by qualifying through finishing in the top four.
All that pressure hinges on one game.
Tuesday at Anfield.
If Chelsea want to relieve pressure from themselves and apply it to Newcastle and Tottenham, they will defeat Liverpool. Chelsea have a good chance of pulling off an incredible run into the top four.
They just need to win on Tuesday to make the run happen.