Mayweather vs Pacquiao: Last Night's Showdown Does Nothing for Anticipated Fight
May 7, 2012

Ethan Miller/Getty Images
Floyd Mayweather fought Miguel Cotto with style last night in a winning effort, but his epic performance has no bearing whatsoever on the possibility of him fighting Manny Pacquiao any time soon.
Never mind that everyone in the boxing world wants to see it happen. Never mind that both fighters would receive massive paydays for their (potentially) 36-minute battle.
The parties involved are set in their ways and aren't going to change any time soon. As of this moment, the highly-anticipated fight is as dead as a doornail.
Pacquiao's manager Bob Arum has made it clear that the only way his fighter will sign on for the fight is if the two sides split the purse 50/50.
Mayweather said as much, per USA Today:
I'm just really tired of the media and the people being fooled. The truth is, (Pacquiao's promoter) Bob Arum is not going to let the fight happen. It's not on me. I went to Pacquiao and offered him $40 million, and told him I would wire him $20 million within 48 hours. He turned me down and said he wanted a 50-50 split. I'm like, how can you ask for 50-50 and you're not doing the same numbers that I'm doing.
I have to be honest: If I were Pacquiao, I'd ask for 50 percent, too. All he's done is won his last 15 fights—two of them coming against Oscar De La Hoya and Miguel Cotto, and none of them coming against scrubs.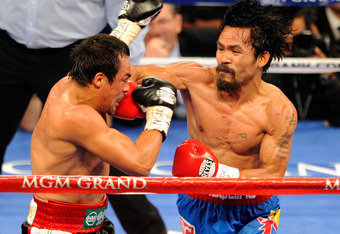 Ethan Miller/Getty Images
There are many in the boxing community that would argue Pacquiao—not Mayweather—is the best pound-per-pound fighter in the world (h/t The Ring and Sporting Life).
His name on the same card as Mayweather's would yield a massive amount of money, and it's not right for Money to insist on collecting a bigger share of that immense pie.
But Mayweather can't help himself. His ego is larger than life.
Arum has a theory as to why Mayweather is dodging this fight, via USA Today:
I know him very well; I know how vulnerable he is to the left hand. The only one he fought was Zab Judah, and Judah gave him a tough fight and would've beat him if he hadn't been so stupid and been in great shape. The hardest thing in the world when I had him was to get him to fight a southpaw. He does not want to fight Pacquiao.There will always be an excuse.
While it's true that he is one of the sport's all-time legends, it won't be easy for Mayweather to justify letting this opportunity pass him by. 
Maybe that's why he's considering retirement, instead.
Per the Los Angeles Times: "If it was my last fight, I gave them a bang...There's really no one for me to fight anymore."
Nobody except perhaps his greatest challenger. 
Pacquiao is waiting in the wings, but Mayweather will need to show him the respect he deserves before the two of them end up in the ring together as competitors.
That isn't likely to happen, so this deal will continue to drift aimlessly in the wind.