The 35 Funniest Fan-Made Jerseys in Sports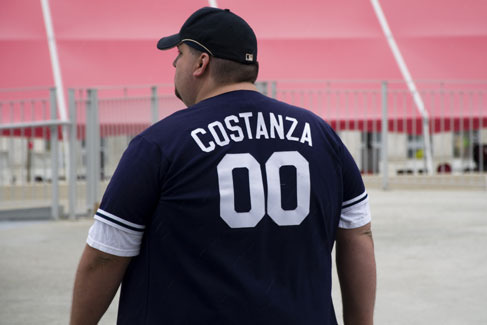 Image via nerdnirvana.org
Sports fans are the most passionate people in the world. They support their team no matter what and will prove it to you to the death, if need be. If you don't think so, go to Philadelphia in October and tell someone that the Eagles suck. Good luck my friend.
But being supportive of your team is no longer enough. You must prove it by showing off your sense of humor and creating a jersey worthy of being called funny. You have to be able to create something that everyone at the stadium will laugh, take a picture of, and then give you a fist bump for creativity.
I have searched all over the web to find some of the funniest jerseys out there. I just hope you are ready for some good laughs because some of these are just plain awesome. Enjoy.
Begin Slideshow

»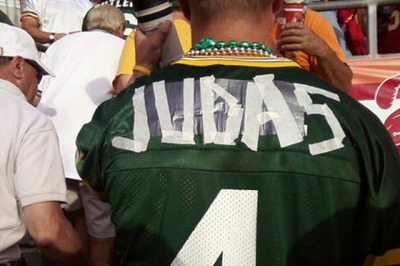 Image via totalprosports.com
Using some masking tape, duct tape, and a little Bible knowledge, this man turned a perfectly good Brett Favre jersey into a Judas jersey.
Of course, his sense of humor is probably much more advanced than ours. He had no idea that Judas played for the Jerusalem Packers in 24 AD. And yes, he wore the number four.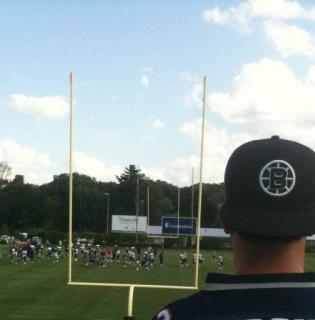 Image via terezowens.com
Maybe it's me but what is so wrong with Gisele being Tom Brady's wife?
A lot of New England fans make a joke of the marriage. This guy is example A.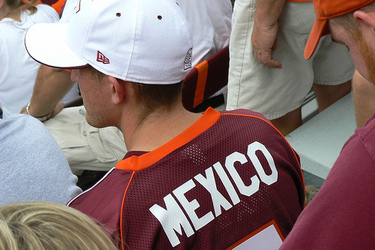 Image via straightcashhomey.net
Not too often do we get to see a Virginia Tech jersey supporting Mexico. In fact, I have never seen one.
And quite frankly, I have no idea what the point of it is either. Until someone pointed out it was an alias that Michael Vick used at a clinic while receiving treatment for STD's.
Ok, now that I know the point of it I can easily say, that is hilarious.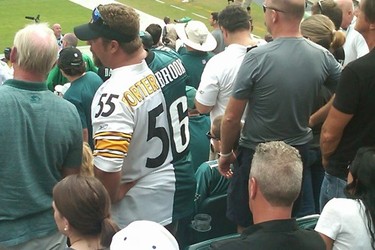 Image via straightcashhomey.net
Using the powers of common sense, I can tell you that this is not the father of Joey Porter or Brian Westbrook. That is the only time it is OK to wear a jersey that features two different players from separate teams.
In fact, I still do not understand the point. Maybe this guy is just a big NFL fan and wants to support everyone?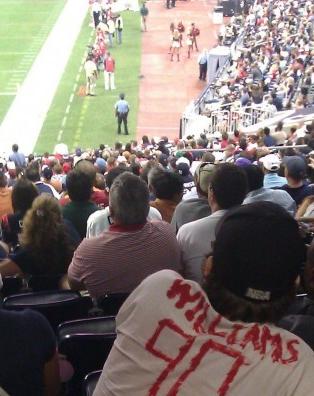 Image via totalprosports.com
Sure, everyone was laughing at this guy last season. They were pointing and cracking jokes about him. Some people probably told him a few of those jokes too.
But this guy spent $20 on a pack of eight white t-shirts instead of spending $85 for an actual NFL jersey. And now Mario Williams plays for the Buffalo Bills so who's laughing now?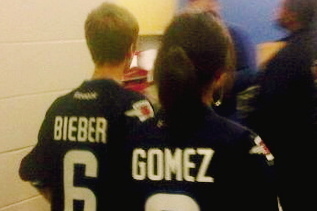 Image via bustedcoverage.com
I think the title says it all here. Justin Bieber is a tool and people love him. Why they love him? I have no idea.
Selena Gomez is just along for the ride. She will eventually realize that real men don't look like 12 year old girls.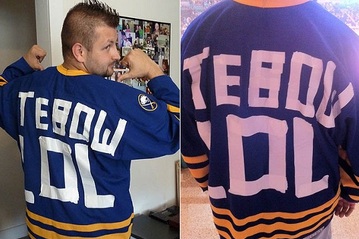 Image via larrybrownsports.com
If you thought the Tebow craze was over, think again.
He has now branched off into the NHL. And this fool did not even do a good job of making his own custom Tim Tebow jersey. I've seen better ripoffs at Wal-Mart. Come on man!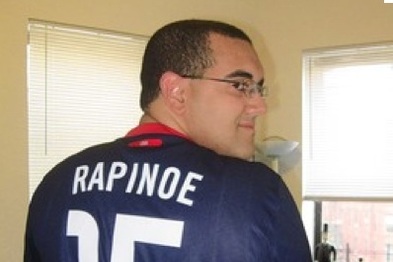 Image via womentalksports.com
I had to stop this article for a brief moment to talk about this guy who is in the midst of trying to reclaim his man card. (Don't worry, you will never retain it after this one).
If you are a grown man, you should never wear a female athletes jersey. It is not cute, funny, or even manly. It is an epic fail.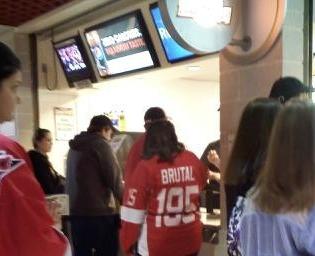 Image via jerseyfoul.com
I sometimes like to allow others the chance to make jokes about things they see. This would be one of those moments.
Grab a notebook and your favorite pen and go nuts. Let the jokes flow like wine on paper. But don't bother emailing them to me, I already heard them all.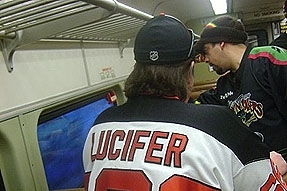 Image via ranker.com
I was wondering about Lucifer. I knew he was a hockey fan but I had no idea he rode the subway.
Maybe I am wrong. Maybe this isn't the real Devil. It could just be a crazy drunk fan trying to make his buddies laugh. Isn't that the same reason all these jerseys were made too?
Image via superpunch.blogspot.com
This guy gets a sports guy chest bump for this jersey. He does not get a high five or a fist bump, he gets the full enchilada for the idea to take a jersey he has worn since 1993 and get a custom name printed on it.
That thing has been through the gutter and back. He probably washed it too. Doesn't he know that's bad luck?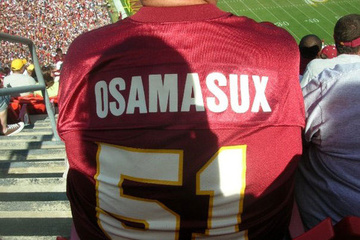 Image via deadspin.com
It is a dangerous game to be playing wearing a jersey like this one.
For starters, it almost looks like Obama and he is in Washington. So you might want to clarify next time by using bigger letters.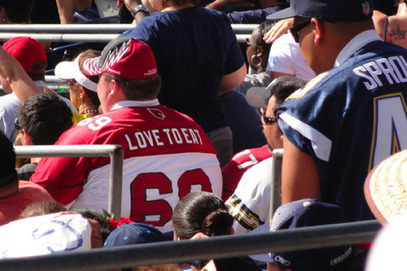 Image via bustedcoverage.com
Yes, this nation has an obesity problem. We have too many people suffering from being overweight. It is not a joke and is something we should take very seriously.
That being said, this is just plain hilarious.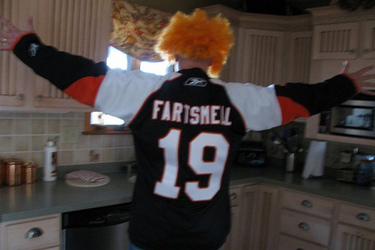 Image via philabright.com
I am all but certain Scott Hartnell did not intend for anyone to mock his last name in this fashion. But for some reason, Steven Mazefsky thought it would be hilarious to do so.
It did not work because Scott found this to be more humorous than insulting.
I think it is funny but also, dead accurate.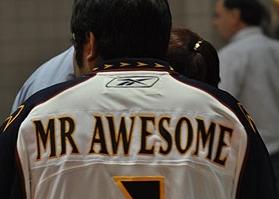 Image via ranker.com
I think this guy deserves a medal. This is about as rocking a jersey as I have ever seen. It is one thing to pretend to be cool but this guy took it to the next level and bought a custom jersey stating it.
The guy might be a loser but this jersey just raised his street cred about seven points.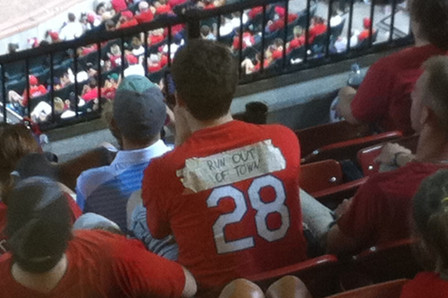 Image via hardballtalk.nbcsports.com
I love Major League Baseball. I watch the games weekly and look forward to Sunday Night Baseball on ESPN. It is a great game to enjoy regardless of who is playing.
But I had no idea Colby Rasmus didn't play for the St. Louis Cardinals anymore. I was so caught up in the Albert Pujols mess, I lost track of him. Thanks to this guy, I now know.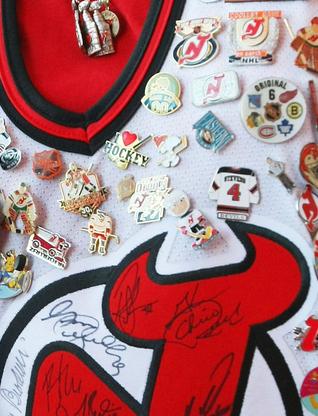 Image via buzzfeed.com
Why would you do this? Why would anyone take a perfectly good New Jersey Devils NHL jersey and destroy it with pins that only children would admire.
There is nothing cool about wearing your autographed jersey to the games. If she wore this for good luck, I have bad news for you, New Jersey hasn't won a Stanley Cup in ten years. Time for something new.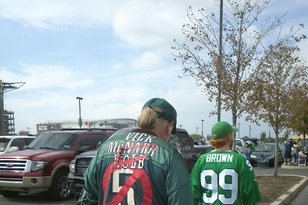 Image via loladelphia.com
It costs someone more money to have letters stitched onto a jersey by a professional than it does to purchase a brand new jersey.
I understand the point this guy is trying to make but don't you think he could have simply just painted a sign and carried it around.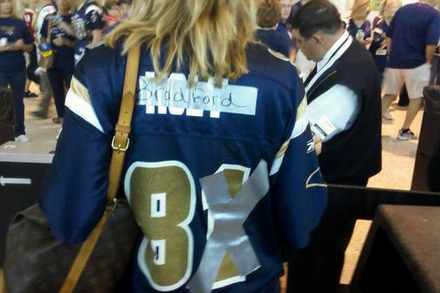 Image via joesportsfanstl.com
Every time a beautiful woman does something stupid, it is excused. Why? Because she is so darn sexy that we tend to allow the dumb things a pass.
This would be one of those moments. Sure, it was a good idea on paper. Maybe not.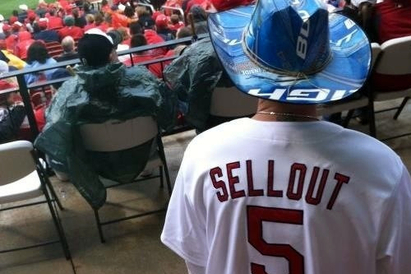 Image via joesportsfan.com
Albert Pujols did not sell anyone out. He did the exact same thing everyone else in the United States would have done: strike while the iron is hot. He made a good decision to sign a huge contract so he will never have to worry about anything ever.
This guy, well, the jersey is dumb but that is one crazy Bud Light hat. Love the hat!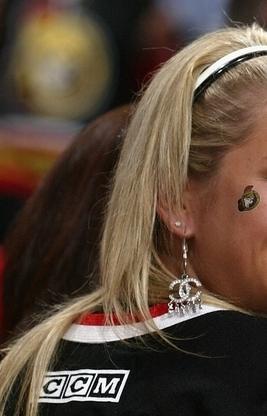 Image via buzzfeed.com
Remember earlier when I said it was OK for hot women to do dumb things?
Well, here is another example. It's not that this isn't funny, it honestly is, but why would you spend extra money to prove a point?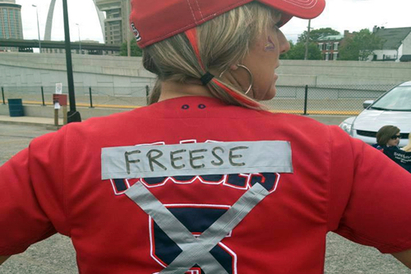 Image via joesportsfan.com
I am glad she went with Freese and not Rasmus since I heard Colby no longer plays in St Louis.
This must be what happens when a virtual unknown becomes a superstar overnight. People don't buy Freese jerseys, they make them.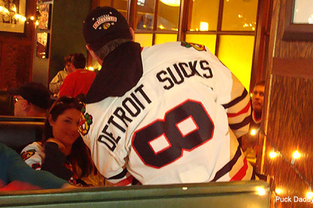 Image via buzzfeed.com
Anyone know why a sideways eight would be a good idea? Anyone?
No seriously. Does anyone understand the eight on this man's jersey? Or is he just a drunk guy having a few laughs at Detroit?
Image via adamsbeerblog.com
Yes indeed.
It has finally happened. Someone made a jersey that keeps them from having to constantly turn around and find a beer guy. This is the ultimate question.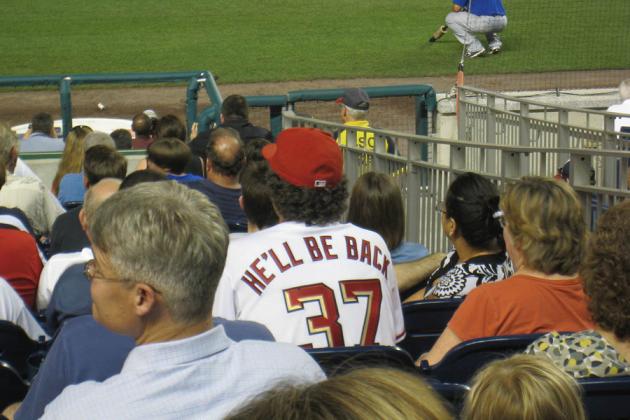 Image via zackhample.mlblogs.com
After seeing this picture of a Stephen Strasburg fan, I realized just how big of a star the kid is in Washington. He is a pretty big deal to the fans.
This guy was making a statement in 2011 that he followed with this...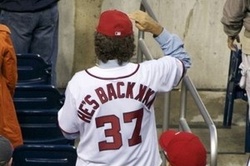 Image via deadspin.com
See? He knew the kid would come back from his injury and be almost as good.
All he had to do was make two jersey's to remind the fans of his absence and then his return. Thank goodness for this guy and is CNN news feed jersey.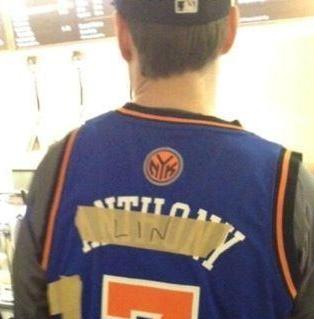 Image via jockular.com
Jeremy Lin happened in 2012. He became one of the world's biggest stars and proved that, once again, anyone can achieve their dreams.
This guy, on the other hand, is Lin-capable of walking over to the Knicks store and buying a Lin jersey. Don't you just love cheapo's?
Image via huffingtonpost.com
I was going to talk about how the Knicks fan with the taped up Jeremy Lin jersey was a dumb one but this guy takes the cake.
He was the coolest guy in the room about five months ago but if he would have just waited than he could have bought the real deal.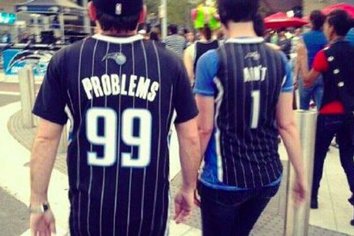 Image via sportsgrid.com
Perfection. That is all this jersey is to me, perfect.
It is ironic that this guy and girl put this together around a time when Dwight Howard started more drama with his fellow teammates than Jack Parkman from Major League II.
Speaking of Major League...
Image via waitingfornextyear.com
Where did these guys come from?
The simplest idea in baseball is to copy the uniforms from the movies. I still can't believe more people aren't doing this. This is funny and yet not at all original. But it works for me.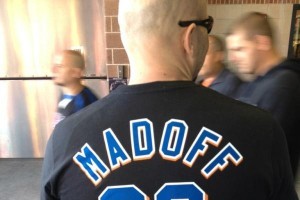 Image via sportsgrid.com
Everyone in the USA knows who Bernie Madoff is with the exception of those without televisions, phones, radios, or internet. Those are the only people that haven't heard about him.
Turning a Mets jersey into a Madoff one, brilliant. I think we need more just like it.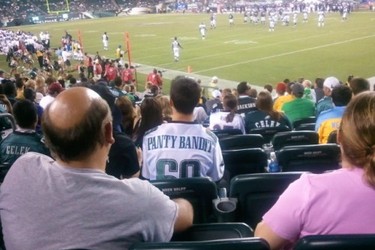 Image via bleedinggreennation.com
In my experience, when a man calls himself the panty bandit, he usually is not one.
In fact, he is probably sitting alone because who wants to be friends with this guy? Not me, that is true.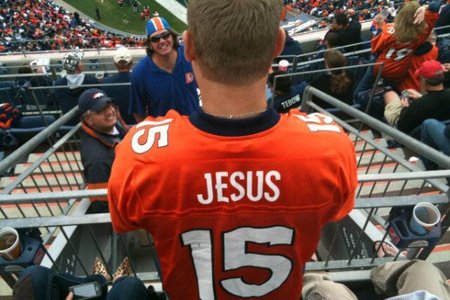 Image via inquisitr.com
Tim Tebow is not Jesus. He has never claimed to be nor does he admire those that call him Jesus. Those are some really big shoes to fill anyways and he is too busy learning how to toss a pigskin.
Ten points for effort though.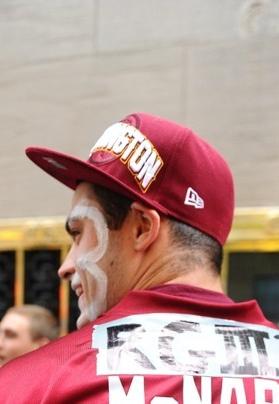 Image via washingtonpost.com
And what happens next season when Robert Griffin III fails? Does this guy even have enough room to add one more name to his jersey?
Does it even really matter anymore?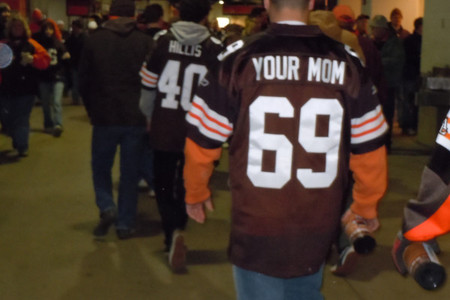 Image via bustedcoverage.com
Your mom, enough said.
Before I saw this jersey, I had no idea what would be the funniest. But this is the winner without question or debate. If you can zing someone without even turning around, you win in my book.