NBA Rumors: Breaking Down 10 Reasons Why Nets Must Re-Sign Deron Williams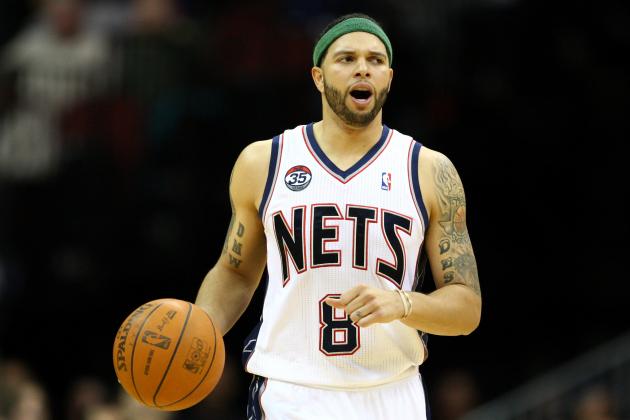 Chris Chambers/Getty Images

One of the biggest sagas of this coming offseason is whether Deron Williams, who was unexpectedly traded by the Utah Jazz at last year's trade deadline, will return to the New Jersey Nets franchise as they make their highly-anticipated move to Brooklyn.
Williams plans to opt-out of the final year of his contract and test the free-agency waters, but at the moment all signs point to the race for Williams' services coming down to the Nets and the Dallas Mavericks.
The Nets finished at a disappointing 22-44 in this lockout shortened season, but that was the product of a rash of injuries that seriously depleted their roster and this team could very well be a playoff contender if they can keep Williams and build around him long-term.
With Mikhail Prokhorov appearing committed to bringing the Nets back to NBA relevancy for the first time in half a decade, it is imperative that the ballclub finds a way to retain Williams and make him the centerpiece of the franchise's new chapter.
Without further ado, let's look at 10 reasons the Nets must keep Deron Williams on board...
Begin Slideshow

»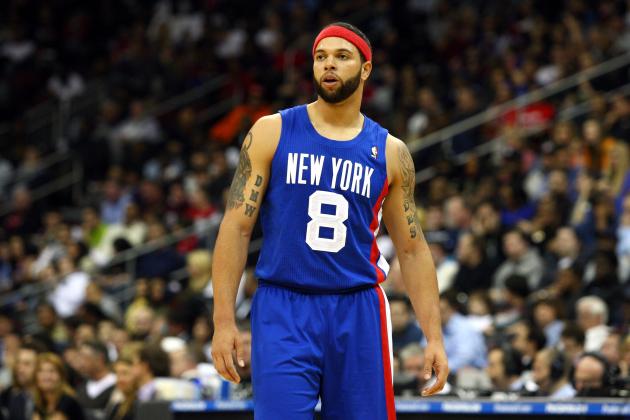 Chris Chambers/Getty Images

The Nets highly-publicized move to Brooklyn from New Jersey is underway and come this fall the team will be playing its home games in the newly finished Barclays Center. The downside of moving to New York is that they will be in even more direct competition with the New York Knicks for fan support and attendance, meaning that they must keep a player like Deron Williams who can put fans in the seats.
Over the past few seasons, the Nets haven't exactly been a hot ticket and have seen pretty mediocre attendance, but Williams is someone that creates excitement and compels people to buy tickets. Coming into a very saturated market with an All-Star point guard is significantly easier than coming in with Brook Lopez, Marshon Brooks and (maybe) Gerald Wallace as your star players.
Granted Williams is fairly low-key off the court, but he makes the kind of flashy plays that could certainly inspire fans to see the Nets in person. Williams has been a major part of the Nets' marketing since he arrived last season and that should continue to be the way if he stays with the organization.
In addition, stressing to Deron Williams that he will be the main guy is a good tactic to convince him to stay. Almost all NBA players have pretty significant egos, and there must be some part of him that would enjoy staying the undisputed No. 1 as opposed to joining Dirk Nowitzki in Dallas or Dwight Howard in Orlando. Deron Williams has the chance to write this chapter for the franchise himself in a way that Kevin Durant is doing for the Oklahoma City Thunder.
The Nets' front office has shown a commitment to making this team a real presence in New York more so than it was in New Jersey, but all of that is moot without a true franchise player like D-Will out on the court. As a lottery team in a city with another NBA team chock-full of star power, moving to Brooklyn without Williams would be a major obstacle to overcome.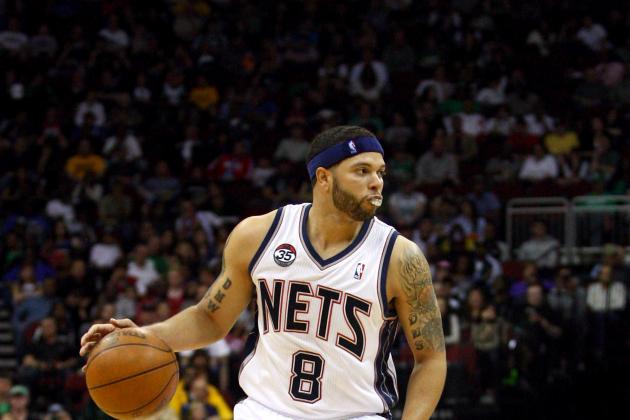 Chris Chambers/Getty Images

In a surprising, last minute deadline day trade, the Nets shipped the injured Mehmet Okur and Shawne Williams to Portland along with their first-round draft pick for former All-Star Gerald Wallace. The move was shocking to many because of the rich talent level in this year's draft and the gamble the Nets took on the 29-year-old Wallace who has a player option for next season.
Wallace played well for New Jersey, averaging 15.2 points, 6.8 rebounds and 3.1 assists with a steal and a block in his 16 starts. Though he shot a disappointing 41.6 percent from the field Wallace did manage a career high 38.5 percentage from beyond the arc. However, Wallace reportedly plans to opt-out of the last year of his deal and test the free-agent market. While the Nets intend to offer him a multiyear deal and are certainly a contender for his services, Wallace's return is by no means a given.
The pick that they traded to the Blazers was only top-three protected and with the Nets having the league's sixth-worst record it is very unlikely that they will end up keeping the draft selection. The move was intended to give Deron Williams more talent on the court in the immediate future, but it came at the expense of picking up someone who could really help the team down the road.
If the Nets do lose Williams and head to Brooklyn without their star player it would look a lot better if they at least had someone like Bradley Beal or MIchael-Kidd Gilchrist to build around, but in all likelihood that will not happen.
This just means the Nets need to improve through free agency and through retaining their own players, since it is unlikely they will be making a first-round selection in 2012.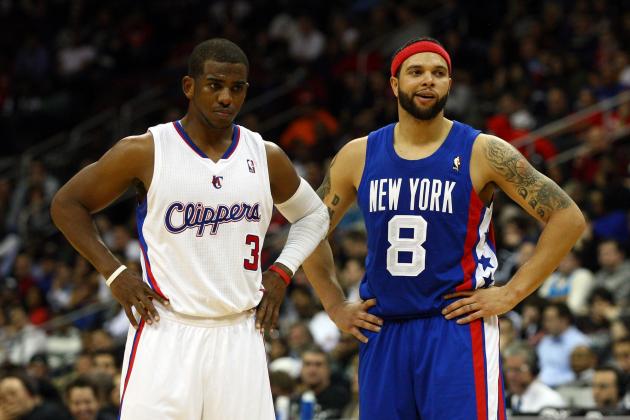 Chris Chambers/Getty Images

It has been said time and time again that today's NBA is a "point guard driven league", but that statement really couldn't be more true. No longer is it imperative that a team has dynamic big men to be competitive, as long as they get quality guard play night in and night out.
This trend has every team clamoring for a top-shelf playmaker at the position, but the Nets were smart enough to pick up one of the finest available and his skills have been instrumental in what success New Jersey managed over the past couple of seasons.
With Deron Williams, the Nets were guaranteed to have the best player at the point guard position against almost any team in the league, save for maybe the Bulls, Clippers and Celtics. Nowadays, a team's best bet is to build from the point guard position first and then shore up the rest of the roster, something the Nets accomplished when they traded for Williams.
Williams runs the point as well as anyone in the NBA. He can masterfully execute the pick-and-roll—the league's offensive staple—as well as make plays in crunch time. A gifted shooter, Williams also has no problem looking for his own shot and knocking it down, something he had to do on more than one occasion this past year. His defense leaves something to be desired, but that can easily be forgiven when he can simply outplay his opponent on any given night.
There are very few players as offensively potent as D-Will in the league, let alone at the one, and if the team can surround him with some deadly shooters and skilled big men, he could turn the Nets' offense into a thing of beauty. As Chris Paul has proved with the Clippers, the acquisition of an elite point guard can change the entire fate and direction of a franchise, something the Nets will learn the hard way if they fail to keep Williams around this summer.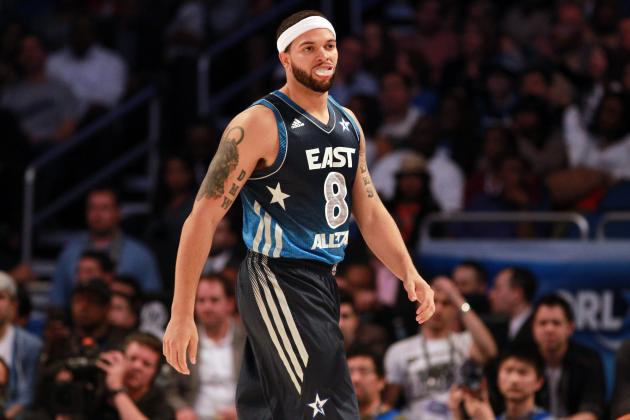 Ronald Martinez/Getty Images

The Nets failed to add any major talent during the 2011 offseason despite aggressively pursuing the likes of Andrei Kirilenko, David West and Nene, forcing them to put together a patchwork squad with DeShawn Stevenson, Shelden Williams and Keith Bogans coming through free agency.
The team's hopes hinged on using Williams to convince upper-echelon talent to join the team, and that should still be the strategy heading into this summer. Any player in the league would jump at the opportunity to play with a point guard of Deron Williams' caliber and if the Nets want to return to the playoffs after a five season absence they must use their best player as a recruiter.
Players like Kevin Garnett, Eric Gordon, Ryan Anderson and Roy Hibbert are all available this summer and would certainly ponder about playing with Williams and helping break ground in Brooklyn. Talents like these would be hard pressed to play on a team of role players and cast-offs, particularly some of the veteran talent that will be available.
In addition, the team has several key players entering free agency, including Brook Lopez, Kris Humphries, Gerald Wallace and Gerald Green, all of whom will certainly be fielding a myriad of offers across the league. The Nets have plenty of cap space, but players at the NBA level also want to be part of a winning franchise, which the Nets certainly are not without Williams in the fold.
As we learned from Miami a few summers ago, elite players are more than willing to join forces and take pay cuts for the sake of contending for a title and if the Nets want to lure in that kind of talent they must have Williams under contract for several more years.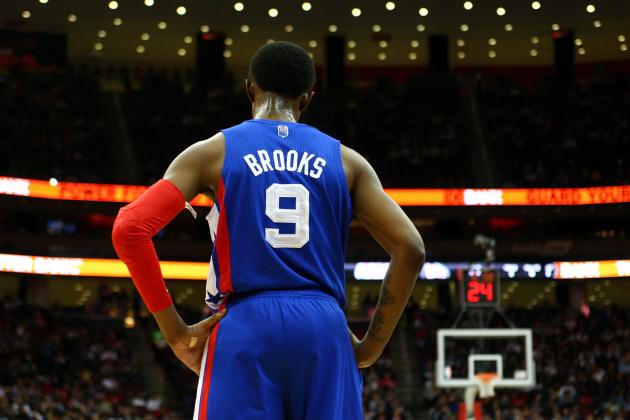 Chris Chambers/Getty Images

The Nets absolutely stole former Providence guard MarShon Brooks in a draft-day trade with the Boston Celtics. Brooks was Boston's 25th pick and was traded for JaJuan Johnson, the 27th overall pick of the Nets, and a future second round draft choice.
Brooks stepped naturally into the shooting guard position and the team's second option on offense. He proved he can be a very capable starting guard in the NBA for years to come and certainly seems to be the Nets' long term answer at the two.
He averaged 12.6 points, 3.6 rebounds and 2.3 assists in barely 29 minutes of playing time. Though his shooting percentages weren't stellar, 42.8 percent from the field and 31.3 from deep, that often happens to scorers in their first year or so as they adjust to the NBA game from college. He flamed out a bit as the season wore on, averaging only 11.1 points per game after the All-Star break, but "hitting the wall" like that is very common for rookies and his production didn't tail off too considerably.
Brooks and Williams developed some nice chemistry this season and if the team successfully brings back Williams, they don't have to worry about their backcourt starters until Brooks' contract expires in a few years. Both players can handle the ball as well as move without the ball and spot up, meaning the defense can't key in on either of them as the sole playmaker.
In a season where it was very difficult for new teammates to really get a feel for each other's game, Brooks and Williams seemed to be a natural fit. They really seemed to understand how to play off one another, which should only improve with a full training camp under them.
The opportunity to team him with Brooks, who has potential to improve even more, and make one of the league's most potent backcourts is a major reason why the Nets need Deron Williams around for the future.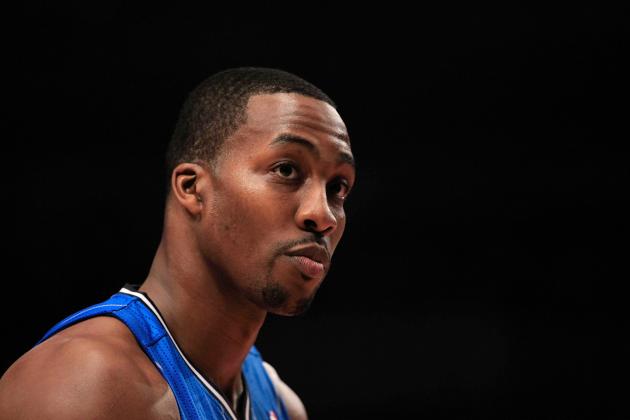 Chris Trotman/Getty Images

It wasn't too long ago that pairing Deron Williams and Dwight Howard seemed like it could happen this season, but after Howard cancelled his contract's early-termination option, the big man is signed with the Orlando Magic through the 2012-2013 season.
However, the drama did not end there as Howard continued to publicly express his displeasure with the organization, and reports of his desire for coach Stan Van Gundy to be fired came to light. Howard also suffered from serious back problems down the stretch, cutting his season short and forcing the Magic to end the season and enter the playoffs without their most dominant player.
This has undoubtedly further soured the already strained relationship between the city of Orlando and Howard, and there is definitely a chance that Dwight could be dealt this summer. At the moment it seems that the Nets are his first choice, as reportedly the reason Howard extended his contract was to avoid being traded to the Los Angeles Lakers, who were previously considered a serious contender for his services.
Still, Howard doesn't want to come to Brooklyn just for the media market or for his love of skinny jeans and indie music. Dwight wants to be part of a true title contender, something the Magic no longer are, and to align himself with another superstar basketball player.
Pairing Deron Williams and Dwight Howard would make the Nets a championship contender for as long as the duo stays together, as long as Howard's back holds up. Their ability to run the pick-and-roll would be nearly unguardable and Brooklyn would have one of the best inside-out offenses in the league. The Nets are one of the NBA's best three-point shooting teams and would thrive with a big man like Howard who constantly commands double-teams and has shown a willingness to make the right pass to an open shooter on the perimeter.
Even if Howard does stay with the Magic past this summer, there is a good chance of him being dealt before the year is through and he certainly will not be returning to Orlando with a new contract. The presence of Deron Williams is one of the main reasons Howard wants to be a part of the Nets franchise and whether he's available this offseason, at the trade deadline or in the summer of 2013, the Nets must keep D-Will to have a chance at creating this phenomenal tandem.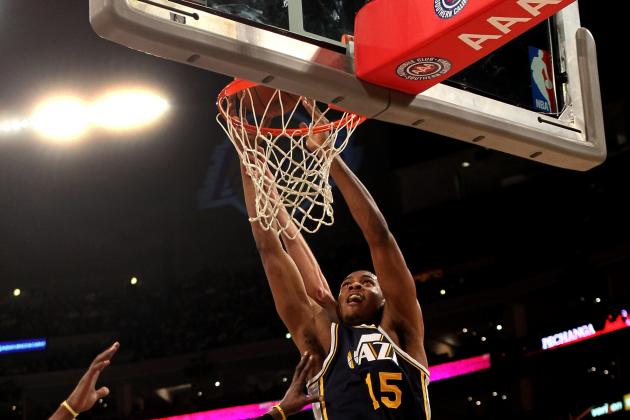 Stephen Dunn/Getty Images

Last February, the Nets sent rookie Derrick Favors, former All-Star Devin Harris, and a pair of first-round draft picks to the Jazz for Williams in a deal that stunned much of the basketball world. The Nets felt they were treading water and were willing to give up their young assets for a shot at a proven performer in Deron Williams.
Since then the Jazz went on to make the playoffs and finish this past season at 36-30, while the Nets, as I mentioned earlier, suffered through an injury-plagued campaign en route to a 22-44 record and another season that came to an end in April.
Favors has shown flashes of being a dominant power forward in this league, and at only 20 years old he still has a very high ceiling. He averaged 9.9 points and 6.5 rebounds on 49.9 percent shooting during the regular season and has upped his production to 10.3 points and 9.3 rebounds in the playoffs, albeit while shooting a paltry 39.3 percent from the field.
Favors' strength and athleticism have been very impressive and he has improved his timing as a shot-blocker while having several very impressive games this past year, including a 13 point, 11 rebound and five block performance against Phoenix to clinch a postseason berth.
Harris struggled for much of the regular season with Utah, despite still showing the blinding speed that made the Nets acquire him in the first place a few seasons ago. He averaged 11.3 points and five assists while shooting 36.2 percent from three-point range and notching a steal per game. He managed to find his rhythm late in the season when the Jazz needed it most, posting four straight 20+ point games in the Jazz's late push for the playoffs.
At only 29 Harris still has some good basketball left to play and is certainly a capable starting point guard.
Last year's draft pick became the third overall choice and Utah used it to select Kentucky center Enes Kanter, who had some bright moments but still seems a ways away from being a dominant player at the NBA level. Still, that selection could've been used on a franchise point guard for New Jersey like Brandon Knight or Kemba Walker, with Harris being traded separately for other assets.
The Nets were willing to part with a lot of their youth and potential for Wiliams, as well as a capable starting point guard, and for the trade to have been worth it Williams' tenure with the Nets cannot already be over.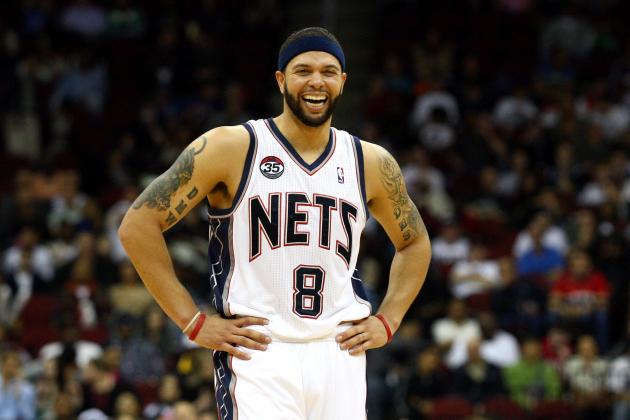 Chris Chambers/Getty Images

There are some solid point guards who will be available this offseason, there's no question about that, but for a team as talent-starved as the Nets are, either failing to resign Deron Williams or signing someone else in his stead to preserve cap space would be incredibly foolish.
Names like Houston Rockets guard Goran Dragic, who played extremely well as a starter in place of Kyle Lowry, or Knicks sensation Jeremy Lin have been floated around as people the Nets could potentially overpay for, but is that really a smart idea? Both guys played great basketball in stretches, but is the sample size really large enough for Billy King and the Nets to feel comfortable throwing significant money at these young players?
Veterans like Steve Nash, Andre Miller and Jason Terry are also available, but unless the Nets are willing to significantly overpay for their services I think they would be hard pressed to find themselves in Brooklyn when next season begins.
On the Nets roster, there really isn't another player who could potentially replace Williams. Jordan Farmar, who has a $4.3 million player option, is a capable backup and averaged 10.4 points and 3.3 assists in just 21.3 minutes per game, but could not be counted on to be the Nets' starter at the one should Williams leave.
Sundiata Gaines, a former D-League standout who earned a multiyear contract with the Nets, had some solid games down the stretch and responded well to increased minutes, but does not have the talent to be anything more than a second or third string rotation player. Even as a starter, Gaines only averaged 8.7 points and 3.3 assists on 38.2 percent shooting.
There are a few interesting point guard prospects in the draft, namely North Carolina's Kendall Marshall and Weber State's Damian Lillard, but even if the Nets do retain the pick they conditionally shipped to Portland, they wouldn't take either player that high in the lottery.
It would be one thing if another star guard were flirting with Brooklyn, but there is no one around who could adequately replace Deron Williams, another reason the team has to keep him.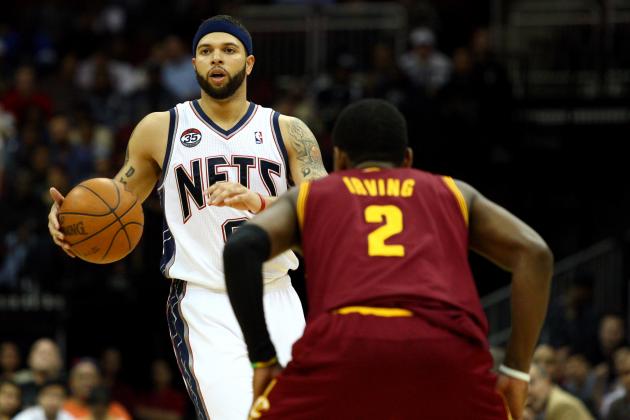 Chris Chambers/Getty Images

In today's NBA, a great deal of emphasis is placed on whether a player is perceived as a "winner" or possessing a "winning mentality". Since his time in college, when he guided the University of Illinois to the NCAA National Championship Game, Deron Williams has certainly proven to possess winning credentials.
Williams guided the Utah Jazz to four straight postseason berths between 2007 and 2010, helping to establish a winning culture, the exact kind of thing the Nets need to accompany their change of scenery. Though he feuded with coach Jerry Sloan in 2010, Williams was still instrumental in the success of the team during his stint in Utah and was an excellent floor general by all accounts.
Playing for an organization like Utah and a coach of Jerry Sloan's caliber undoubtedly imbued Deron Williams with a winning mentality and the understanding of what it takes to accomplish a goal, both in the regular season and the playoffs.
For his career, Williams has averaged 21.1 points, 3.7 boards and 9.6 assists per playoff game, including a stellar 24.3 points and 10.2 dimes during the 2010 postseason. He is certainly a special player and a proven winner who his team can lean on when they need to get it done in crunch time.
The Nets are one of the league's youngest teams and have several players who have not been part of truly successful team since their time in college. It is crucial that someone like Deron Williams with a proven track record is a part of the club to help shift the culture as they adjust to Brooklyn.
The worst thing that can happen to guys like Brook Lopez and MarShon Brooks is that they become accustomed to losing games and disappointment at the NBA level, developing bad habits and focusing primarily on individual success.
Deron Williams has always been the kind of player to make his teammates better and keep them engaged while bringing out the best in everyone around him. He is the kind of player a team like Brooklyn in search of an identity needs to keep while trying to rebuild their program.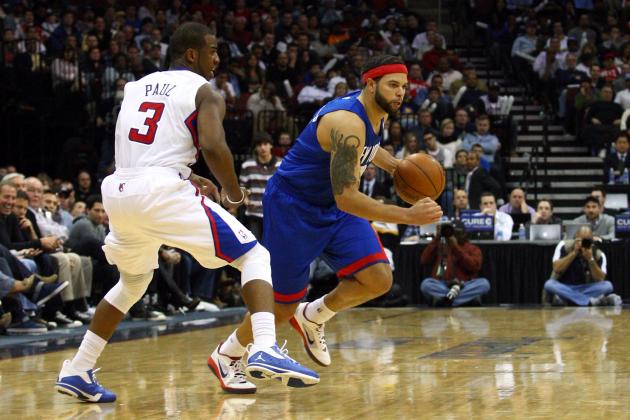 Chris Chambers/Getty Images

Just looking at the numbers Williams has posted over the past few seasons is enough to understand why the Nets must keep him around for years to come.
In 2008-2009 he averaged 19.4 points and 10.7 assists per game, in 2009-2010 he notched 18.7 points to go with 10.5 dimes a contest. In total over the 2010-2011 season he was pouring in 20.1 points in addition to 10.3 assists. This past season, while battling several nagging injuries and a sub-par supporting cast, Williams managed to put up 21.0 points and 8.7 assists a game.
With the exception of Chris Paul and possibly Derrick Rose there simply are no other point guards in the league who can fill up a stat sheet that consistently year in and year out.
During this past season, Williams had several games that were absolutely transcendent. His 57-point effort against the Charlotte Bobcats featured a perfect 21-21 from the foul line and was complimented by six rebounds and seven assists. In a game against the Knicks at Madison Square Garden, Williams poured in eight threes and finished with 38 points and six assists.
The players in the league capable of these stat lines can be counted on one hand and the Nets are lucky enough to have one of them wearing their uniform. Though success hasn't come easily to the team during the Williams era, giving up such a talent would set the franchise back years.
The best way to build a team is by acquiring a true superstar and the Nets have one of those, there is no limit to what they should do to keep him aboard.