Canelo vs. Mosley: Win over Sugar Shane Is Preview of Saul Alvarez's Dominance
May 6, 2012

Al Bello/Getty Images
Saul "Canelo" Alvarez is going to be the next big star in the sport of boxing, and he gave us a small preview of how dominant he can be against the legendary "Sugar" Shane Mosley.
Canelo easily disposed of the aging star via a unanimous decision. The judges scored the fight 119-109, 119-109 and 118-110, all in his favor, and there was no disputing that he was the better fighter in the match.
This is no disrespect to Mosley, as he's certainly one of the best we've seen in this era of boxing, but it was rather apparent that Alvarez was on a completely different level. He was quicker, stronger and more agile, and I can only imagine that he's much hungrier.
You see, this was just a small preview of what Alvarez can do.
Canelo—which means cinnamon in Spanish—is already the WBC super welterweight title holder, which makes him the youngest champion in the world. He boasts a record of 40-0-1 and has 29 knockouts to his name.
You can just tell that he's destined for great things when you watch him fight. Even the loser of this bout, Mosley, agrees with that statement, according to quotes via Bryan Armen Graham of SI.com:
"I think he can go a long ways," said a dejected Mosley, who connected on just 183 of 785 punches (25 percent) compared to 348 of 673 (52 percent) for Canelo. "I made sure he was worthy of being one of the next kings of the ring. I got beat by a better man tonight."
Mosley did lose to the better fighter, and I have no doubt that he'll be the first on a long list of big names that Canelo takes down in the ring. Floyd Mayweather Jr. and Manny Pacquiao better start paying attention, because this young man is more than capable of taking them out.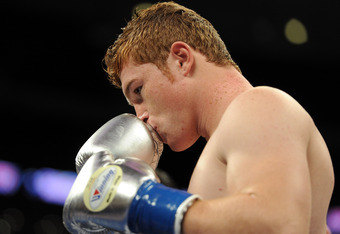 Harry How/Getty Images
By beating Mosley, Canelo proved that he can win on the big stage, and do so in a very big way.
This win was a preamble of sorts, as we just got a small taste of how dominant Canelo can really be.