Mayweather vs. Cotto: Why Mayweather's Unbeaten Streak Will Never Be Tarnished
May 6, 2012

Ethan Miller/Getty Images
Floyd Mayweather is a talented coward.
Pretty Boy's 43-0 record will never suffer a scratch. Why? Because he won't allow Manny Pacquiao to touch it.
On Saturday night, Mayweather once again displayed his dominance. Despite Miguel Cotto's phenomenal performance, Money's lightning-fast hooks proved to be too much.
Besides Pac-Man, no active boxer is talented enough to defeat Mayweather. And with Mayweather determined to dodge the Filipino until the day that he dies, his perfect professional record will stay flawless.
According to USA Today's Bob Velin, Mayweather pointed a finger at Pacquiao's promoter Bob Arum as the problem prohibiting a showdown, saying post-fight:
I'm just really tired of the media and the people being fooled. The truth is, Bob Arum is not going to let the fight happen. It's not on me. I went to Pacquiao and offered him $40 million, and told him I would wire him $20 million within 48 hours. He turned me down and said he wanted a 50-50 split.
There you have it, folks. According to The Richest, Mayweather's net worth is $90 million. But he's too poor to split the payday.
Arum didn't waste time responding to Mayweather's blame game, saying:
I know him very well; I know how vulnerable he is to the left hand. The only one he fought was Zab Judah, and Judah gave him a tough fight and would've beat him if he hadn't been so stupid and been in great shape. The hardest thing in the world when I had him was to get him to fight a southpaw. He does not want to fight Pacquiao. There will always be an excuse.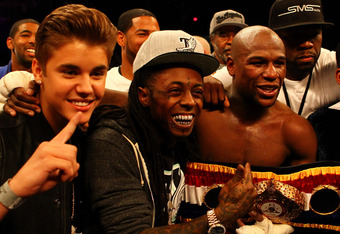 Al Bello/Getty Images
When one is faced with stories that contradict each other, he or she must decipher which is true and which is a lie. Ringside after his victory over Cotto, Mayweather didn't make that mystery difficult to solve.
He told Larry Merchant (via ESPN), "I want to fight Pacquiao, but he needs to take the tests before we make that fight." He also sent his bitter rival the message, "If you're the best, take the test."
Hold up.
Mayweather blamed Arum for the failed fight, but apparently it's Pacquiao's fault, too. Or not.
Back in January, Pac-Man released this statement on his official website agreeing to any testing saying, "To all of my fans…Mayweather just needs to agree to and accept a 50 percent split, and if he does, then the fight will go through. He's the one who needs to agree."
Allow me to restate what Arum said: There will always be an excuse.
And as if Mayweather doesn't already look two-faced, when asked if he and Pacquiao will fight as soon as Arum is out of the picture, he replied, "Absolutely."
So much for that test, eh, Mayweather?
Pretty Boy fans, just start celebrating his unblemished career record now, because his unique distinction of being the most talented coward in sports history will allow it to live forever.
David Daniels is a featured columnist at Bleacher Report and a syndicated writer.