Mayweather vs Cotto: Money's Experience Proves Invaluable in Victory
May 7, 2012

Ethan Miller/Getty Images
Floyd Mayweather Jr.'s (43-0, 26 KOs) experience inside the boxing ring proved invaluable in his victory over Miguel Cotto (37-3, 30 KOs) this past Saturday night at the MGM Grand in Las Vegas, Nevada.
Mayweather went toe-to-toe with the younger Cotto for 12 rounds and even survived an eighth-round flurry and a powerful, blood-drawing sixth-round jab from the 31-year-old Puerto Rican. In the end, however, it was the Pretty Boy's 16-years of defensive experience that helped him to land more punches than Cotto, 179-105 via CompuBox, according to The Washington Times.
Mayweather is arguably the best in boxing at avoiding damaging blows and wearing his opponents out with his constant shifts in body position. He was faced with some rare adversity though in Cinco de Mayo's bout with Cotto.
Cotto drew blood midway through the fight with a jab to Floyd's nose, and the five-division champ simply nodded out of respect and kept chugging along.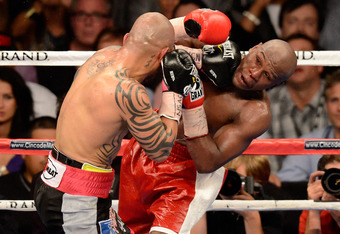 Ethan Miller/Getty Images
Mayweather has been defending himself against world class boxers since 1996, and now at age 35 is preparing for the transition that all successful veteran fighters must make—from elite athlete to overall professional. 
Though in reality Mayweather remains one of the most physically put together boxers in the sport today, there will come a time when Money will rely far more heavily on what he has learned from two decades of boxing and a flawless record. 
We saw a glimpse of that unmatched experience on Saturday night, and so did Miguel Cotto. Mayweather has never lost, so it's safe to say that he doesn't know how to.
He is certainly one of the best pound-for-pound boxers that ever lived, and if he could meet and beat Manny Pacquiao before their careers are finished, he may very well reign as the hands-down greatest pound-for-pound fighter in the game at some point.
Follow Patrick Clarke on Twitter for more on Boxing.